Vick, dismissed by Hokies, says he will turn pro
Updated:
January 7, 2006, 12:30 PM ET
Associated Press
RICHMOND, Va. -- Virginia Tech quarterback Marcus Vick told The Virginian-Pilot that he would enter the NFL draft on Friday, hours after he was dismissed from the team as a result of numerous legal transgressions and his unsportsmanlike conduct in the Toyota Gator Bowl.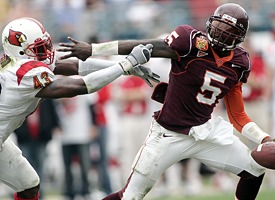 AP/Phil CoaleMarcus Vick, eluding a Louisville defender in the Gator Bowl, stepped on another Cardinals player who tackled him during the game.
University president Charles Steger announced the dismissal on the same day that coach Frank Beamer met with Vick and his mother, Brenda Boddie, in their Hampton Roads home, the school said in a statement. Beamer informed them of the decision during the meeting.
Friday night, Marcus Vick told The Virginian-Pilot that he would turn professional. "It's not a big deal. I'll just move on to the next level, baby" he said at a Virginia Beach restaurant, the newspaper reported Friday night on its Web site. Asked if that meant he would enter the NFL draft, he said, "Yeah, definitely."
Vick, the younger brother of Atlanta Falcons quarterback Michael Vick, was suspended from school in 2004 for several legal problems. The junior came under new and intense scrutiny this week after replays showed he stomped on the left calf of Louisville All-American defensive end Elvis Dumervil during the Jan. 2 bowl.
"Everybody does it in the NFL and college football," Boddie, speaking to The Associated Press by phone from her home, said. "He just got caught doing it, and since he's been in trouble in the past everything just got blown all out of proportion."
No penalty was called on the play and Vick claimed its was accidental. He further hurt his cause by claiming to have apologized to Dumervil, the NCAA sacks leader, but the Louisville player said no such apology was ever offered.
Marcus Vick Timeline
Sept. 2, 2003: Suspended for one game by coach Frank Beamer for undisclosed reason.
Feb. 17, 2004: Arrested without incident and charged with four misdemeanors -- three for allegedly allowing underage girls to have alcohol and one for allegedly having sex with a 15-year-old at a January party. Released on $2,500 bond.
May 14, 2004: Convicted of three counts of contributing to the delinquency of a minor and sentenced to 30 days in jail and fined $2,250. Found not guilty of having sex with the 15-year-old.
July 3, 2004: Charged with reckless driving and possession of marijuana after a traffic stop about 25 miles east of Richmond, Va. at 2:30 a.m. Police said he was clocked at 86 mph, 21 mph above the speed limit, and that the vehicle smelled of marijuana.
July 6, 2004: Indefinitely suspended from football team for off-field problems.
Aug. 3, 2004: Suspended from the university for the 2004 season on same day he pleads guilty to reckless driving and no contest to marijuana possession in New Kent, Va. Is fined $300, has driver's license suspended for 60 days and is placed in a first offender program on the marijuana charge, requiring that he perform 24 hours of community service, undergo drug counseling and random drug tests, and give up his driver's license for six months.
Sept. 13, 2004: In plea deal, pleads no contest to one misdemeanor count of contributing to the delinquency of a minor. Receives 30-day suspended jail sentence, is fined $100, ordered to perform 24 hours of community service and stay away from the teenage girls.
Jan. 17, 2005: Cleared to rejoin football team and re-enroll at Virginia Tech.
Oct. 1, 2005: Leads No. 3 Hokies to 34-20 victory at West Virginia, and makes obscene gesture to fans who have been calling him names related to past problems throughout the game. He apologized a day later.
Dec. 17, 2005: Pulled over by police in Hampton, Va. for driving 38 mph in a 25 mph zone and driving with a suspended license.
Jan. 2, 2006: Leads Virginia Tech to a 35-24 win over Louisville in Gator Bowl. In the game, he stomped on the left calf of Cardinals All-American defensive end Elvis Dumervil, the NCAA sacks leader. Claims the incident was accidental and that he apologized to Dumervil, who denies ever receiving apology.
Jan 6, 2006: Is kicked off team at Virginia Tech for legal trouble and unsportsmanlike conduct in Gator Bowl.
Source: The Associated Press
Boddie acknowledged that her son "did the wrong thing" when he stomped on an opponent during the Gator Bowl.
Boddie said she understood why Virginia Tech kicked the dazzling junior quarterback off the team Friday, but she resents portrayals of him as a "monster."
"I cried a lot yesterday," she said. "But we're just going to move on and make something positive out of this and Marcus is going to show everybody that he's not the person a lot of people claim he is."
On Friday, it was revealed that Vick had been stopped for speeding and driving with a revoked or suspended license in Hampton on Dec. 17, Cpl. James West said. Vick's license had been taken away in August 2004 when he was cited for reckless driving and marijuana possession in New Kent County.
"Everybody does stupid stuff when they're 19, 20, 21 years old," she said. "Everybody goes through that. Nobody's perfect. He just did the wrong thing."
Steger suspended Vick from school at that time, and warned that any additional problems would effectively end his time as a member of the Hokies' football team.
"The university provided one last opportunity for Vick to become a citizen of the university and readmitted him in January 2005, with the proviso that any future problems would result in automatic dismissal from the team," Steger said Friday.
Beamer said in a statement that he was disappointed with the outcome. "We wanted what's best for this football team and Marcus," he said. "I certainly wish him the best."
School officials said in a statement that there would be no further comment until a news conference Saturday. Beamer, Steger and athletic director Jim Weaver, who said the stomping embarrassed the university, were all expected to attend.
The Virginian-Pilot said Beamer met with Vick, his mother, and Vick's attorney, Larry Woodward, at about 4 p.m. Friday. Woodward said Vick planned to issue a written statement Saturday afternoon. "The meeting, it was emotional," said Woodward. "It was not a fun meeting for anybody, but Marcus will look to the future, and we'll have something on that [Saturday]."
Vick said before the Hokies' 35-24 comeback victory in the Gator Bowl that he planned to return for his senior season. Now, his choices are to declare for the NFL draft by the Jan. 15 deadline or transfer to a Division I-AA school so he can play next season.
Vick entered this season knowing he would face hostility from opposing fans, mostly stemming from his drug arrest and another for serving alcohol to underage girls during the 2003 school year.
He said he was ready for it, but reacted to chants of "rapist" and "child molester" at West Virginia on Oct. 1 by making an obscene gesture in the direction of the crowd. He met with Beamer following that incident and apologized to the team.
In the ACC championship game against Florida State, he drew an unsportsmanlike conduct flag for spiking the ball after a touchdown run with the Hokies trailing, and following the 27-22 loss, walked by reporters after the game without commenting, saying he didn't have to.
He finished that game 26-for-52 for 335 yards with one interception and a fumble near his goal line that teammate Duane Brown recovered. Vick threw one scoring pass and ran for two more touchdowns, but also was sacked six times for minus-35 yards.
On the field, he was often dazzling, but sometimes tried to do too much.
The Hokies started 8-0 and were No. 3 in the polls when they hosted Miami on Nov. 5. But Vick threw two interceptions and fumbled the ball away four times in a 27-7 loss.
This season, he was runner-up to Wake Forest's Chris Barclay as the conference's offensive player of the year, and was voted the first team quarterback on the all-conference team.
In 24 career games, the last 13 starts, Vick was 207-for-346 for 2,868 yards, 19 touchdowns and 15 interceptions. He also rushed 184 times for 492 yards and six TDs.

Copyright 2006 by The Associated Press
EDITORS' PICKS
Expect new CFB Playoff Committee member Bobby Johnson to fit right in.
Low »

Should we have the same expectations for programs with very different budgets?
Haney

Incentives written into contracts can mean millions more.
Low »
MORE COLLEGE FOOTBALL HEADLINES

MOST SENT STORIES ON ESPN.COM