OREGON STATE vs. MISSOURI
ESPN'S TAKE
This was one of the great games the bowl season has seen in a while. Missouri got the ball to its two top weapons, TEs Chase Coffman and Martin Rucker, with regularity. Tony Temple had some nice runs and it looked like Missouri was in control. But Oregon State QB Matt Moore, the senior transfer from UCLA, was the story. He threw for four touchdown passes, ran for one and did a great job directing the offense, taking the Beavers down the field on that final drive. He got Joe Newton involved, got Sammie Stroughter heavily involved. Yvenson Bernard had that fumble at the goalline but played well overall, catching some passes, running hard and scoring the winning two-point conversion. But really it was about Moore. He was the key, accounting for five touchdowns. Also key was the decision by Mike Riley to go for two. He got the two and Missouri, which came back from big deficit last year against South Carolina to win, blows a lead and loses to Oregon State in one of the great bowl games you'll ever want to see, and Moore was the difference.
-- Mel Kiper


BOWL TRAVEL GUIDE
Plan a trip to your favorite team's big game with ESPN SportsTravel's Bowl Travel Guide.

Fantasy
Here's your chance to be the expert and pick the Bowl winners. Create your FREE entry and compete for a chance to win a home theater system.
College Bowl Mania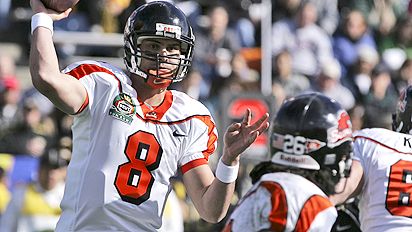 (AP Photo/LM Otero)
Corvallis Surprise
After holding the lead for nearly the entire game, Oregon State scored with less than a minute left -- complete with a two-point conversion -- to knock out Missouri, 39-38.
Final
BRUT SUN OVERVIEW
It was over when ...
---
Yvenson Bernard rushed for the two-point conversion to put Oregon State up 39-38 with just 4 seconds remaining in the game.

Game ball goes to ...

---
Oregon State coach Mike Riley, who made a gutsy decision to go for the win instead of the tie.

Stat of the game ...

---
96 to 212. The game was evenly matched -- except on the ground. Missouri held Oregon State to just 96 rushing yards (while the Tigers rushed for 212).


SIMULATIONS FROM ACCUSCORE
Click here for individual projected statistics.