Gamebreakers Ginn, Harvin to test defenses
Updated:
January 6, 2007, 6:43 PM ET
By
Ivan Maisel
| ESPN.com
PARADISE VALLEY, Ariz. -- He is a wide receiver whose speed changes the dimensions of the football field the second he steps across the sideline. He is a state high-school sprint champion who can cut around a tackler without the need to decelerate. He is a gamebreaker who compels his coaches to deliver the ball to him in as many ways as they can conceive.
He is Ohio State junior Ted Ginn Jr. -- and he is Florida freshman Percy Harvin. Together, their abilities illustrate the new and breathtaking paths that the Buckeyes and the Gators took to the Tostitos BCS National Championship Game on Monday night.
"They've got a great talent, a great athlete and they're doing a great job of getting the ball in his hands in different ways," Ohio State defensive coordinator Jim Heacock said of Harvin.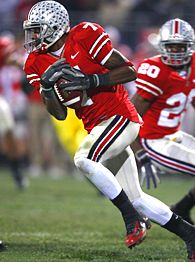 Joe Robbins-US PRESSWIRETed Ginn Jr. was great at Ohio State, but will he be healthy enough to be great for Miami?
"They can get the ball to him and he can just flat outrun you," Florida defensive coordinator Charlie Strong said of Ginn.
Harvin and Ginn are not one-man offenses, of course. It is because Florida and Ohio State have other talented receivers that these two are so effective. An already-stressed defense is ill-equipped to put more than one defender on the fastest player on the field. And it is well-established that these two, both of whom have run 40-yard dashes in the 4.3s, are as fast as anyone in college football.
"I think if we were all basic 4.5, 4.6 guys, I think we would still be great because of the basics that we are taught," Ginn said of the Buckeyes. "Having speed just takes it over the top."
Ginn caught 59 passes for 781 yards and nine touchdowns. He also scored the sixth touchdown of his career as a punt returner, and this season threw a 38-yard touchdown pass to Rory Nicol against Indiana.
Harvin, slowed for about half the season by an ankle injury, nonetheless caught 25 passes for 367 yards and two touchdowns, and rushed 36 times for 406 yards, third-best on the team, and two scores. He averaged 12.7 yards every time he touched the ball, the best of any freshman in the nation.
"When I wasn't healthy, there were certain cuts I couldn't make that I can make now," Harvin said. "I was just trying to get north and south. I wasn't trying to make any moves. Now that I'm healthy, I can make a few moves."
By the end of the season, Harvin could cut east, west, northwest, southeast and every direction in between. He accounted for 167 all-purpose yards, scoring a touchdown on a 67-yard run and a 37-yard reception, in the 38-28 victory over Arkansas in the SEC Championship Game.
In The Crosshairs
Ohio State junior Ted Ginn Jr. and Florida freshman Percy Harvin are built from the same mold. The common denominator is world-class speed. Scouts Inc.'s Todd McShay breaks down the fastest players in Monday's BCS title game. Crosshairs
"He can be wide," Heacock said. "He can be in the backfield. They're moving him around, doing a lot of great things with him."
Oh, yes. One other description from Heacock: "He reminds you of a Ted Ginn."
The climb from unschooled freshman to the Most Valuable Player of the SEC Championship Game began out of necessity. Injuries had left the Gators thin at running back. Mullen, trying to maintain a balance between the run and the pass, looked for ways to keep the ball on the ground without the benefit of a running back. The more successful that Harvin and backup quarterback Tim Tebow became, the more they ran it.
"What we try to do is create mismatches, spread the field and find out who they are singling (single coverage) up," Mullen said. "Percy has been a huge advantage for us. They have to look at who they want to single up on every snap of the game, and can we find that person to take advantage of it?"
Harvin is the most eyecatching example of what makes Florida so difficult to defend. The Gators' best playmakers -- Harvin and fellow wide receivers Andre Caldwell, Dallas Baker and Jemalle Cornelius -- line up on the perimeter of the offense.
"All it takes is a couple of blocks," Harvin said. "With our speed, a couple of blocks, we can take it the distance. I know they are going to block for me and I know I am going to block for them. Just knowing that coming into the game feels pretty exciting."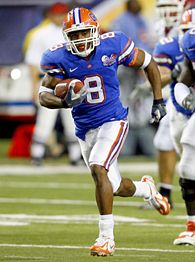 Dale Zanine-US PRESSWIRE Percy Harvin averaged 12.7 yards every time he touched the ball this season.
See Percy in motion. See Percy on the end run. See Percy line up in the backfield. The idea is not new for an Urban Meyer team. He has believed in spreading the field throughout his head coaching career.
It is relatively new for Ohio State. The Buckeyes won the 2002 national championship with defense, special teams and a conservative offense. With the emergence of Troy Smith at quarterback in 2004, the dimensions of the offense began to change.
Now that the Heisman Trophy winner has Ginn, Anthony Gonzalez and Brian Robiskie catching passes, Ohio State looks more like Florida than it does Michigan. The Buckeyes defeated the Wolverines, 42-39 in large part because of their ability to spread the field and keep an aggressive Michigan defense at bay.
Both offenses have speed on the outside. Both use it in ways that other offenses can't. Their unique abilities have given them a step on most defenses. What will be interesting to see Monday night is whether the offenses have that same step. After all, Ohio State and Florida practice against these offenses every day.
"Percy Harvin is a great player," Ohio State corner Antonio Smith said. "He can do a lot of different things, just kind of like Ted Ginn and what we have here. Going against him each and every day in practice, and our offense and our receiving corps, gives us a great advantage doing the things we need to do to get ready for this game."
Speed doesn't always translate well from film to field. It can take a series or two for players to adjust, and sometimes that's too late. Both defenses believe they are prepared for the speed they will see Monday night. The question is whether that preparation will matter. Speed properly used can render irrelevant the best defensive plan ever devised.
Ginn wears No. 7. Harvin wears No. 8. Beware the single-digit jersey, defensive back left in its wake.
Ivan Maisel is a senior writer for ESPN.com. Send your questions and comments to Ivan at ivan.maisel@espn3.com.
Senior Writer, ESPN.com
ESPN.com senior college football writer
Four-time FWAA award winner
27 seasons covering college football
SPONSORED HEADLINES
MORE COLLEGE FOOTBALL HEADLINES
MOST SENT STORIES ON ESPN.COM
BCS National Championship Game
Florida vs. Ohio State
Only one BCS bowl game remains on the schedule: the biggest one of them all. Months of speculation and controversy will come to an end when undefeated Ohio State meets SEC champ Florida in Glendale, Ariz., on Monday night. The winner will be crowned the BCS national champion.
BCS Championship Index
Features:
•
Forde: Meyer's unconventional wisdom
•
Wojciechowski: Bland works for Tressel
•
Maisel: Hetland kicks the habit
•
Maisel: Ohio State's most important play
•
Forde: Pitcock valuable on, off field
•
Maisel: Bucks, Gators have speed to burn
•
McShay: Ginn and Harvin in the crosshairs
•
Forde: Big Game Troy has that look
•
Wojciechowski: Follow the leader
•
Forde: Detour aids Smith, Gators
•
Maisel: Pittman seen, not heard
•
McShay: BCS pro prospects
•
Davie: Florida-Ohio State 101
•
Scouts Inc breakdown
Podcasts:
•
Maisel, Forde talk BCS game
•
McShay, DiNardo breakdown
SportsNation:
•
Vote: Gators or Buckeyes?
ESPN Motion:
•
Meyer's game plan spreads it out
•
Buckeye's play reflects Tressel's way
•
Special teams: Who has the edge?
•
Speed freaks: Ginn and Harvin
•
Pitcock valuable on and off the field
•
McShay: BCS Bowl preview
•
Maisel and Forde: Saturday notes
•
ESPN.com's preview
•
Players arrive for game
•
Leak reflects on career
•
Eddie George
•
360: GameDay preview
•
Todd McShay
•
EA Sports prediction