ALLSTATE SUGAR BOWL
New Orleans - Jan. 1, 2008
FOX, 8:30 p.m. ET
Big And Easy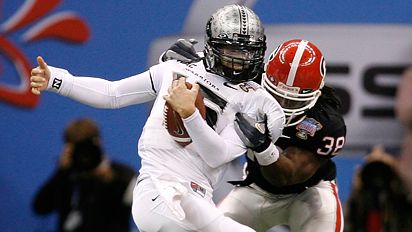 Kevin C. Cox/Getty Images
Marcus Howard picked up three of the Bulldogs' eight sacks.
New Year's Day used to showcase the nation's best teams. Maybe it still does. Were this not the BCS era, Georgia could make its case for No. 1 after its 41-10 sacking of Hawaii in New Orleans.
Ivan Maisel
•
Dawgs feast on Warriors
|
Low: Howard hosts sack party
•
Low: Analysis
|
Holtz/May: Did Hawaii belong in the BCS?

Bowl Overview
It was over when...
Knowshon Moreno rumbled 17 yards to put the Bulldogs up 7-0 early. Georgia dominated every phase of the game from start to finish.
Gameball goes to...
Marcus Howard.
The Georgia senior picked up three sacks and two forced fumbles, recovering one for a touchdown.
Stat of the game...
8, 4.
The Bulldogs picked up eight sacks and four interceptions while completely dominating Hawaii's high-powered offense.
HAWAII vs. GEORGIA
ESPN'S TAKE
WAC champion Hawaii's game against an elite SEC team figured to be difficult for the Warriors. It was. Two seasons ago, Georgia dismantled WAC power Boise State in similar fashion, 48-13. The Dawgs were able to get after Hawaii physically and relentlessly pressured Colt Brennan. Georgia was able to successfully tackle in the open field and limited the Warirors' impact on offense.

Hawaii's defense played pretty well in the second half, keeping Georgia out of the end zone in the fourth quarter. Unfortunately, by that point Matthew Stafford and Co. has already inflicted irreparable damage. On defense, Marcus Howard led the way with three sacks, two forced fumbles and a fumble recovery for a touchdown.. The Dawgs were firing on all cylinders. Even Brandon Coutu stepped up his game, nailing two field goals from 45 yards or beyond.

Hawaii had a great year, but the difference between playing a WAC schedule and an SEC schedule was painfully clear in the Sugar Bowl. Georgia has grown up significantly since the beginning of the season when it was held without a touchdown by South Carolina and beaten up badly by Tennessee. How good the Dawgs can be in 2008? With the majority of the team returning and a schedule that lines up nicely for a national championship run, expect Georgia to be scary good and make a return trip to a BCS bowl game in 2009.

-- Jim Donnan


Team Stat Comparison
1st Downs
20
19
Total Yards
306
334
Passing
311
175
Rushing
-5
159
Penalties
11-90
11-100
3rd Down Conversions
7-17
6-14
4th Down Conversions
0-2
0-2
Turnovers
6
1
Possession
30:39
29:21
Fantasy
Here's your chance to be the expert and pick the Bowl winners. Create your FREE entry and compete for a chance to win a home theater system.
College Bowl Mania

Georgia Rushing
CAR
YDS
TD
LG
T. Brown
19
73
1
20