Commentary
Dominating Bulldogs make sweet Sugar statement
Originally Published:
January 1, 2008
By
Ivan Maisel
| ESPN.com
NEW ORLEANS -- College football fans of a certain age recognized what they saw on New Year's Day as a re-enactment of the sport's pre-BCS days. The two best teams playing on the sport's national holiday looked like national champions. But with one playing in Pasadena and the other in New Orleans, the identity of the top team in the country remained open to debate.
The BCS is supposed to have done away with such debates, but in a season in which the identity of the No. 1 and No. 2 teams changed as often as the weather, USC and Georgia may be excused for believing that they have a claim to the national championship.
Pretend it's an SAT question: USC and Georgia are lesser than, equal to, or greater than Ohio State and LSU? The fans may not agree with the way the BCS grades that answer, and after Tuesday night, it may be difficult to find anyone in Hawaii or Georgia who agrees, either.
[+] Enlarge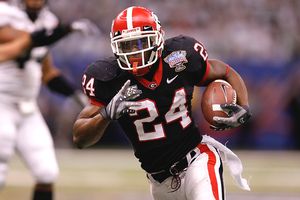 Chris Graythen/Getty ImagesKnowshon Moreno's 17-yard TD run started the Georgia landslide.
There's also this SAT question: USC is to Illinois as Georgia is to Hawaii. As the Trojans mopped up the Illini 49-17 in the Rose Bowl presented by Citi, the Bulldogs rudely ended the Warriors' undefeated dream season 41-10 in the Allstate Sugar Bowl. Think the Rose Bowl would like a mulligan on its selection of the Illini over the Bulldogs now?
None of the 74,383 fans at the Louisiana Superdome would dispute Georgia's case for No. 1. The Bulldogs (11-2) dominated the Warriors (12-1) from the opening snap with a defensive performance that will live for years, or until Hawaii quarterback Colt Brennan heals, whichever comes first.
Georgia set a school record for most points in a bowl game. From the Bulldogs' opening drive, which freshman tailback Knowshon Moreno completed with a bullish 17-yard run for the first of his two touchdowns, there would be no mystery to this Sugar Bowl, save why Georgia quarterback Matthew Stafford ever left the sideline in the fourth quarter with the Bulldogs leading 38-3.
Hawaii came into New Orleans with the only undefeated record in Division I-A. In a season of weekly turmoil, the poll voters chose to ignore the relative weakness of Hawaii's schedule and recognize the sheer difficulty of keeping a spotless record.
Hawaii utilized star power in Brennan, the bronze medalist in the Heisman, and the Warriors basked in the goodwill generated by their fellow Western Athletic Conference member, Boise State, after its BCS victory of a year ago. If nothing else, Hawaii's egg-laying put the final ribbon on Boise State's upset of Oklahoma in the Fiesta Bowl a year ago. Now we know how well the Broncos played that night.
The result Tuesday night is what the BCS and its bowls feared when they opened their doors to college football's wretched refuse. Hawaii looked like a huddled mass unable to let its quarterback breathe free. Georgia suffocated Hawaii's run-and-shoot offense, limiting the Warriors to 306 yards, 223 below their average.
"I took one right in the mouth today," Brennan said after the game. He spoke figuratively, because the fact is, Brennan took more than one in the mouth. Georgia sacked Brennan eight times and knocked him down at least that many times more. Brennan completed 22 of 38 passes for 169 yards, the lowest total of his career, save for the Nevada game this season, when an injury limited him to one drive.
[+] Enlarge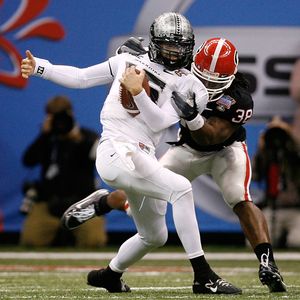 Kevin C. Cox/Getty ImagesSugar Bowl MOP Marcus Howard picked up three sacks against Hawaii.
Before the Warriors' first snap of the game, right tackle Keoni Steinhoff came out of his stance early and drew a penalty. Steinhoff knew what Georgia end Marcus Howard had in store for him. Howard, named the bowl's most outstanding player, sacked Brennan three times, twice forcing fumbles, the second of which he recovered in the third quarter for Georgia's fourth touchdown. He also deflected a pass that linebacker Dannell Ellerbe turned into Brennan's third interception of the game.
In short, Howard ran around Steinhoff as if he stood still. Come to think of it …
"The SEC is probably the fastest conference in the country," Brennan said. "We got a firsthand taste of that tonight. They are tough. They are a great football team. It is just really disappointing we didn't show up and at least play our type of football. We are such a better team than we showed tonight."
Steinhoff wasn't the only overmatched Warrior on the Hawaii offense. The Bulldogs applied that kind of pressure to Brennan without having to resort to blitzing.
"We wanted to force Colt to throw it faster than he wanted to," Georgia coach Mark Richt said. "We really didn't think we could get that many sacks, to be honest. We knew when they completed passes we didn't want to give them yards after the catch. The guys tackled very well."
The Bulldogs played with the same characteristic good tackling and tight coverage that they showed all season. Brennan rarely had time to let his quartet of dangerous receivers get downfield, and when they caught the ball, they didn't get far.
Georgia came into the game having allowed only 26 plays from scrimmage of more than 25 yards all season, and they left the Superdome having allowed only one more, a 38-yard completion on the Bulldogs' backups in the fourth quarter.
"We all knew watching film they weren't going to be ready for our speed," said Georgia linebacker Rennie Curran, who had two sacks, "They played pretty well in the beginning, but over time, it showed."
Hawaii reached the red zone in the first quarter, when a pass interference call on Georgia corner Asher Allen gave the Warriors a first down at the Bulldogs' 18. On the next play, Curran sacked Brennan for a 3-yard loss. Hawaii squeezed a 41-yard field goal by Dan Kelly out of the possession to close within 7-3.
The next time the Warriors reached the red zone, 11:23 remained in the fourth quarter, they trailed 41-3, and Tyler Graunke had replaced a battered Brennan. Graunke threw a 16-yard scoring pass to Ryan Grice-Mullen with 10:32 to play, saving Hawaii the embarrassment of losing by the biggest margin in BCS history (36 points, in USC's 55-19 win over Oklahoma in the 2005 Orange Bowl).
The Georgia offense played well, if unspectacularly. Two Hawaii turnovers in Warriors territory went unconverted, and backup quarterback Joe Cox failed to take the Bulldogs into the end zone after Ramarcus Brown returned a fourth-quarter kickoff 90 yards to the Warriors' 6-yard line. But that is nitpicking, dust on the dashboard of a Bentley.
Were this not the BCS era, Georgia could make its case for No. 1 and Hawaii never would have been subjected to this humiliation. It would be too harsh to say that Hawaii undid all that Boise State accomplished a year ago, but the Warriors didn't do the WAC any favors. This is one matchup that was no matchup at all.
Ivan Maisel is a senior writer for ESPN.com. Send your questions and comments to Ivan at ivan.maisel@espn3.com.
Senior Writer, ESPN.com
ESPN.com senior college football writer
Five-time FWAA award winner
28 seasons covering college football
2007 Bowl Season
College football's bowl season ended with the crowning of the LSU Tigers in the Allstate BCS National Championship Game, but not before Georgia and USC made convincing arguments on the field that they deserved to be the top team in the land. The good news? The 2008 season is mere months away.
BCS Title Game
Features
•
Maisel: What a way to geaux
•
Wojciechowski: Miles deserves a wa-hooooo
•
Forde: Ohio St. buckles under BCS pressure
•
Schlabach: Game analysis
Video
•
GameDay: Big Ten weak?

•
Forde/Schlabach: BCS analysis

•
Forde/Schlabach: Keys to the game

•
McShay: BCS breakdown

•
Postgame quotes: Jim Tressel

•
Postgame quotes: Glenn Dorsey

•
Postgame quotes: Les Miles

•
LSU celebrates win over Ohio State

BCS Title Game Preview
Features
•
Forde/Maisel: 10 reasons Ohio State/LSU will win
•
Forde: BCS title game important for more than football to New Orleans
•
Maisel: OSU's children of the scorn
•
Forde: Destiny's Team tag fits Tigers well
•
Wojciechowski: Don't believe the hype
•
Forde: Tale of the tape
•
Maisel: BCS QBs not stars, but leaders
•
Schlabach: 'Ironhead' Heyward's memory alive in son
•
Beanie carries the load for Bucks
•
Maisel: Healthy Dorsey ready to roll
•
Wojciechowski: Ohio State's motivational DVD
•
Maisel: Face of the Ohio State
•
Wojciechowski: Les is more
•
Schlabach: BCS notebook
•
Low: Steltz family ties
•
Low: Early bowls offer BCS game clues
•
Scouts' edge: LSU or Ohio State?

Video
•
Forde/Maisel: Breaking down the title game

•
Forde/Maisel: Hester, Laurinaitis define teams

•
Forde/Schlabach: X-Factors

•
Schlabach: Bucks' WRs key

•
Players expect electric atmosphere

•
GameDay: Which defense will prevail?

•
Forde/Maisel: LSU's D-Line vs. Ohio State's O-Line

•
Maisel/Schlabach: Title game intangibles

•
Forde/Schlabach: Pelini's impeding departure a factor?

•
McShay: BCS Championship preview

Fiesta Bowl
•
Forde: Stewart nails on-the-job interview
•
Forde: Scene of the crime
•
Forde: Mo' money, mo' problems
•
Forde: Picture worth 1,000 words
Rose Bowl
•
Schlabach: USC looks like nation's best team
•
Feldman: McKnight's impressive coming-out party
•
Schlabach: Illinois' offense as easy as 1-2-3
•
Feldman: USC defense starts, finishes up front
•
Schlabach: Rose coaches have similar stories
•
Feldman: Patience helps Booty weather storm
•
Schlabach: Leman's success mirrors Illini's rise
•
Feldman: USC still up despite 'down' year
•
Schlabach: Third year a charm for Zook, Illini
Sugar Bowl
•
Maisel: Seems like old times
•
Low: Howard hosts sack party
•
Maisel: Sweet smell of success
•
Schlabach: Richt takes a walk on the wild side
•
Dinich: Jones finds ohana in Hawaii
•
Low: Growth spurt helps Georgia come of age
•
Nielsen: 'Dread-Heads' Hawaii's unsung stars
Orange Bowl
•
Dinich: Kansas proved it belonged
•
Dinich: Kansas time share
•
Dinich: Virginia Tech makes two work
Other Bowl Coverage
•
Adelson: A final spin in the old Carr
•
Dinich: Texas Tech steals a bit of luck
•
Low: Liberty Bowl win caps MSU's season
•
Low: Croom's breakthrough season
•
Low: UCF's Smith running into record books
•
Feldman: Motivated Horns stampede Sun Devils
•
Maisel: Lone Star State QBs shining on bowls
•
Schlabach: Coaching transition game
•
Forde: Schnellenberger takes road less traveled
What To Watch
•
Pat Forde: Bowl-der Dash
•

Feldman's picks:
December
|
January
•
Flash Gallery: Chris Low's impact players
•
Heather Dinich: Bowling for the best gifts
BCS Selection Sunday
•
Pat Forde: The grateful duo
•
Ivan Maisel: Tigers, Bucks survive, advance
•
Gene Wojciechowski: Theater of the absurd
More Bowl Coverage
•
BCS:
Rose
|
Sugar
|
Fiesta
|
Orange
•
BCS National Championship Game
•
Bowl Overview
|
Bowl Schedule
|
Bowl Index
MORE COLLEGE FOOTBALL HEADLINES
Nike Men's Georgia Bulldogs Grey 'between The Hedges' Local Characteristic T-shirt Shop »

MOST SENT STORIES ON ESPN.COM