Commentary
Healthy, rested Dorsey ready for BCS title game
Updated:
January 4, 2008, 12:12 PM ET
By
Ivan Maisel
| ESPN.com
NEW ORLEANS -- Attention, please. Glenn Dorsey says he is healthy and feeling great, or as they say in opposing backfields: uh-oh.
The most impressive achievement by the LSU defensive tackle in his senior season is not that he won the Outland and Lott Trophies and the Lombardi and Nagurski Awards, becoming, as defensive coordinator Bo Pelini put it Thursday, "the most decorated defensive player in LSU history." It's that Dorsey won all that hardware while playing on one good knee.
[+] Enlarge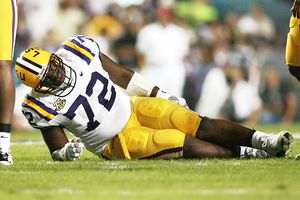 Doug Benc/Getty ImagesInjuries slowed down Glenn Dorsey this season.
Dorsey suffered a strained knee when he got chop-blocked against Auburn, and a bruised butt slowed him down more. Over the second half of the season, Dorsey said, he endured a series of frustrations and received a lesson in patience. As Dorsey and the Tigers prepare for Ohio State, it is all a thing of the past.
"I'd say about a week and a half ago, when we came back to practice for the bowl game," Dorsey said when asked when he felt good again. "That break we got was tremendous. I got to get my legs under me, get a lot more treatment, a lot more rehab. That did wonders for it."
When healthy, the 6-foot-2, 303-pound Dorsey takes the push and shove of line play and transforms it into great theater. He attracts offensive linemen as if he were an all-you-can-eat buffet, although he is the one who does the feasting.
"You watch him play," Ohio State offensive tackle Alex Boone said, "and there are some plays where he just puts people on the ground."
The knee strain extracted a pricey toll on his game. Though he finished third on the Tigers with 64 tackles, he played the last three games of the season without a tackle behind the line of scrimmage. Normally, he explodes with such speed and strength into the backfield that he makes the most basic elements of backfield play a gamble.
"Last year, when we were in Jordan-Hare Stadium," linebacker Ali Highsmith said, "he came off the ball and hit [former Auburn tailback] Kenny Irons in the backfield and just lifted him up off his feet. I was wondering how he got off the ball so fast. I don't even think I took three steps and he had made the tackle already."
Highsmith couldn't see a difference in Dorsey's game despite the injury.
"He would not let you see it," said Highsmith, second on the team with 93 tackles. "That was his will to go out there and play to perfection, hurt or not hurt. You really couldn't tell."
Dorsey could tell. He knew what he could do. He knew that he couldn't do it. That is not fun.
[+] Enlarge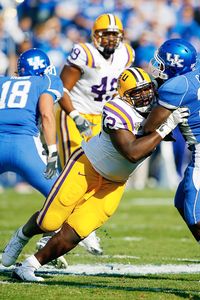 Joe Robbins/Getty ImagesGlenn Dorsey made 64 tackles for the Tigers in 2007.
"It was tough, man," Dorsey said. "I mean, I was in pain and I'm watching plays that usually I can destroy. That was the biggest thing. My body was hurting but the mental thing was just killing me. It was tough just to see that things I can normally do, I wasn't able to do."
Dorsey told himself to suck it up; everybody is hurt at the end of the season. He worked on his technique, hoping it would provide shortcuts to making plays that he usually found with his physical gifts. He tried to concentrate more. His effort won him even more praise than usual from his coaches.
"You could count on one hand the amount of players in the country who would have tried to play with what he had," Pelini said. It wasn't something that was going to be a long-term threat to his health. But he was in a lot of pain. He tried to fight through it and, really, gave more snaps than I thought [most] guys would have attempted. It just shows that's why he's Glenn Dorsey."
The sun is usually shining in Dorsey's world. His motor has been in fifth gear since he was a small child, watching other kids run and play while he wore braces on both legs for severe bowleggedness. He said he does not hold a grudge against the Auburn player who smashed into his knee.
"My family wasn't too happy," he said, laughing.
A mention of the various mock drafts that put him in a Miami Dolphins uniform next season as the first player taken in the NFL Draft elicited a shake of the head.
"Y'all have no idea," Dorsey said. "I try not to look at all that. I get mad when I go home and my family talks about it. 'Look, just please let me focus on this game.' I try not to worry about all that. I try to stay humble. I'm still a college athlete. That can wait."
Dorsey wouldn't be the first player to leave his best bowl performance on the award banquet trail. The list of Heisman bowl busts, for instance, is a long one. Ask Ohio State and Troy Smith. But Dorsey sounded insulted at the idea that his many banquets, not to mention being Grand Marshal of the Christmas Parade in his hometown of Gonzales, La., could have made him soft.
"Who said that?" Dorsey asked. "I don't know about all that. I'm going to be ready to roll. I'll tell you that much."
That's good news for LSU. That's not such good news for Ohio State. A season that he described as "more challenging" is ending just the way he hoped when he decided to put the NFL off for a year and return for his senior season.
"I just wanted to push through it," Dorsey said of his knee. "I knew with time it was going to get better. And then we kept winning, kept winning. That made it a lot better off.
"Now that we're in the national championship game, what injury?"
Ivan Maisel is a senior writer for ESPN.com. Send your questions and comments to Ivan at ivan.maisel@espn3.com.
Senior Writer, ESPN.com
ESPN.com senior college football writer
Five-time FWAA award winner
28 seasons covering college football
2007 Bowl Season
College football's bowl season ended with the crowning of the LSU Tigers in the Allstate BCS National Championship Game, but not before Georgia and USC made convincing arguments on the field that they deserved to be the top team in the land. The good news? The 2008 season is mere months away.
BCS Title Game
Features
•
Maisel: What a way to geaux
•
Wojciechowski: Miles deserves a wa-hooooo
•
Forde: Ohio St. buckles under BCS pressure
•
Schlabach: Game analysis
Video
•
GameDay: Big Ten weak?

•
Forde/Schlabach: BCS analysis

•
Forde/Schlabach: Keys to the game

•
McShay: BCS breakdown

•
Postgame quotes: Jim Tressel

•
Postgame quotes: Glenn Dorsey

•
Postgame quotes: Les Miles

•
LSU celebrates win over Ohio State

BCS Title Game Preview
Features
•
Forde/Maisel: 10 reasons Ohio State/LSU will win
•
Forde: BCS title game important for more than football to New Orleans
•
Maisel: OSU's children of the scorn
•
Forde: Destiny's Team tag fits Tigers well
•
Wojciechowski: Don't believe the hype
•
Forde: Tale of the tape
•
Maisel: BCS QBs not stars, but leaders
•
Schlabach: 'Ironhead' Heyward's memory alive in son
•
Beanie carries the load for Bucks
•
Maisel: Healthy Dorsey ready to roll
•
Wojciechowski: Ohio State's motivational DVD
•
Maisel: Face of the Ohio State
•
Wojciechowski: Les is more
•
Schlabach: BCS notebook
•
Low: Steltz family ties
•
Low: Early bowls offer BCS game clues
•
Scouts' edge: LSU or Ohio State?

Video
•
Forde/Maisel: Breaking down the title game

•
Forde/Maisel: Hester, Laurinaitis define teams

•
Forde/Schlabach: X-Factors

•
Schlabach: Bucks' WRs key

•
Players expect electric atmosphere

•
GameDay: Which defense will prevail?

•
Forde/Maisel: LSU's D-Line vs. Ohio State's O-Line

•
Maisel/Schlabach: Title game intangibles

•
Forde/Schlabach: Pelini's impeding departure a factor?

•
McShay: BCS Championship preview

Fiesta Bowl
•
Forde: Stewart nails on-the-job interview
•
Forde: Scene of the crime
•
Forde: Mo' money, mo' problems
•
Forde: Picture worth 1,000 words
Rose Bowl
•
Schlabach: USC looks like nation's best team
•
Feldman: McKnight's impressive coming-out party
•
Schlabach: Illinois' offense as easy as 1-2-3
•
Feldman: USC defense starts, finishes up front
•
Schlabach: Rose coaches have similar stories
•
Feldman: Patience helps Booty weather storm
•
Schlabach: Leman's success mirrors Illini's rise
•
Feldman: USC still up despite 'down' year
•
Schlabach: Third year a charm for Zook, Illini
Sugar Bowl
•
Maisel: Seems like old times
•
Low: Howard hosts sack party
•
Maisel: Sweet smell of success
•
Schlabach: Richt takes a walk on the wild side
•
Dinich: Jones finds ohana in Hawaii
•
Low: Growth spurt helps Georgia come of age
•
Nielsen: 'Dread-Heads' Hawaii's unsung stars
Orange Bowl
•
Dinich: Kansas proved it belonged
•
Dinich: Kansas time share
•
Dinich: Virginia Tech makes two work
Other Bowl Coverage
•
Adelson: A final spin in the old Carr
•
Dinich: Texas Tech steals a bit of luck
•
Low: Liberty Bowl win caps MSU's season
•
Low: Croom's breakthrough season
•
Low: UCF's Smith running into record books
•
Feldman: Motivated Horns stampede Sun Devils
•
Maisel: Lone Star State QBs shining on bowls
•
Schlabach: Coaching transition game
•
Forde: Schnellenberger takes road less traveled
What To Watch
•
Pat Forde: Bowl-der Dash
•

Feldman's picks:
December
|
January
•
Flash Gallery: Chris Low's impact players
•
Heather Dinich: Bowling for the best gifts
BCS Selection Sunday
•
Pat Forde: The grateful duo
•
Ivan Maisel: Tigers, Bucks survive, advance
•
Gene Wojciechowski: Theater of the absurd
More Bowl Coverage
•
BCS:
Rose
|
Sugar
|
Fiesta
|
Orange
•
BCS National Championship Game
•
Bowl Overview
|
Bowl Schedule
|
Bowl Index
MORE COLLEGE FOOTBALL HEADLINES