Commentary
Zook, Carroll looking a lot alike these days
LOS ANGELES -- One of the two men who will lead their teams into the Rose Bowl on New Year's Day (ABC, 4:30 p.m. ET) was fired by his previous employer. He was given a pink slip even after compiling a winning record and leading his team into the postseason during his tenure. The coach was criticized for being too chummy with his players and not tough enough.
[+] Enlarge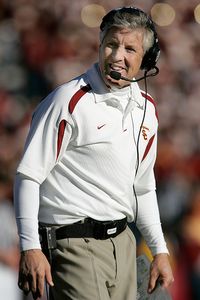 Jeff Gross/Getty ImagesPete Carroll had a winning record at New England before getting fired and going to USC.
Surprisingly, that man was Illinois' Ron Zook and Southern California's Pete Carroll.
Zook was named Steve Spurrier's successor at Florida in 2002 and was fired after only three seasons. Before Carroll built the Trojans into college football's most recent dynasty, he was an unemployed coach who was out of work for one season after being fired by the New England Patriots.
Both found redemption at their new schools. Carroll has led USC to two national championships and has won 84 percent of his games there. Zook led the Illini to their first Rose Bowl since 1983 after producing the biggest turnaround in the country this season.
"I had a pretty good winning record at New England and got fired," Carroll said. "I can appreciate guys making it through and coming out on the other side."
Carroll, 56, was fired twice as an NFL coach. He lasted only one season with the New York Jets, after his team finished 6-10 in 1994. Hired three years later as coach of the Patriots, Carroll led his team to an AFC East title and the second round of the playoffs in his first season in 1997. The Patriots went 9-7 and made the playoffs the next year, but Carroll was fired after an 8-8 finish in 1999.
Zook took a similar path to Illinois. He led Florida to three consecutive winning records and bowl games, but was fired before his third season was finished. He was ridiculed for his energetic personality and tireless work ethic and was inauspiciously dubbed "The Zooker" by opponents and even his own team's fans.
As different as Carroll and Zook seemed three years ago, when the Trojans were putting the finishing touches on consecutive national championships and the Gators were showing their coach the door, they seem very much alike today. Both have defensive backgrounds. Both are great recruiters. And both are master motivators.
"In many ways, I think they are a lot alike," USC quarterback John David Booty said. "I don't know Coach Zook in a personal way, but I think they're probably pretty similar. I know the energy Coach Carroll brings. We look for a lot of our energy from him. We look for a lot of our motivation from him. I think the same thing is probably true of Coach Zook."

I think he's always been a good football coach. He had a good run at Florida, too. I don't think there was ever any question he was going to be successful all along. To get this far this quickly, I think it's a tremendous statement about him.
-- USC coach Pete Carroll on Illinois coach Ron Zook
And now both are near the top of their profession.
Carroll has led USC to six consecutive BCS bowl games and Pac-10 Conference championships. The No. 7 Trojans have won 66 times in their past 72 games and have finished in the top five of the final AP Top 25 poll five straight times.
Zook's sudden success at Illinois has been just as remarkable. After winning only two games in each of Zook's first two seasons, the No. 13 Illini finished 9-3 this year. Illinois went 6-2 in Big Ten play, after losing 30 of its previous 32 games against conference foes. The Illini ended Wisconsin's 14-game winning streak with a surprising 31-26 upset in October, then stunned No. 1 Ohio State 28-21 on the road in early November.
Even Carroll sees a lot of Zook in himself.
"He's such a great worker and such an energetic guy," Carroll said. "I think he's always been a good football coach. He had a good run at Florida, too. I don't think there was ever any question he was going to be successful all along. To get this far this quickly, I think it's a tremendous statement about him. That's a program that had some hard, hard times the last several years. For him to turn it around is quite an achievement."
Zook said he had nothing to prove to himself or others after he was fired at Florida.
"It's not about redemption," Zook said. "I'm just thankful I was given this opportunity to come here and coach here. I think it's about timing in coaching. It's just like Coach Carroll, he didn't fail [in the NFL]. It's just the society we live in. I told our guys down there [at Florida] that we didn't fail. We just ran out of time."
If given more time at Florida, Zook's assistant coaches contend he would have been just as successful with the Gators.
"I think it would have happened at Florida," said Illinois co-defensive coordinator Dan Disch, who was Zook's secondary coach at Florida in 2004. "I don't think they gave him enough time. We're 9-3 in our third year here at a program that doesn't have the same resources or talent as Florida. I knew that when it ended at Florida, if he went somewhere and got the time he needed, he'd be successful. I think it was just a matter of giving him enough time to do it."
[+] Enlarge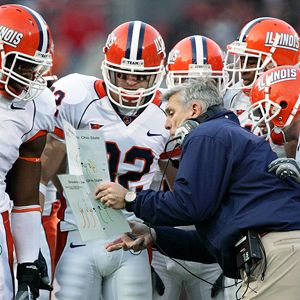 Mark Cowan/Icon SMIRon Zook has always been able to recruit top talent.
Like Carroll, Zook has long been regarded among college football's best recruiters. He recruited many of the Florida players who won a national championship under Urban Meyer in 2006.
"I think Coach Meyer has some pretty good players he's coaching that Coach Zook got for him," USC offensive coordinator Steve Sarkisian said. "Obviously, it takes a guy who can call plays and motivate people, and Coach Zook has shown he can do that at Illinois. Obviously, where he's made his mark is in recruiting."
Under Zook, Illinois has signed many players who would have never considered the Illini in the past. Freshman receiver Arrelious Benn turned down scholarship offers from Florida State, Notre Dame and USC, among other more established programs. Sophomore cornerback Vontae Davis was another highly recruited player from Washington, D.C., and quarterback Juice Williams and linebacker Martez Wilson were highly sought-out prospects from Chicago.
"You either get on the bus or you don't," Disch said. "He's just really going so fast and believing in himself so much that you really don't have to make a choice. You just believe in the guy."
It didn't take the Trojans long to begin believing in Carroll. After USC went 6-6 in his first season, it has won at least 11 games in every season since (Nebraska, Florida State and Oklahoma are the only other programs to accomplish that feat in five straight seasons). Carroll recruited Heisman Trophy winners Matt Leinart and Reggie Bush and at least two dozen other NFL draft choices.
"I think he's the model," Sarkisian said of his boss. "For a young football coach like myself and having Pete as a mentor, you want to have the energy he has to get on the recruiting trail and practice field. He never has a bad day."
There aren't many bad days for Zook anymore, either.
Mark Schlabach covers college football and men's college basketball for ESPN.com. You can contact him at schlabachma@yahoo.com.
College Football and Basketball
College football writer for ESPN.com
Author of seven books on college football
Formerly at the Washington Post and the Atlanta Journal-Constitution
SPONSORED HEADLINES
MORE COLLEGE FOOTBALL HEADLINES
MOST SENT STORIES ON ESPN.COM
2007 Bowl Season
College football's bowl season ended with the crowning of the LSU Tigers in the Allstate BCS National Championship Game, but not before Georgia and USC made convincing arguments on the field that they deserved to be the top team in the land. The good news? The 2008 season is mere months away.
BCS Title Game
Features
•
Maisel: What a way to geaux
•
Wojciechowski: Miles deserves a wa-hooooo
•
Forde: Ohio St. buckles under BCS pressure
•
Schlabach: Game analysis
Video
•
GameDay: Big Ten weak?

•
Forde/Schlabach: BCS analysis

•
Forde/Schlabach: Keys to the game

•
McShay: BCS breakdown

•
Postgame quotes: Jim Tressel

•
Postgame quotes: Glenn Dorsey

•
Postgame quotes: Les Miles

•
LSU celebrates win over Ohio State

BCS Title Game Preview
Features
•
Forde/Maisel: 10 reasons Ohio State/LSU will win
•
Forde: BCS title game important for more than football to New Orleans
•
Maisel: OSU's children of the scorn
•
Forde: Destiny's Team tag fits Tigers well
•
Wojciechowski: Don't believe the hype
•
Forde: Tale of the tape
•
Maisel: BCS QBs not stars, but leaders
•
Schlabach: 'Ironhead' Heyward's memory alive in son
•
Beanie carries the load for Bucks
•
Maisel: Healthy Dorsey ready to roll
•
Wojciechowski: Ohio State's motivational DVD
•
Maisel: Face of the Ohio State
•
Wojciechowski: Les is more
•
Schlabach: BCS notebook
•
Low: Steltz family ties
•
Low: Early bowls offer BCS game clues
•
Scouts' edge: LSU or Ohio State?

Video
•
Forde/Maisel: Breaking down the title game

•
Forde/Maisel: Hester, Laurinaitis define teams

•
Forde/Schlabach: X-Factors

•
Schlabach: Bucks' WRs key

•
Players expect electric atmosphere

•
GameDay: Which defense will prevail?

•
Forde/Maisel: LSU's D-Line vs. Ohio State's O-Line

•
Maisel/Schlabach: Title game intangibles

•
Forde/Schlabach: Pelini's impeding departure a factor?

•
McShay: BCS Championship preview

Fiesta Bowl
•
Forde: Stewart nails on-the-job interview
•
Forde: Scene of the crime
•
Forde: Mo' money, mo' problems
•
Forde: Picture worth 1,000 words
Rose Bowl
•
Schlabach: USC looks like nation's best team
•
Feldman: McKnight's impressive coming-out party
•
Schlabach: Illinois' offense as easy as 1-2-3
•
Feldman: USC defense starts, finishes up front
•
Schlabach: Rose coaches have similar stories
•
Feldman: Patience helps Booty weather storm
•
Schlabach: Leman's success mirrors Illini's rise
•
Feldman: USC still up despite 'down' year
•
Schlabach: Third year a charm for Zook, Illini
Sugar Bowl
•
Maisel: Seems like old times
•
Low: Howard hosts sack party
•
Maisel: Sweet smell of success
•
Schlabach: Richt takes a walk on the wild side
•
Dinich: Jones finds ohana in Hawaii
•
Low: Growth spurt helps Georgia come of age
•
Nielsen: 'Dread-Heads' Hawaii's unsung stars
Orange Bowl
•
Dinich: Kansas proved it belonged
•
Dinich: Kansas time share
•
Dinich: Virginia Tech makes two work
Other Bowl Coverage
•
Adelson: A final spin in the old Carr
•
Dinich: Texas Tech steals a bit of luck
•
Low: Liberty Bowl win caps MSU's season
•
Low: Croom's breakthrough season
•
Low: UCF's Smith running into record books
•
Feldman: Motivated Horns stampede Sun Devils
•
Maisel: Lone Star State QBs shining on bowls
•
Schlabach: Coaching transition game
•
Forde: Schnellenberger takes road less traveled
What To Watch
•
Pat Forde: Bowl-der Dash
•

Feldman's picks:
December
|
January
•
Flash Gallery: Chris Low's impact players
•
Heather Dinich: Bowling for the best gifts
BCS Selection Sunday
•
Pat Forde: The grateful duo
•
Ivan Maisel: Tigers, Bucks survive, advance
•
Gene Wojciechowski: Theater of the absurd
More Bowl Coverage
•
BCS:
Rose
|
Sugar
|
Fiesta
|
Orange
•
BCS National Championship Game
•
Bowl Overview
|
Bowl Schedule
|
Bowl Index