Commentary
Dorsey finally healthy; OSU makes some adjustments
NEW ORLEANS -- LSU All-America defensive tackle Glenn Dorsey said Thursday he's as healthy as he has been in more than two months, since a vicious chop block by Auburn guard Chaz Ramsey left him hobbling with an injured right knee.
[+] Enlarge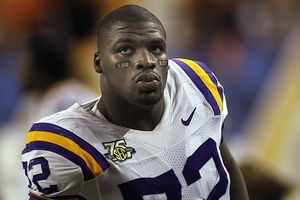 AP Photo/ Dave MartinGlenn Dorsey is happy to be healthy again.
Dorsey, who became one of college football's most decorated players when he won the Nagurski Award, Lombardi Award, Outland Trophy and Lott Award after the regular season, wasn't nearly as effective after he was hurt during the third quarter of LSU's 30-24 win over the Tigers on Oct. 20.
"I'm feeling good right now," Dorsey said Thursday, four days before the No. 2 Tigers play No. 1 Ohio State in the BCS Championship Game in the Louisiana Superdome. "The time off let us heal and get our legs back under us. We're all flying around and ready to roll."
Dorsey hasn't flown around much since the Tigers rolled his right leg in one of the most infamous plays of the college football season. As Auburn tackle Lee Ziemba engaged Dorsey at the line of scrimmage, Ramsey lunged at the side of Dorsey's leg. He was bent backward on the play and missed the rest of the game.
Dorsey, a 6-foot-2, 303-pound senior from Gonzales, La., played in the Tigers' final five games, but wasn't nearly as explosive or dominant. He finished the season with 64 tackles, 11½ tackles for loss and six sacks. Dorsey was held without a tackle for loss in three of the final five games.
"Everybody could see it," LSU defensive end Kirston Pittman said. "They intentionally decided to try and injure him, but they said they didn't try to do that. Before that game, he dominated every game. They had two or three guys blocking him every play, and he really opened holes for the linebackers. Afterward, he was injured and it was bothering him a lot."
Bending enemy lines
Ohio State offensive tackle Kirk Barton said the Buckeyes will be at a disadvantage Monday night, because the Tigers will be playing so close to home. Several of the Tigers' players are natives of New Orleans, and the LSU campus in Baton Rouge is only 80 miles from here.
"It's kind of like in 'Rocky IV' when he goes to Russia," Barton said. "He gets off the plane and the KGB is with him. My favorite scene in that movie is when he's running down the road and they get in the car and try to follow him. He goes off the road and they crash."
Barton said he anticipated a similar welcoming in New Orleans for the Buckeyes.
"As far as running my laps around the city tonight, I'll probably have some people chasing after me with their flags and stuff," Barton said. "That's kind of what's it's like."
Ohio State pulling for Michigan?
Ohio State coach Jim Tressel and a few of the Buckeyes admitted they were pulling for -- gasp! -- Michigan to beat Florida in the Capital One Bowl on New Year's Day. Although the Wolverines are Ohio State's biggest rival, Tressel said he was happy to see Lloyd Carr win his final game as Michigan's coach. And it didn't hurt that the Wolverines beat the Gators, who blasted the Buckeyes 41-14 in the BCS Championship Game last season.
"Lloyd Carr is one of the great gentleman in our profession," Tressel said. "To see his team respond and play so well and, obviously, they're members of our conference. We're proud of that and Lloyd Carr had an extraordinary career. If you look at his resume and what he's accomplished, it's always nice for someone to end that way."
Added Buckeyes offensive tackle Alex Boone: "The whole time, I'm thinking, 'Michigan is going to win because it's Lloyd's last game.' They've got to play as hard as they can for as long as they can. They did. They played a great game. I think that's the last time you'll ever hear me say that about Michigan.
"I called my mom and said, 'This is the last time you'll ever hear me say, Go Blue.' I wanted [them] to win, just for Lloyd, because he seems like a good guy. Obviously, in the bowl season, it's all about the Big Ten. It's not about any other team. I want Big Ten teams to win. They did play a great game."
Change of plans
Much was made of Ohio State's 51-day layoff before and after the Buckeyes lost to Florida in last year's BCS Championship Game. So Tressel decided to change the Buckeyes' preparation plans this time around. The Buckeyes didn't come to New Orleans until Wednesday, five days before the game. Last year, Ohio State's coaches and players arrived in Arizona 10 days before the Buckeyes played the Gators.
"I don't have the ability to solve things," Tressel said. "I have the ability to help things, hopefully. I think just in pure number of days that you're somewhere, you know, it's a little bit easier to stay on a task when you're only there for X-days, rather than X-plus five or whatever. But it's still up to us individually. I feel good about how our guys will approach it."
Barton said the changes have been embraced by the Buckeyes.
"To me, it's been pretty different," Barton said. "Everything has been positive. Everything we have changed has been for the better. We changed a couple of things we did during practice. We came down later. I was in favor of both of those, because I'm a captain, so I have a little bit of input. I'm excited about the things we've changed."
Ohio State tailback Chris Wells said arriving at the game location later should help the Buckeyes more than anything else.
"Last year we were out there a while and it was more like a vacation," Wells said. "This year, everybody's taking it more like a business trip, like we're down here for a purpose."
Mark Schlabach covers college football and men's college basketball for ESPN.com. You can contact him at schlabachma@yahoo.com.
College Football and Basketball
College football writer for ESPN.com
Author of seven books on college football
Formerly at the Washington Post and the Atlanta Journal-Constitution
2007 Bowl Season
College football's bowl season ended with the crowning of the LSU Tigers in the Allstate BCS National Championship Game, but not before Georgia and USC made convincing arguments on the field that they deserved to be the top team in the land. The good news? The 2008 season is mere months away.
BCS Title Game
Features
•
Maisel: What a way to geaux
•
Wojciechowski: Miles deserves a wa-hooooo
•
Forde: Ohio St. buckles under BCS pressure
•
Schlabach: Game analysis
Video
•
GameDay: Big Ten weak?

•
Forde/Schlabach: BCS analysis

•
Forde/Schlabach: Keys to the game

•
McShay: BCS breakdown

•
Postgame quotes: Jim Tressel

•
Postgame quotes: Glenn Dorsey

•
Postgame quotes: Les Miles

•
LSU celebrates win over Ohio State

BCS Title Game Preview
Features
•
Forde/Maisel: 10 reasons Ohio State/LSU will win
•
Forde: BCS title game important for more than football to New Orleans
•
Maisel: OSU's children of the scorn
•
Forde: Destiny's Team tag fits Tigers well
•
Wojciechowski: Don't believe the hype
•
Forde: Tale of the tape
•
Maisel: BCS QBs not stars, but leaders
•
Schlabach: 'Ironhead' Heyward's memory alive in son
•
Beanie carries the load for Bucks
•
Maisel: Healthy Dorsey ready to roll
•
Wojciechowski: Ohio State's motivational DVD
•
Maisel: Face of the Ohio State
•
Wojciechowski: Les is more
•
Schlabach: BCS notebook
•
Low: Steltz family ties
•
Low: Early bowls offer BCS game clues
•
Scouts' edge: LSU or Ohio State?

Video
•
Forde/Maisel: Breaking down the title game

•
Forde/Maisel: Hester, Laurinaitis define teams

•
Forde/Schlabach: X-Factors

•
Schlabach: Bucks' WRs key

•
Players expect electric atmosphere

•
GameDay: Which defense will prevail?

•
Forde/Maisel: LSU's D-Line vs. Ohio State's O-Line

•
Maisel/Schlabach: Title game intangibles

•
Forde/Schlabach: Pelini's impeding departure a factor?

•
McShay: BCS Championship preview

Fiesta Bowl
•
Forde: Stewart nails on-the-job interview
•
Forde: Scene of the crime
•
Forde: Mo' money, mo' problems
•
Forde: Picture worth 1,000 words
Rose Bowl
•
Schlabach: USC looks like nation's best team
•
Feldman: McKnight's impressive coming-out party
•
Schlabach: Illinois' offense as easy as 1-2-3
•
Feldman: USC defense starts, finishes up front
•
Schlabach: Rose coaches have similar stories
•
Feldman: Patience helps Booty weather storm
•
Schlabach: Leman's success mirrors Illini's rise
•
Feldman: USC still up despite 'down' year
•
Schlabach: Third year a charm for Zook, Illini
Sugar Bowl
•
Maisel: Seems like old times
•
Low: Howard hosts sack party
•
Maisel: Sweet smell of success
•
Schlabach: Richt takes a walk on the wild side
•
Dinich: Jones finds ohana in Hawaii
•
Low: Growth spurt helps Georgia come of age
•
Nielsen: 'Dread-Heads' Hawaii's unsung stars
Orange Bowl
•
Dinich: Kansas proved it belonged
•
Dinich: Kansas time share
•
Dinich: Virginia Tech makes two work
Other Bowl Coverage
•
Adelson: A final spin in the old Carr
•
Dinich: Texas Tech steals a bit of luck
•
Low: Liberty Bowl win caps MSU's season
•
Low: Croom's breakthrough season
•
Low: UCF's Smith running into record books
•
Feldman: Motivated Horns stampede Sun Devils
•
Maisel: Lone Star State QBs shining on bowls
•
Schlabach: Coaching transition game
•
Forde: Schnellenberger takes road less traveled
What To Watch
•
Pat Forde: Bowl-der Dash
•

Feldman's picks:
December
|
January
•
Flash Gallery: Chris Low's impact players
•
Heather Dinich: Bowling for the best gifts
BCS Selection Sunday
•
Pat Forde: The grateful duo
•
Ivan Maisel: Tigers, Bucks survive, advance
•
Gene Wojciechowski: Theater of the absurd
More Bowl Coverage
•
BCS:
Rose
|
Sugar
|
Fiesta
|
Orange
•
BCS National Championship Game
•
Bowl Overview
|
Bowl Schedule
|
Bowl Index
MORE COLLEGE FOOTBALL HEADLINES