Commentary
Sophomore Wells brings much-needed toughness to Buckeyes
NEW ORLEANS -- Coming into this season, as Ohio State tried to rebuild its roster and psyche after an embarrassing 41-14 loss to Florida in the 2006 BCS Championship Game, the Buckeyes had more questions than the Riddler.
[+] Enlarge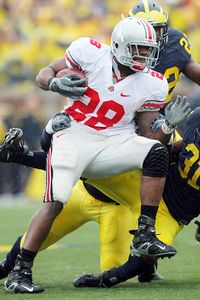 Harry How/Getty ImagesBeanie Wells ran for 1,463 yards and 14 touchdowns this season.
Could junior Todd Boeckman effectively succeed Heisman Trophy-winner Troy Smith at quarterback? Who would replace big-play receivers Ted Ginn Jr. and Anthony Gonzalez? Was Ohio State's offensive line really as slow as the Gators made it look?
At least Buckeyes coach Jim Tressel knew who was going to replace Antonio Pittman, his team's workhorse tailback who ran for 1,233 yards and 14 touchdowns last season.
Chris "Beanie" Wells was Pittman's heir apparent the day he first stepped on the Ohio State campus in 2006. Wells, from Garfield High School in Akron, Ohio, was widely considered the country's best high school running back in 2005 and was heralded as the Buckeyes' next star.
In 2007, his first season as a starter, Wells became a bona fide star. He was named Ohio State's MVP during the regular season and is the player LSU's defense will have to stop in Monday night's Allstate BCS Championship Game in the Louisiana Superdome. More than anything else, Wells brought a degree of toughness to the No. 1 Buckeyes -- something that might have been missing when they were blitzed by the Gators in last year's title game.
"I feel like the whole team is playing and practicing like we have a chip on our shoulder, and we do," Wells said. "We lost a big one last year. We get another shot to go for this title and to go out there and fight for Ohio State pride."
No Buckeye has fought as much as Wells this season. He was plagued by a sprained ankle and broken bone in his left wrist for much of the season, but opponents might have hardly noticed. He carried the football more than 30 times in two games and had at least 20 in each of the Buckeyes' past five games.
After running for more than 500 yards and seven touchdowns as a freshman, Wells largely exceeded his lofty expectations this season. His 1,463 rushing yards were second-most in the Big Ten conference and the seventh-most in any season by an Ohio State player. Along the way, Wells displayed a rare combination of power, speed and durability.
"He's a big guy," LSU All-America defensive tackle Glenn Dorsey said. "He runs the ball hard and has some good moves. I think he's faster than people give him credit for."
[+] Enlarge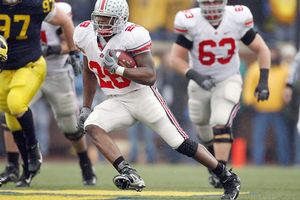 Gregory Shamus/Getty ImagesExpect Wells to see plenty of carries against LSU's defense on Monday.
Wells will probably need all his speed and more against the No. 2 Tigers. LSU ranks 13th nationally in run defense, allowing only 103.1 yards per game. LSU allowed only one 100-yard runner in 13 games this season -- Heisman Trophy runner-up Darren McFadden of Arkansas had 206 yards and three touchdowns in the Razorbacks' stunning 50-48 upset in three overtimes of the then-No. 1 Tigers.
Wells, a 6-foot-1, 230-pound sophomore, is built a lot like McFadden.
"He's a big, powerful back," LSU defensive coordinator Bo Pelini said. "They feel really confident in their running game, and that's obviously going to be a key in the ball game."
LSU's defense still has much to prove against the Buckeyes. The Tigers looked vulnerable in two of their past three games, when Dorsey was hobbled by a severely sprained right knee. Ole Miss gained 466 yards of offense in LSU's 41-24 win on Nov. 17. Arkansas had 513 yards against the Tigers, including 385 rushing yards. LSU's defense played better in its 21-14 victory over Tennessee in the Dec. 1 SEC Championship Game, holding the Volunteers to only 94 rushing yards and 343 yards overall.
LSU's performance against Ole Miss and Arkansas remain a sore spot for Pelini, who declined to talk about those games on Thursday.
"That's a different time and different place," Pelini said. "We're preparing to play Ohio State."
And the Tigers are preparing to slow down Wells, who is coming off his best college performance. In Ohio State's 14-3 win over rival Michigan on Nov. 17, Wells ran 39 times for 222 yards and two touchdowns. His 62-yard scoring burst in the third quarter broke the game open, giving Ohio State its sixth victory in its past seven meetings against the Wolverines.
Afterward, Michigan coach Lloyd Carr gave Wells the ultimate compliment for any running back.
"We hit him, and we hit him -- and I mean we hit him hard -- and he just kept coming," Carr said.
Tressel said Wells has been just as valuable in the locker room. On a team that lost many of its star players and veterans from the season before, Wells became a vocal leader. He delivered an emotional pregame speech before the Buckeyes played Michigan.
"Beanie Wells is a difference maker," Tressel said. "He's a fiery guy. You could tell in the locker room before the game that he wanted to put this team on his shoulders. You could just see it in his eyes. You could hear it in his voice."
Wells' teammates said his motivational speech meant more because the running back is otherwise quiet.
"It's funny. You try to talk to Beanie during games, and he doesn't notice, he's so focused," Ohio State offensive tackle Alex Boone said. "There's many times I've tried to ask him a question, and I'll think he's mad at me. I'll ask, 'Man, are you mad at me?' And he'll say, 'Nah. I just don't hear you.'"
Wells is hoping the Tigers hear him loud and clear on Monday night. And then the memories of last season's BCS debacle will finally be silent.
"After that football game, it was looking at those guys' faces," Wells said. "Knowing that this year and knowing these seniors, I don't want that look on their faces."
Mark Schlabach covers college football and men's college basketball for ESPN.com. You can contact him at schlabachma@yahoo.com.
College Football and Basketball
College football writer for ESPN.com
Author of seven books on college football
Formerly at the Washington Post and the Atlanta Journal-Constitution
2007 Bowl Season
College football's bowl season ended with the crowning of the LSU Tigers in the Allstate BCS National Championship Game, but not before Georgia and USC made convincing arguments on the field that they deserved to be the top team in the land. The good news? The 2008 season is mere months away.
BCS Title Game
Features
•
Maisel: What a way to geaux
•
Wojciechowski: Miles deserves a wa-hooooo
•
Forde: Ohio St. buckles under BCS pressure
•
Schlabach: Game analysis
Video
•
GameDay: Big Ten weak?

•
Forde/Schlabach: BCS analysis

•
Forde/Schlabach: Keys to the game

•
McShay: BCS breakdown

•
Postgame quotes: Jim Tressel

•
Postgame quotes: Glenn Dorsey

•
Postgame quotes: Les Miles

•
LSU celebrates win over Ohio State

BCS Title Game Preview
Features
•
Forde/Maisel: 10 reasons Ohio State/LSU will win
•
Forde: BCS title game important for more than football to New Orleans
•
Maisel: OSU's children of the scorn
•
Forde: Destiny's Team tag fits Tigers well
•
Wojciechowski: Don't believe the hype
•
Forde: Tale of the tape
•
Maisel: BCS QBs not stars, but leaders
•
Schlabach: 'Ironhead' Heyward's memory alive in son
•
Beanie carries the load for Bucks
•
Maisel: Healthy Dorsey ready to roll
•
Wojciechowski: Ohio State's motivational DVD
•
Maisel: Face of the Ohio State
•
Wojciechowski: Les is more
•
Schlabach: BCS notebook
•
Low: Steltz family ties
•
Low: Early bowls offer BCS game clues
•
Scouts' edge: LSU or Ohio State?

Video
•
Forde/Maisel: Breaking down the title game

•
Forde/Maisel: Hester, Laurinaitis define teams

•
Forde/Schlabach: X-Factors

•
Schlabach: Bucks' WRs key

•
Players expect electric atmosphere

•
GameDay: Which defense will prevail?

•
Forde/Maisel: LSU's D-Line vs. Ohio State's O-Line

•
Maisel/Schlabach: Title game intangibles

•
Forde/Schlabach: Pelini's impeding departure a factor?

•
McShay: BCS Championship preview

Fiesta Bowl
•
Forde: Stewart nails on-the-job interview
•
Forde: Scene of the crime
•
Forde: Mo' money, mo' problems
•
Forde: Picture worth 1,000 words
Rose Bowl
•
Schlabach: USC looks like nation's best team
•
Feldman: McKnight's impressive coming-out party
•
Schlabach: Illinois' offense as easy as 1-2-3
•
Feldman: USC defense starts, finishes up front
•
Schlabach: Rose coaches have similar stories
•
Feldman: Patience helps Booty weather storm
•
Schlabach: Leman's success mirrors Illini's rise
•
Feldman: USC still up despite 'down' year
•
Schlabach: Third year a charm for Zook, Illini
Sugar Bowl
•
Maisel: Seems like old times
•
Low: Howard hosts sack party
•
Maisel: Sweet smell of success
•
Schlabach: Richt takes a walk on the wild side
•
Dinich: Jones finds ohana in Hawaii
•
Low: Growth spurt helps Georgia come of age
•
Nielsen: 'Dread-Heads' Hawaii's unsung stars
Orange Bowl
•
Dinich: Kansas proved it belonged
•
Dinich: Kansas time share
•
Dinich: Virginia Tech makes two work
Other Bowl Coverage
•
Adelson: A final spin in the old Carr
•
Dinich: Texas Tech steals a bit of luck
•
Low: Liberty Bowl win caps MSU's season
•
Low: Croom's breakthrough season
•
Low: UCF's Smith running into record books
•
Feldman: Motivated Horns stampede Sun Devils
•
Maisel: Lone Star State QBs shining on bowls
•
Schlabach: Coaching transition game
•
Forde: Schnellenberger takes road less traveled
What To Watch
•
Pat Forde: Bowl-der Dash
•

Feldman's picks:
December
|
January
•
Flash Gallery: Chris Low's impact players
•
Heather Dinich: Bowling for the best gifts
BCS Selection Sunday
•
Pat Forde: The grateful duo
•
Ivan Maisel: Tigers, Bucks survive, advance
•
Gene Wojciechowski: Theater of the absurd
More Bowl Coverage
•
BCS:
Rose
|
Sugar
|
Fiesta
|
Orange
•
BCS National Championship Game
•
Bowl Overview
|
Bowl Schedule
|
Bowl Index
MORE COLLEGE FOOTBALL HEADLINES
Nike Men's Ohio State Buckeyes Script Ohio Local Attribute T-shirt Shop »

MOST SENT STORIES ON ESPN.COM