Commentary
Ohio State's Heyward inspired by late, great 'Ironhead'
NEW ORLEANS -- The name on the back of Ohio State defensive end Cameron Heyward's jersey and the distinct facial resemblance are not-so-subtle hints for football fans in New Orleans.
[+] Enlarge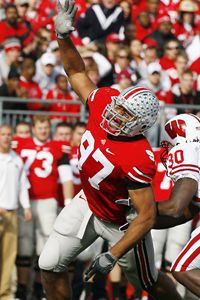 Matthew Emmons/US PresswireCameron Heyward has played beyond his years for Ohio State.
But just in case the people of New Orleans don't remember his late father, Heyward is making sure Craig "Ironhead" Heyward's spirit lives on in the Big Easy. While walking down Bourbon Street this week, Heyward wore a T-shirt with his father's picture on front.
"People have come up to me and asked, 'How do you know Ironhead?'" Heyward said. "I tell them I'm his son, and they can't believe it."
Watch Heyward play for No. 1 Ohio State and you'll soon learn he's a chip off the old Ironhead block. The freshman from Suwanee, Ga., will start at defensive end for the Buckeyes in Monday night's Allstate BCS Championship Game against No. 2 LSU in the Louisiana Superdome.
Forced into the starting lineup because of injuries to more veteran players, Heyward has more than held his own this season.
"He's been great," Buckeyes defensive end Vernon Gholston said. "You don't see many freshmen come in and play on the offensive line or defensive line, where the game is so much different from high school. But Cameron is different. With his talent and motor and size, he's just a different kind of freshman. He's going to be a force here for some time to come."
Heyward is already a force for the Buckeyes. The 6-foot-6, 280-pound end is fourth on the team with nine tackles for loss and 2é sacks and was named to the All-Big Ten freshman team. A prep All-American at Peachtree Ridge High School in suburban Atlanta, Heyward chose Ohio State over scholarship offers from LSU, Florida and Georgia. After joining the Buckeyes, he figured he'd redshirt this season and gain enough weight to play defensive tackle in 2008.
But then Ohio State's defensive front was decimated by injuries and personnel losses. Once-heralded end Ryan Williams, who suffered a serious knee injury two years ago, transferred to San Diego State before preseason camp began. Starter Lawrence Wilson broke his leg in the opener against Division I-AA Youngstown State and top backup Robert Rose had been hampered by a left shoulder injury.
So the Buckeyes didn't have time to wait for Heyward, who took over as a starter in the sixth game.
"He's a big, strong kid and he trains like crazy," Ohio State coach Jim Tressel said. "Mentally, it doesn't seem like he can get enough. He just wants more and more. Some young guys hit the wall, where it's like, 'Man, I've had enough of these coverages and game plans, and I want to go shoot pool or something.' That's not him. He can't get enough."
Heyward wishes his late father was still here to see him play. Craig Heyward died in May 2006 after a seven-year battle with a recurring brain tumor. He was 39. Near the end of his life, he suffered a stroke and was left partially paralyzed. He also lost his vision as a result of the aggressive tumor known as chordoma.
Craig Heyward was one of the most punishing and powerful running backs to ever play in the NFL. After an All-America career at Pitt, Heyward was a first-round draft choice of the New Orleans Saints in 1988. He played five seasons for the Saints and spent the rest of his 11-year pro career with the Chicago Bears, Atlanta Falcons, St. Louis Rams and Indianapolis Colts.
[+] Enlarge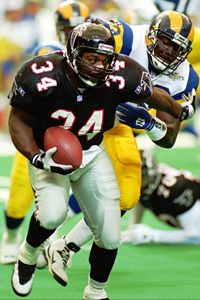 AP Photo/John BazemoreCraig Heyward earned a reputation as a punishing back during his 11 seasons in the NFL.
Cameron remembers watching his father play in games, then joining him in the locker room afterward. He remembers his father's Zest body wash commercials, in which the rough-and-tough runner playfully asked, "But Ironhead, what's with this thingy?" as he dangled a loofah in a shower.
More than anything, Cameron remembers the man who became his best friend. Heyward's parents divorced and he lived with his mother, Charlotte Heyward-Blackwell, and stepfather, Cory Blackwell. But Craig remained close to his family. When his father became gravely ill, Cameron helped care for him.
When Cameron takes the field Monday night, he'll have "Ironhead" written on the black patches under his eyes. And, of course, he'll have the familiar name on the back of his jersey.
"It feels like I'm going to be playing on my dad's old stomping grounds," Heyward said. "It's sad, but at the same time he's not suffering anymore. I miss him."
Now he knows New Orleans does, too.
Mark Schlabach covers college football and men's college basketball for ESPN.com. You can contact him at schlabachma@yahoo.com.
College Football and Basketball
College football/basketball writer for ESPN.com
Author of seven books on college football
Formerly at the Washington Post and the Atlanta Journal-Constitution
SPONSORED HEADLINES
MORE COLLEGE FOOTBALL HEADLINES
MOST SENT STORIES ON ESPN.COM
2007 Bowl Season
College football's bowl season ended with the crowning of the LSU Tigers in the Allstate BCS National Championship Game, but not before Georgia and USC made convincing arguments on the field that they deserved to be the top team in the land. The good news? The 2008 season is mere months away.
BCS Title Game
Features
•
Maisel: What a way to geaux
•
Wojciechowski: Miles deserves a wa-hooooo
•
Forde: Ohio St. buckles under BCS pressure
•
Schlabach: Game analysis
Video
•
GameDay: Big Ten weak?

•
Forde/Schlabach: BCS analysis

•
Forde/Schlabach: Keys to the game

•
McShay: BCS breakdown

•
Postgame quotes: Jim Tressel

•
Postgame quotes: Glenn Dorsey

•
Postgame quotes: Les Miles

•
LSU celebrates win over Ohio State

BCS Title Game Preview
Features
•
Forde/Maisel: 10 reasons Ohio State/LSU will win
•
Forde: BCS title game important for more than football to New Orleans
•
Maisel: OSU's children of the scorn
•
Forde: Destiny's Team tag fits Tigers well
•
Wojciechowski: Don't believe the hype
•
Forde: Tale of the tape
•
Maisel: BCS QBs not stars, but leaders
•
Schlabach: 'Ironhead' Heyward's memory alive in son
•
Beanie carries the load for Bucks
•
Maisel: Healthy Dorsey ready to roll
•
Wojciechowski: Ohio State's motivational DVD
•
Maisel: Face of the Ohio State
•
Wojciechowski: Les is more
•
Schlabach: BCS notebook
•
Low: Steltz family ties
•
Low: Early bowls offer BCS game clues
•
Scouts' edge: LSU or Ohio State?

Video
•
Forde/Maisel: Breaking down the title game

•
Forde/Maisel: Hester, Laurinaitis define teams

•
Forde/Schlabach: X-Factors

•
Schlabach: Bucks' WRs key

•
Players expect electric atmosphere

•
GameDay: Which defense will prevail?

•
Forde/Maisel: LSU's D-Line vs. Ohio State's O-Line

•
Maisel/Schlabach: Title game intangibles

•
Forde/Schlabach: Pelini's impeding departure a factor?

•
McShay: BCS Championship preview

Fiesta Bowl
•
Forde: Stewart nails on-the-job interview
•
Forde: Scene of the crime
•
Forde: Mo' money, mo' problems
•
Forde: Picture worth 1,000 words
Rose Bowl
•
Schlabach: USC looks like nation's best team
•
Feldman: McKnight's impressive coming-out party
•
Schlabach: Illinois' offense as easy as 1-2-3
•
Feldman: USC defense starts, finishes up front
•
Schlabach: Rose coaches have similar stories
•
Feldman: Patience helps Booty weather storm
•
Schlabach: Leman's success mirrors Illini's rise
•
Feldman: USC still up despite 'down' year
•
Schlabach: Third year a charm for Zook, Illini
Sugar Bowl
•
Maisel: Seems like old times
•
Low: Howard hosts sack party
•
Maisel: Sweet smell of success
•
Schlabach: Richt takes a walk on the wild side
•
Dinich: Jones finds ohana in Hawaii
•
Low: Growth spurt helps Georgia come of age
•
Nielsen: 'Dread-Heads' Hawaii's unsung stars
Orange Bowl
•
Dinich: Kansas proved it belonged
•
Dinich: Kansas time share
•
Dinich: Virginia Tech makes two work
Other Bowl Coverage
•
Adelson: A final spin in the old Carr
•
Dinich: Texas Tech steals a bit of luck
•
Low: Liberty Bowl win caps MSU's season
•
Low: Croom's breakthrough season
•
Low: UCF's Smith running into record books
•
Feldman: Motivated Horns stampede Sun Devils
•
Maisel: Lone Star State QBs shining on bowls
•
Schlabach: Coaching transition game
•
Forde: Schnellenberger takes road less traveled
What To Watch
•
Pat Forde: Bowl-der Dash
•

Feldman's picks:
December
|
January
•
Flash Gallery: Chris Low's impact players
•
Heather Dinich: Bowling for the best gifts
BCS Selection Sunday
•
Pat Forde: The grateful duo
•
Ivan Maisel: Tigers, Bucks survive, advance
•
Gene Wojciechowski: Theater of the absurd
More Bowl Coverage
•
BCS:
Rose
|
Sugar
|
Fiesta
|
Orange
•
BCS National Championship Game
•
Bowl Overview
|
Bowl Schedule
|
Bowl Index