Commentary
LSU most deserving, but it's still a flawed system
NEW ORLEANS -- LSU football coach Les Miles sat at a table Tuesday morning surrounded by four national championship trophies. Only hours after his No. 2 Tigers blasted No. 1 Ohio State 38-24 in the Allstate BCS Championship Game in the Louisiana Superdome, LSU was declared college football's consensus national champion.
[+] Enlarge
Doug Benc/Getty ImagesLes Miles and LSU have all the hardware this year.
"It's a wonderful feeling," Miles said. "I'm happy for my team. I'm happy for the school. It's nice that there's no indecision, that it's one national champion. And I have to thank college football. I have to thank them for their procedure, for their efforts. It's not easy to follow and vote and follow and vote and follow and vote. It's a long process, starts early and goes late."
Back in August, before the 2007 college football season kicked off, LSU and USC were widely considered the two best teams in the country. Five months later at season's end, the Tigers were No. 1 and the Trojans were No. 2 in the coaches' Top 25 poll.
Clearly, LSU was the most deserving No. 1. The Trojans might have played like the sport's strongest team down the stretch, but a national champion can't lose to Stanford, a 41-point underdog (at home no less).
The Tigers beat eight opponents which were ranked when the teams played, including a 48-7 blowout of then-No. 9 Virginia Tech in the second game. LSU beat Auburn, Alabama, Tennessee and defending national champion Florida. Each of the Tigers' two losses came in triple-overtime, 43-37 against Kentucky and 50-48 against Arkansas.
LSU won't be remembered as one of the greatest national champions this sport has seen, but under the current system, the Tigers were most deserving.
"Our football team is a pretty special group of men," Miles said. "They understand what being pinned down means. They understand what it takes to come back and fight and overcome hurdles. I think this game was not unlike other games we played all year long. They just kept performing. They kept competing."
It's a shame the Tigers can't keep playing. USC and Georgia more than proved in their bowl games that they were each worthy of playing for the national championship. The Trojans won the Rose Bowl presented by Citi 49-17 over Illinois, a team that beat Ohio State during the regular season. The Bulldogs won their last seven games, including a 41-10 blowout in the Sugar Bowl against Hawaii, the only Division I-A team to go undefeated during the regular season.
Georgia certainly would have put up a better fight than Ohio State, which was embarrassed by an SEC opponent in the BCS title game for the second season in a row. The Bulldogs, who finished No. 2 in the final AP Top 25 poll, never got their chance against LSU. Georgia lost to South Carolina and Tennessee during the regular season, and the Vols won the SEC East and played LSU in the SEC championship game.
The Bulldogs were good enough to beat LSU, especially in a game played in Atlanta's Georgia Dome.
On the day LSU was honored for winning its second national championship in five years, University of Georgia president Michael Adams called for an eight-team playoff system to determine the sport's national champion. Under Adams' plan, the opening rounds would be played in the four major BCS bowl games. Adams suggested the current BCS system has become a "beauty contest largely stage-managed" by TV networks.
[+] Enlarge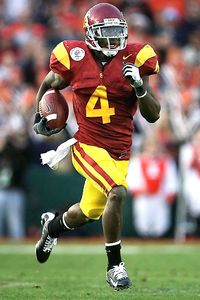 Christian Petersen/Getty ImagesDid USC deserve a spot in the national championship?
"This year's experience with the BCS forces me to the conclusion that the current system has lost public confidence and simply does not work," Adams said in a statement released by the school on Tuesday. "It is undercutting the sportsmanship and integrity of the game."
SEC commissioner Michael Slive, the outgoing coordinator of the BCS, said he is open to discussing changes to college football's postseason format. ACC commissioner John Swofford, who replaces Slive in overseeing the BCS, said his league was in favor of a "plus-one format," in which the top four teams would be selected and seeded. The winners of the two national semifinal games would play in the final.
Swofford said the Big 12 and Big East also were in favor of the "plus-one" system. The Pac-10 and Big Ten traditionally have been adamantly opposed to such a system.
"This is a season of discussion," Slive said Tuesday morning, minutes before he presented Miles with the BCS championship trophy. "It's time to air it all out."
If the Big Ten and Pac-10 don't come on board, leave them out. Then see how many recruits will still want to play at their schools. Players want to play for national championships, especially undisputed titles.
LSU's national championship trophies certainly aren't tainted. But we'll never know how good the Tigers truly are.
"You know what, whatever the rules are is fine with me," Miles said. "I can tell you this: A year ago, an eight-team playoff, we would have fared pretty well. It might have been our second trophy. I can tell you that a year ago we finished pretty strong. A year ago, we played in the Sugar Bowl and we played a nationally ranked team and fared pretty well. We didn't say anything, because you know why? Because it's about this game, it's about the championship game. And I would think that there's time for proposals and there's time for adjusting the schedule.
"But it might not be today."
It might not be today, but it's definitely time for change.
Mark Schlabach covers college football and men's college basketball for ESPN.com. You can contact him at schlabachma@yahoo.com.
College Football and Basketball
College football writer for ESPN.com
Author of seven books on college football
Formerly at the Washington Post and the Atlanta Journal-Constitution
SPONSORED HEADLINES
MORE COLLEGE FOOTBALL HEADLINES
MOST SENT STORIES ON ESPN.COM
2007 Bowl Season
College football's bowl season ended with the crowning of the LSU Tigers in the Allstate BCS National Championship Game, but not before Georgia and USC made convincing arguments on the field that they deserved to be the top team in the land. The good news? The 2008 season is mere months away.
BCS Title Game
Features
•
Maisel: What a way to geaux
•
Wojciechowski: Miles deserves a wa-hooooo
•
Forde: Ohio St. buckles under BCS pressure
•
Schlabach: Game analysis
Video
•
GameDay: Big Ten weak?

•
Forde/Schlabach: BCS analysis

•
Forde/Schlabach: Keys to the game

•
McShay: BCS breakdown

•
Postgame quotes: Jim Tressel

•
Postgame quotes: Glenn Dorsey

•
Postgame quotes: Les Miles

•
LSU celebrates win over Ohio State

BCS Title Game Preview
Features
•
Forde/Maisel: 10 reasons Ohio State/LSU will win
•
Forde: BCS title game important for more than football to New Orleans
•
Maisel: OSU's children of the scorn
•
Forde: Destiny's Team tag fits Tigers well
•
Wojciechowski: Don't believe the hype
•
Forde: Tale of the tape
•
Maisel: BCS QBs not stars, but leaders
•
Schlabach: 'Ironhead' Heyward's memory alive in son
•
Beanie carries the load for Bucks
•
Maisel: Healthy Dorsey ready to roll
•
Wojciechowski: Ohio State's motivational DVD
•
Maisel: Face of the Ohio State
•
Wojciechowski: Les is more
•
Schlabach: BCS notebook
•
Low: Steltz family ties
•
Low: Early bowls offer BCS game clues
•
Scouts' edge: LSU or Ohio State?

Video
•
Forde/Maisel: Breaking down the title game

•
Forde/Maisel: Hester, Laurinaitis define teams

•
Forde/Schlabach: X-Factors

•
Schlabach: Bucks' WRs key

•
Players expect electric atmosphere

•
GameDay: Which defense will prevail?

•
Forde/Maisel: LSU's D-Line vs. Ohio State's O-Line

•
Maisel/Schlabach: Title game intangibles

•
Forde/Schlabach: Pelini's impeding departure a factor?

•
McShay: BCS Championship preview

Fiesta Bowl
•
Forde: Stewart nails on-the-job interview
•
Forde: Scene of the crime
•
Forde: Mo' money, mo' problems
•
Forde: Picture worth 1,000 words
Rose Bowl
•
Schlabach: USC looks like nation's best team
•
Feldman: McKnight's impressive coming-out party
•
Schlabach: Illinois' offense as easy as 1-2-3
•
Feldman: USC defense starts, finishes up front
•
Schlabach: Rose coaches have similar stories
•
Feldman: Patience helps Booty weather storm
•
Schlabach: Leman's success mirrors Illini's rise
•
Feldman: USC still up despite 'down' year
•
Schlabach: Third year a charm for Zook, Illini
Sugar Bowl
•
Maisel: Seems like old times
•
Low: Howard hosts sack party
•
Maisel: Sweet smell of success
•
Schlabach: Richt takes a walk on the wild side
•
Dinich: Jones finds ohana in Hawaii
•
Low: Growth spurt helps Georgia come of age
•
Nielsen: 'Dread-Heads' Hawaii's unsung stars
Orange Bowl
•
Dinich: Kansas proved it belonged
•
Dinich: Kansas time share
•
Dinich: Virginia Tech makes two work
Other Bowl Coverage
•
Adelson: A final spin in the old Carr
•
Dinich: Texas Tech steals a bit of luck
•
Low: Liberty Bowl win caps MSU's season
•
Low: Croom's breakthrough season
•
Low: UCF's Smith running into record books
•
Feldman: Motivated Horns stampede Sun Devils
•
Maisel: Lone Star State QBs shining on bowls
•
Schlabach: Coaching transition game
•
Forde: Schnellenberger takes road less traveled
What To Watch
•
Pat Forde: Bowl-der Dash
•

Feldman's picks:
December
|
January
•
Flash Gallery: Chris Low's impact players
•
Heather Dinich: Bowling for the best gifts
BCS Selection Sunday
•
Pat Forde: The grateful duo
•
Ivan Maisel: Tigers, Bucks survive, advance
•
Gene Wojciechowski: Theater of the absurd
More Bowl Coverage
•
BCS:
Rose
|
Sugar
|
Fiesta
|
Orange
•
BCS National Championship Game
•
Bowl Overview
|
Bowl Schedule
|
Bowl Index