Commentary
Less than 200 yards separates Smith and Sanders
Originally Published:
December 27, 2007
By
Chris Low
| ESPN.com
Had George O'Leary not kept thorough recruiting notes, who knows where Central Florida junior tailback Kevin Smith would be right now?
[+] Enlarge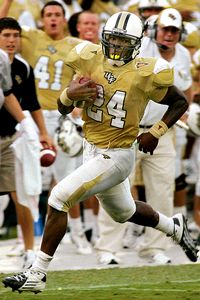 AP Photo/Reinhold MatayKevin Smith needs just 181 yards to break Barry Sanders' record.
Smith, whose wit is as quick as one of his cutbacks through the hole, cracks that he'd probably be even more obscure than he already is -- if that's possible for a guy who's chasing Barry Sanders.
"I knew in my heart I would play running back somewhere," Smith said. "Maybe it wouldn't be Division I. Maybe it would have been Division I-AA, but I wasn't going to accept anything other than playing running back."
Imagine that. The same Kevin Smith who strides into Saturday's Liberty Bowl matchup with Mississippi State (ESPN, 4:30 p.m. ET) needing 181 yards to break Sanders' NCAA single-season record of 2,628 yards was unceremoniously moved from tailback to safety his senior year of high school by a new coach who had just taken over at Southridge in Miami.
"I guess he felt we had a running back that would help us win games and didn't have enough help in the secondary," said Smith, doing his best to explain why his coach would make such a move. "I was a big enough prospect at safety and had the knowledge to learn [the position]. He asked me, and I went for it."
Trying to be the consummate team guy, Smith admits it didn't help much. He said his high school team "sucked that year."
The move also hurt Smith with college recruiters. A few schools showed interest in him as a safety, but only Central Florida wanted him to play tailback.
O'Leary had seen Smith as a junior, when he was still playing tailback, and liked him.
For The Record

The official record book says Barry Sanders had 2,628 yards during his record-setting 1988 season. He actually had 2,850 yards, but the NCAA didn't count bowl statistics back then. Bowl statistics are now included, although not retroactively. Sanders gained his 2,628 yards in just 11 games, averaging a stunning 238.9 yards per game. Smith's 2,448 yards have come in 13 games (an average of 188.3 yards), and he'll get a 14th game to break the record. The NCAA doesn't differentiate in terms of the number of games a player plays. -- Chris Low
"I wrote a note down about his vision and how he cut in the hole," O'Leary recalled. "I grade feet and really liked his feet."
That following year, O'Leary and his staff were sifting through their running back notes during recruiting meetings and O'Leary asked, "Where is that kid from Southridge?"
Told he'd been switched to safety, O'Leary was unfazed.
"I liked him as a running back. I didn't care if he was playing safety," O'Leary said. "He probably slid under the radar because of that move, and maybe that helped us get him. I just said, 'Come here and be a running back,' and he jumped at it."
The 6-foot-1, 211-pound Smith has been a blur ever since.
His 2,448 rushing yards this season are the second-most ever by a Division I player. His 415 rushing attempts are a single-season record, 12 more than Marcus Allen had at Southern California in 1981. With one more rushing TD by Smith, the UCF junior and Sanders will be the only two running backs in Division I history to run for 2,000 yards and 30 touchdowns in the same season.
"It's a great accomplishment," Smith said. "I can't stop thanking my offensive line enough. I'm just proud I could represent my school and get my school on the map."
As for eclipsing Sanders' record, Smith insists he's not consumed with numbers. The Knights' Conference USA championship this season was the first team title of any kind that he's ever won and the next thing he'd like to add to his résumé is a bowl victory.
He sounds sheepish even talking about himself and Sanders in the same sentence and knows piling up the kind of yardage it will take to make a run at the record won't be easy against the Bulldogs. They held Arkansas' Heisman Trophy runner-up Darren McFadden to 88 yards on 28 carries, Tulane's Matt Forte (who rushed for 2,147 yards this season) to 47 yards on 14 carries and West Virginia's Steve Slaton to 127 yards on 23 carries.
But don't think for a second that Smith is spooked by an SEC defense. He hit Texas up for 149 yards and two touchdowns earlier this season, a game removed from a 217-yard performance against North Carolina State in the opener.
"I don't make a big deal about the SEC or any other conference," said Smith, who announced last week that he's returning to Central Florida for his senior season and will have a shot at Ron Dayne's career rushing record of 6,397 yards. "I'm coming to play whether it's the SEC, Pac-10 or Pac-9. It doesn't matter.
"With me, it's about putting on my helmet and lacing up my cleats and coming to play. Nothing changes for me just because they're an SEC team."
Still, it will be interesting to see how Smith's blend of power and speed matches up with an SEC defense. Some have whispered that he might be a step slow by SEC standards. That's despite three touchdown runs of 80 yards or longer this season and three others of 40 yards or longer.
[+] Enlarge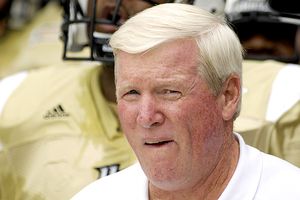 Scott A. Miller/US PresswireGeorge O'Leary believed Smith could make an impact at UCF.
"I haven't seen him caught from behind yet this year, and people have had the angle on him," O'Leary said. "He plays a lot faster than he probably runs. Some guys can run real fast without the ball in their hands. I think he runs faster with the ball in his hands."
Tulsa coach Todd Graham saw all he needed to see of Smith in the Conference USA championship game to be a believer. Smith torched Tulsa for 284 rushing yards and four touchdowns.
"I have coached in BCS leagues, and I can guarantee you that he is as good as anybody in the country," Graham said afterward.
O'Leary said Smith has also become a more patient runner, not to mention a more studious one.
"He's done a really good job of understanding where the linebackers are and reading the mechanics up front," O'Leary said. "He spends an awful lot of time with tape. He's over here by himself on Sundays watching tape. He works at the game."
That's because Smith says he reveres the game.
Forget that he started off sixth on UCF's depth chart as a freshman. Forget that he wasn't among the three finalists this season for the Doak Walker Award as the nation's top running back. And forget that he almost didn't get a chance to play running back in college.
His motivation is the purest of all.
"Motivation for me is going to the hotel and knowing I've got a game," he said. "Motivation in football is football itself for a person like me. I love this game and have loved playing this game since I was younger. I've been blessed to not miss a year. Me holding that pigskin and knowing I'm going to hold that pigskin motivates me enough.
"I don't really need attention to motivate me to go out and perform on Saturdays."
And for the record, Smith hasn't looked up his old high school coach who moved him as a senior, not even to see if he's taken a gander at the all-time rushing list lately.
"I haven't seen him since … and not interested," Smith said.
Nope, he's got history to chase.
Chris Low is a college football writer for ESPN.com. Send your questions and comments to Chris at espnclow@aol.com.
SPONSORED HEADLINES
MORE COLLEGE FOOTBALL HEADLINES
MOST SENT STORIES ON ESPN.COM
2007 Bowl Season
College football's bowl season ended with the crowning of the LSU Tigers in the Allstate BCS National Championship Game, but not before Georgia and USC made convincing arguments on the field that they deserved to be the top team in the land. The good news? The 2008 season is mere months away.
BCS Title Game
Features
•
Maisel: What a way to geaux
•
Wojciechowski: Miles deserves a wa-hooooo
•
Forde: Ohio St. buckles under BCS pressure
•
Schlabach: Game analysis
Video
•
GameDay: Big Ten weak?

•
Forde/Schlabach: BCS analysis

•
Forde/Schlabach: Keys to the game

•
McShay: BCS breakdown

•
Postgame quotes: Jim Tressel

•
Postgame quotes: Glenn Dorsey

•
Postgame quotes: Les Miles

•
LSU celebrates win over Ohio State

BCS Title Game Preview
Features
•
Forde/Maisel: 10 reasons Ohio State/LSU will win
•
Forde: BCS title game important for more than football to New Orleans
•
Maisel: OSU's children of the scorn
•
Forde: Destiny's Team tag fits Tigers well
•
Wojciechowski: Don't believe the hype
•
Forde: Tale of the tape
•
Maisel: BCS QBs not stars, but leaders
•
Schlabach: 'Ironhead' Heyward's memory alive in son
•
Beanie carries the load for Bucks
•
Maisel: Healthy Dorsey ready to roll
•
Wojciechowski: Ohio State's motivational DVD
•
Maisel: Face of the Ohio State
•
Wojciechowski: Les is more
•
Schlabach: BCS notebook
•
Low: Steltz family ties
•
Low: Early bowls offer BCS game clues
•
Scouts' edge: LSU or Ohio State?

Video
•
Forde/Maisel: Breaking down the title game

•
Forde/Maisel: Hester, Laurinaitis define teams

•
Forde/Schlabach: X-Factors

•
Schlabach: Bucks' WRs key

•
Players expect electric atmosphere

•
GameDay: Which defense will prevail?

•
Forde/Maisel: LSU's D-Line vs. Ohio State's O-Line

•
Maisel/Schlabach: Title game intangibles

•
Forde/Schlabach: Pelini's impeding departure a factor?

•
McShay: BCS Championship preview

Fiesta Bowl
•
Forde: Stewart nails on-the-job interview
•
Forde: Scene of the crime
•
Forde: Mo' money, mo' problems
•
Forde: Picture worth 1,000 words
Rose Bowl
•
Schlabach: USC looks like nation's best team
•
Feldman: McKnight's impressive coming-out party
•
Schlabach: Illinois' offense as easy as 1-2-3
•
Feldman: USC defense starts, finishes up front
•
Schlabach: Rose coaches have similar stories
•
Feldman: Patience helps Booty weather storm
•
Schlabach: Leman's success mirrors Illini's rise
•
Feldman: USC still up despite 'down' year
•
Schlabach: Third year a charm for Zook, Illini
Sugar Bowl
•
Maisel: Seems like old times
•
Low: Howard hosts sack party
•
Maisel: Sweet smell of success
•
Schlabach: Richt takes a walk on the wild side
•
Dinich: Jones finds ohana in Hawaii
•
Low: Growth spurt helps Georgia come of age
•
Nielsen: 'Dread-Heads' Hawaii's unsung stars
Orange Bowl
•
Dinich: Kansas proved it belonged
•
Dinich: Kansas time share
•
Dinich: Virginia Tech makes two work
Other Bowl Coverage
•
Adelson: A final spin in the old Carr
•
Dinich: Texas Tech steals a bit of luck
•
Low: Liberty Bowl win caps MSU's season
•
Low: Croom's breakthrough season
•
Low: UCF's Smith running into record books
•
Feldman: Motivated Horns stampede Sun Devils
•
Maisel: Lone Star State QBs shining on bowls
•
Schlabach: Coaching transition game
•
Forde: Schnellenberger takes road less traveled
What To Watch
•
Pat Forde: Bowl-der Dash
•

Feldman's picks:
December
|
January
•
Flash Gallery: Chris Low's impact players
•
Heather Dinich: Bowling for the best gifts
BCS Selection Sunday
•
Pat Forde: The grateful duo
•
Ivan Maisel: Tigers, Bucks survive, advance
•
Gene Wojciechowski: Theater of the absurd
More Bowl Coverage
•
BCS:
Rose
|
Sugar
|
Fiesta
|
Orange
•
BCS National Championship Game
•
Bowl Overview
|
Bowl Schedule
|
Bowl Index