Commentary
LSU's "Surfer Boy" has extra motivation to finish as a champion
Updated:
January 2, 2008, 3:57 PM ET
By
Chris Low
| ESPN.com
NEW ORLEANS -- It was the most nerve-racking three and a half hours of Craig Steltz's life.
[+] Enlarge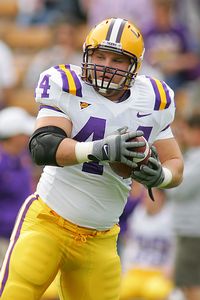 John David Mercer/US PresswireKevin Steltz started as a walk-on and ended his career as a champion.
Kevin Steltz is braced for similar torture on Monday night, when LSU guns for its second national championship in five years.
"For a player, the hardest part in the world is sitting there in the stands and watching," Kevin said. "You want to be out there. But when you can't do anything but watch, it's totally different. Your heart almost jumps through your chest."
Kevin speaks from experience. He's been in the stands all season watching younger brother Craig and the Tigers play their way out of and then back into the national championship race.
But four years ago, it was Craig sitting in the Superdome stands and watching Kevin, then a starting fullback for LSU, earn the family's first national championship ring by virtue of the Tigers' 21-14 victory over Oklahoma.
Craig hopes to add a second ring to the family mantle on Monday with a win over Ohio State in the Allstate BCS National Championship Game, which would put the Steltz brothers in rarified air.
Not since Jeff and Gary Rutledge at Alabama -- Jeff in 1978 and Gary in 1973 -- have brothers on two different teams in the SEC won national championships.
"Kevin's got his, and I was there to see it," Craig said. "Watching him play on such a huge stage, I guess I really didn't understand the magnitude of it at the time. But I do now.
"Hopefully, I'll have that same experience. Not everybody gets these opportunities, and when you do, you want to make sure you do everything you can to take advantage of them."
The whole setting couldn't be any more surreal for the Steltz family. Kevin and Craig grew up in nearby Metairie, which is about a 15-minute drive from New Orleans. They were devoted LSU fans as kids, and Kevin actually walked onto the team before earning a scholarship under Nick Saban.
Craig came along a few years later and was one of the most highly recruited safeties in the country his senior year of high school. He gave his verbal commitment to Saban just a few weeks before LSU beat Oklahoma for the national title on Jan. 4, 2004.
That game, just like the one on Monday, was right in their backyard.
"We knew Craig's senior year that the game would be back in New Orleans," Kevin said. "It's been a Cinderella season for sure. It looked good, then bad and then good again. This would be a great way for Craig to go out."
The Steltz brothers are similar in their passion for LSU and their kamikaze style of play. But whereas Kevin was a 5-foot-9, 250-pound battering ram at fullback, Craig is a 6-2, 204-pound strong safety who can run like a receiver and hit like a linebacker.
[+] Enlarge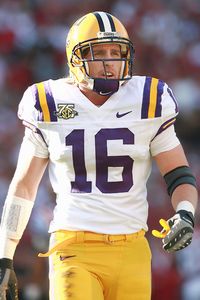 Doug Benc/Getty ImagesCraig Steltz shares his brother's passion for the game, and hopes to bring home similar hardware.
And as Kevin is quick to point out, he's never sported the "Surfer Boy" look that Craig is known for with his flowing, blond hair.
"It's the longest it's ever been," Craig says proudly. "We had a dress code in high school, so I could only grow it so long … but I always tried to go past the limit."
When he does get a trim, he doesn't entrust that duty to just anybody. Kevin's wife, Candace, is a hair stylist.
"I go with her advice," Craig said. "Whatever she wants to do with it, I trust her."
That's provided she doesn't get out the shears.
With all the talk about Craig's locks, Kevin has thought about having a hat made up with the name of Candace's salon on it -- Hair Spray -- so Craig can wear it after the game.
"I don't know, maybe we can publicize her shop a little bit," Kevin joked.
To the Ohio State defense, not to mention the NFL scouts, Craig Steltz doesn't need any publicity. He's been one of the mainstays of an LSU defense that's as talented as any in the country.
It's not a stretch to think that all 11 starters will at least end up in an NFL camp, and the majority of them will be drafted.
"But it's our ability to keep fighting that's gotten us here," said Steltz, who is tied for the SEC lead with six interceptions. "We never lost sight of what we wanted to accomplish, and a lot of guys have trouble doing that. It's a special group of guys."
The long hair might lend credence to the surfer image (and, yes, he's tried yoga), but Steltz is anything but laid back. Just ask any of the opposing receivers he's tattooed over the past couple of years.
"I know I'd be looking for No. 16," LSU receiver Demetrius Byrd said. "You always know he's back there, and when he hits you, he's coming with everything he's got."
If for some reason football doesn't work out, Steltz wouldn't mind trying his hand at ultimate fighting. Then again, there's no reason football shouldn't work out.
"He's big. He's strong. He's fast, and he's smart. You can't ask for much more than that," said Kevin, who's now in medical sales.
This is Steltz's first season as a full-time starter, although he was on the field often in the past two seasons as LSU's fifth defensive back. He leads the Tigers with 97 total tackles, including five for loss, and has also forced three fumbles. He's the second-leading tackler among SEC defensive backs behind Arkansas' Matt Hewitt.
An All-SEC performer this season, Steltz was one of three finalists for the Thorpe Award as the nation's most outstanding defensive back and collected his first SEC championship last month thanks to a 21-14 win over Tennessee.
But the prize he wants most is what his brother wears daily on his ring finger.
"It's crazy. Four years later, I'm switching spots with him," Steltz said. "It would be nice to keep it in the family."
Chris Low is a college football writer for ESPN.com. Send your questions and comments to Chris at espnclow@aol.com.
SPONSORED HEADLINES
MORE COLLEGE FOOTBALL HEADLINES
MOST SENT STORIES ON ESPN.COM
2007 Bowl Season
College football's bowl season ended with the crowning of the LSU Tigers in the Allstate BCS National Championship Game, but not before Georgia and USC made convincing arguments on the field that they deserved to be the top team in the land. The good news? The 2008 season is mere months away.
BCS Title Game
Features
•
Maisel: What a way to geaux
•
Wojciechowski: Miles deserves a wa-hooooo
•
Forde: Ohio St. buckles under BCS pressure
•
Schlabach: Game analysis
Video
•
GameDay: Big Ten weak?

•
Forde/Schlabach: BCS analysis

•
Forde/Schlabach: Keys to the game

•
McShay: BCS breakdown

•
Postgame quotes: Jim Tressel

•
Postgame quotes: Glenn Dorsey

•
Postgame quotes: Les Miles

•
LSU celebrates win over Ohio State

BCS Title Game Preview
Features
•
Forde/Maisel: 10 reasons Ohio State/LSU will win
•
Forde: BCS title game important for more than football to New Orleans
•
Maisel: OSU's children of the scorn
•
Forde: Destiny's Team tag fits Tigers well
•
Wojciechowski: Don't believe the hype
•
Forde: Tale of the tape
•
Maisel: BCS QBs not stars, but leaders
•
Schlabach: 'Ironhead' Heyward's memory alive in son
•
Beanie carries the load for Bucks
•
Maisel: Healthy Dorsey ready to roll
•
Wojciechowski: Ohio State's motivational DVD
•
Maisel: Face of the Ohio State
•
Wojciechowski: Les is more
•
Schlabach: BCS notebook
•
Low: Steltz family ties
•
Low: Early bowls offer BCS game clues
•
Scouts' edge: LSU or Ohio State?

Video
•
Forde/Maisel: Breaking down the title game

•
Forde/Maisel: Hester, Laurinaitis define teams

•
Forde/Schlabach: X-Factors

•
Schlabach: Bucks' WRs key

•
Players expect electric atmosphere

•
GameDay: Which defense will prevail?

•
Forde/Maisel: LSU's D-Line vs. Ohio State's O-Line

•
Maisel/Schlabach: Title game intangibles

•
Forde/Schlabach: Pelini's impeding departure a factor?

•
McShay: BCS Championship preview

Fiesta Bowl
•
Forde: Stewart nails on-the-job interview
•
Forde: Scene of the crime
•
Forde: Mo' money, mo' problems
•
Forde: Picture worth 1,000 words
Rose Bowl
•
Schlabach: USC looks like nation's best team
•
Feldman: McKnight's impressive coming-out party
•
Schlabach: Illinois' offense as easy as 1-2-3
•
Feldman: USC defense starts, finishes up front
•
Schlabach: Rose coaches have similar stories
•
Feldman: Patience helps Booty weather storm
•
Schlabach: Leman's success mirrors Illini's rise
•
Feldman: USC still up despite 'down' year
•
Schlabach: Third year a charm for Zook, Illini
Sugar Bowl
•
Maisel: Seems like old times
•
Low: Howard hosts sack party
•
Maisel: Sweet smell of success
•
Schlabach: Richt takes a walk on the wild side
•
Dinich: Jones finds ohana in Hawaii
•
Low: Growth spurt helps Georgia come of age
•
Nielsen: 'Dread-Heads' Hawaii's unsung stars
Orange Bowl
•
Dinich: Kansas proved it belonged
•
Dinich: Kansas time share
•
Dinich: Virginia Tech makes two work
Other Bowl Coverage
•
Adelson: A final spin in the old Carr
•
Dinich: Texas Tech steals a bit of luck
•
Low: Liberty Bowl win caps MSU's season
•
Low: Croom's breakthrough season
•
Low: UCF's Smith running into record books
•
Feldman: Motivated Horns stampede Sun Devils
•
Maisel: Lone Star State QBs shining on bowls
•
Schlabach: Coaching transition game
•
Forde: Schnellenberger takes road less traveled
What To Watch
•
Pat Forde: Bowl-der Dash
•

Feldman's picks:
December
|
January
•
Flash Gallery: Chris Low's impact players
•
Heather Dinich: Bowling for the best gifts
BCS Selection Sunday
•
Pat Forde: The grateful duo
•
Ivan Maisel: Tigers, Bucks survive, advance
•
Gene Wojciechowski: Theater of the absurd
More Bowl Coverage
•
BCS:
Rose
|
Sugar
|
Fiesta
|
Orange
•
BCS National Championship Game
•
Bowl Overview
|
Bowl Schedule
|
Bowl Index