Commentary
Red Raiders show knack for big comebacks in bowl games
JACKSONVILLE, Fla., -- Virginia's luck didn't run out.
Texas Tech just stole a bit of it.
[+] Enlarge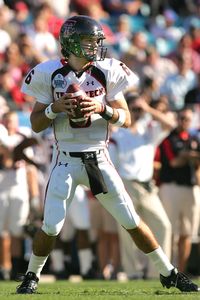 Sam Greenwood/Getty ImagesGraham Harrell threw for 250 yards and two touchdowns in the second half.
After setting an NCAA record by winning five games by two or fewer points this season, Virginia put itself in position to do it again New Year's Day against the Red Raiders in the Konica Minolta Gator Bowl. The Cavaliers took the lead late in the first quarter and held it until late in the fourth, when Texas Tech tied the score with 3:10 left, then made a last-minute 41-yard field goal for the 31-28 win.
"You watch enough Virginia film where they come back or they win by a little bit at the end and stuff, maybe it rubbed off on us," said Texas Tech coach Mike Leach. "They did a heck of a job all year long as far as cutting it close and finding a way. Of course, we've done some of that in the past."
Texas Tech (9-4) has indeed mastered the art of bowl comebacks.
For the second straight season, the Red Raiders fell behind in the first half before scraping it together in the second. Last season, Texas Tech was down 38-7 to Minnesota in the Insight Bowl but escaped with a 44-41 overtime win. Overcoming that 31-point deficit marked the largest comeback in NCAA bowl history -- and it was an accomplishment this year's players didn't forget.
"There was a point where we were down 14 with not much left in the fourth," said kicker Alex Trlica, whose field goal tied the score last season and sealed the win this season. "A lot of people probably thought the game was over, but we learned that from last year when we came back from 31 down or whatever it was that it's never over. I don't think there was an ounce of doubt on anybody's mind on our team from our standpoint."
There was certainly reason for concern, though.
The nation's most prolific passing offense, at 475.6 yards per game, struggled to develop any rhythm in the first half other than one safety after another for two intentional grounding calls in the end zone. The offense that averaged 41.8 points per game scored just seven in the first half.
"We had quite a few bad breaks, a lot of which we created ourselves -- penalties, turnovers, safeties," Leach said, "And I felt like for a period there, especially the first half, we spent a lot of time playing with eight or nine players instead of 11, but I did feel like our guys hung in there, were focused and wanted to win."
There were two dropped balls and a fumble, and receiver Michael Crabtree -- who leads the nation and the Big 12 in receptions (125), receiving yards (1,861) and touchdowns (21) -- caught just two passes in the first half. He finished with nine receptions for 101 yards and one touchdown.
"Things just weren't going our way," said Texas Tech quarterback Graham Harrell, who completed 44 of 69 passes for 407 yards and three touchdowns -- with 250 yards and two touchdowns coming in the second half. "But the feeling was good. If we just keep trying, things will turn around, plays will start going our way instead of against us, and that's what happened. That fourth quarter … we didn't get slowed down, and that's the way this offense works," he said. "When it's clicking, that's how it is."
[+] Enlarge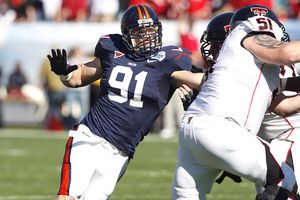 Dale Zanine/US PresswireChris Long and the Cavs' D kept the nation's most prolific passing offense to seven first-half points.
Between Harrell's two intentional grounding calls was Mikell Simpson's 96-yard touchdown run -- the longest carry by a running back in a bowl game in NCAA history and the longest rush play in school history.
Simpson, who had his breakout game against Maryland this season, was a major reason -- along with the Cavaliers' defense -- that Virginia was able to hang on to several of its close wins.
Virginia senior defensive end Chris Long, whose eye black was smeared down to his chin and who was making plays with mud and grass stuck to his face mask, paused before he entered the tunnel after the game for a long, emotional hug with defensive coordinator Mike London.
The defense had kept the Cavaliers in many games this season, and Tuesday's was no exception.
"Obviously, we are dejected. It's the worst feeling in the world to lose a football game," Long said. "We've been on the other end of games like this, where we felt that we got some opportunities, and we gave it away a little bit. But hats off to them; they're a great team and well-deserving of the win."
Virginia coach Al Groh pointed to two plays that changed the game and discreetly questioned the officiating. He said the Cavaliers should have had the ball on the possession after the onside kick to start the second half. He also said backup quarterback Peter Lalich's fumble was another game-changing play, as Lalich's mistake with 3:15 left to play landed Texas Tech on the 4-yard line and set up the tying touchdown.
"If we had those two possessions to do something with," Groh said, "perhaps we could have swung the thing around."
It was Tech's first New Year's Day win since the 1954 Gator Bowl against Auburn.
"[After] last year's bowl game, we knew when we came here we really wanted to win," said defensive tackle Rajon Henley, who forced Lalich to fumble. "The win last year was sort of similar to this one. Before we left for the first quarter, I said, 'We're not going to lose this game.' I talked to my D-line, I said, 'We're not going to lose this game. We'll do anything we gotta do to win this game.' It actually came down to that last play, and we won the game."
And Virginia finally let a close one go.
"We had a chance to do something that few Virginia teams had ever done, and that was to win 10 games," Groh said. "We had our opportunity and probably, frankly, we gave the thing away."
Heather Dinich is a college football writer for ESPN.com. Send your questions and comments to Heather at espn.hd@hotmail.com.
College Football
ESPN.com reporter
Joined ESPN.com in 2007
Graduate of Indiana University
SPONSORED HEADLINES
MORE COLLEGE FOOTBALL HEADLINES
MOST SENT STORIES ON ESPN.COM
2007 Bowl Season
College football's bowl season ended with the crowning of the LSU Tigers in the Allstate BCS National Championship Game, but not before Georgia and USC made convincing arguments on the field that they deserved to be the top team in the land. The good news? The 2008 season is mere months away.
BCS Title Game
Features
•
Maisel: What a way to geaux
•
Wojciechowski: Miles deserves a wa-hooooo
•
Forde: Ohio St. buckles under BCS pressure
•
Schlabach: Game analysis
Video
•
GameDay: Big Ten weak?

•
Forde/Schlabach: BCS analysis

•
Forde/Schlabach: Keys to the game

•
McShay: BCS breakdown

•
Postgame quotes: Jim Tressel

•
Postgame quotes: Glenn Dorsey

•
Postgame quotes: Les Miles

•
LSU celebrates win over Ohio State

BCS Title Game Preview
Features
•
Forde/Maisel: 10 reasons Ohio State/LSU will win
•
Forde: BCS title game important for more than football to New Orleans
•
Maisel: OSU's children of the scorn
•
Forde: Destiny's Team tag fits Tigers well
•
Wojciechowski: Don't believe the hype
•
Forde: Tale of the tape
•
Maisel: BCS QBs not stars, but leaders
•
Schlabach: 'Ironhead' Heyward's memory alive in son
•
Beanie carries the load for Bucks
•
Maisel: Healthy Dorsey ready to roll
•
Wojciechowski: Ohio State's motivational DVD
•
Maisel: Face of the Ohio State
•
Wojciechowski: Les is more
•
Schlabach: BCS notebook
•
Low: Steltz family ties
•
Low: Early bowls offer BCS game clues
•
Scouts' edge: LSU or Ohio State?

Video
•
Forde/Maisel: Breaking down the title game

•
Forde/Maisel: Hester, Laurinaitis define teams

•
Forde/Schlabach: X-Factors

•
Schlabach: Bucks' WRs key

•
Players expect electric atmosphere

•
GameDay: Which defense will prevail?

•
Forde/Maisel: LSU's D-Line vs. Ohio State's O-Line

•
Maisel/Schlabach: Title game intangibles

•
Forde/Schlabach: Pelini's impeding departure a factor?

•
McShay: BCS Championship preview

Fiesta Bowl
•
Forde: Stewart nails on-the-job interview
•
Forde: Scene of the crime
•
Forde: Mo' money, mo' problems
•
Forde: Picture worth 1,000 words
Rose Bowl
•
Schlabach: USC looks like nation's best team
•
Feldman: McKnight's impressive coming-out party
•
Schlabach: Illinois' offense as easy as 1-2-3
•
Feldman: USC defense starts, finishes up front
•
Schlabach: Rose coaches have similar stories
•
Feldman: Patience helps Booty weather storm
•
Schlabach: Leman's success mirrors Illini's rise
•
Feldman: USC still up despite 'down' year
•
Schlabach: Third year a charm for Zook, Illini
Sugar Bowl
•
Maisel: Seems like old times
•
Low: Howard hosts sack party
•
Maisel: Sweet smell of success
•
Schlabach: Richt takes a walk on the wild side
•
Dinich: Jones finds ohana in Hawaii
•
Low: Growth spurt helps Georgia come of age
•
Nielsen: 'Dread-Heads' Hawaii's unsung stars
Orange Bowl
•
Dinich: Kansas proved it belonged
•
Dinich: Kansas time share
•
Dinich: Virginia Tech makes two work
Other Bowl Coverage
•
Adelson: A final spin in the old Carr
•
Dinich: Texas Tech steals a bit of luck
•
Low: Liberty Bowl win caps MSU's season
•
Low: Croom's breakthrough season
•
Low: UCF's Smith running into record books
•
Feldman: Motivated Horns stampede Sun Devils
•
Maisel: Lone Star State QBs shining on bowls
•
Schlabach: Coaching transition game
•
Forde: Schnellenberger takes road less traveled
What To Watch
•
Pat Forde: Bowl-der Dash
•

Feldman's picks:
December
|
January
•
Flash Gallery: Chris Low's impact players
•
Heather Dinich: Bowling for the best gifts
BCS Selection Sunday
•
Pat Forde: The grateful duo
•
Ivan Maisel: Tigers, Bucks survive, advance
•
Gene Wojciechowski: Theater of the absurd
More Bowl Coverage
•
BCS:
Rose
|
Sugar
|
Fiesta
|
Orange
•
BCS National Championship Game
•
Bowl Overview
|
Bowl Schedule
|
Bowl Index