Commentary
SEC enjoying stellar bowl season, but will it continue in BCS title game?
Updated:
January 3, 2008, 1:31 PM ET
By
Chris Low
| ESPN.com
NEW ORLEANS -- As the red and black confetti floated to the Superdome turf early Wednesday morning, Georgia senior defensive end Marcus Howard said what the rest of the SEC has been spouting for years.
[+] Enlarge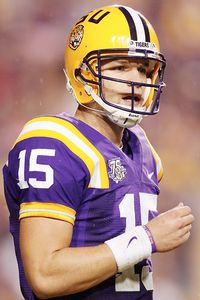 Chris Graythen/Getty ImagesMatt Flynn and LSU hope to prove they belong in the title game.
"The SEC is the best conference in the nation," Howard said. "You see all these teams winning bowl games. If you want to play the best football, come to the SEC." Of course, there was one qualifier. Howard's not convinced the right SEC team will be playing in the Allstate BCS National Championship Game on Monday night. He still believes Georgia was more deserving than LSU and points to the Bulldogs' 41-10 dismantling of Hawaii in the Allstate Sugar Bowl and their seven-game winning streak to end the season as proof. "We're the hottest team, and I feel we're the best team in the country," said Howard, who earned Sugar Bowl Most Outstanding Player honors after sacking Hawaii quarterback
Colt Brennan
three times. But the reality is that the Bulldogs' total body of work this season didn't set them apart, which raises another question: Does anything we've seen thus far by the SEC or the Big Ten provide any clues as to what might happen Monday night in New Orleans? It's always a dangerous thing to compare scores, and doing it this season is pure lunacy. This much we know: The SEC is 6-2 to this point in bowl games, and the Big Ten is 3-4. There have been two head-to-head matchups. Tennessee beat Wisconsin 21-17 in the Outback Bowl, while Michigan pulled off the biggest upset of the bowl season with a 41-35 win over Florida and Heisman Trophy winner
Tim Tebow
in the Capital One Bowl. And that's where the fun starts. The Wolverines were one of the biggest disappointments in college football this season. Their stunning 34-32 loss to eventual Division I-AA national champion Appalachian State to open the season ranks as one of the biggest upsets in history. Who knew 40-point underdog Stanford would shock Southern Cal a few weeks later? Michigan was also blown out at home by Oregon a week after the Appalachian State fiasco, but seemed to regroup. The Wolverines managed to win at Illinois, only to be spanked by Wisconsin. But with more than a month to get healthy -- and wanting desperately to send retiring coach Lloyd Carr out the right way -- Michigan saved its best performance for the bowl game and shredded the Gators' defense.
[+] Enlarge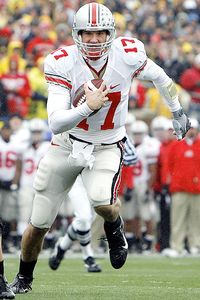 Gregory Shamus/Getty ImagesTodd Boeckman hopes history doesn't repeat itself on Monday.
That performance could be a little unnerving for LSU, which was vulnerable defensively in the second half of the season. Remember, the Tigers gave up 50 points to unranked Arkansas in a triple-overtime loss at home on Nov. 23, seemingly killing their national championship hopes. But miraculously, the computer chips in the final BCS standings all fell LSU's way. West Virginia lost to Pittsburgh. Missouri lost to Oklahoma in the Big 12 championship game, and LSU survived a scare against Tennessee in the SEC championship game. So much for the theory that you can't lose late and still play for the national title in the current system. Not only did the Tigers lose late, but they lost in the next-to-last weekend of the season (to an unranked team at home, no less) and still were able to claim one of the top two spots in the final standings. But then, Ohio State lost to Illinois only two weeks earlier -- again at home. It's the same Illinois team that was pounded by Southern Cal 49-17 in the Rose Bowl presented by Citi. And afterward, Illinois coach Ron Zook didn't mince words about what such a weak performance meant for the Big Ten. "There's no doubt in my mind the Big Ten Conference can compete with anybody. I can say that, but we have to do it," said Zook, who's spent the bulk of his coaching career in the SEC as an assistant at Tennessee and Florida, and as a head coach at Florida in 2002-04. Naturally, the SEC apologists will point to Ohio State's 0-8 record against SEC teams in bowl games as a sure sign the Buckeyes are in trouble. Their list of victims is not exactly a who's who, either, especially the Ohio "gauntlet" of Youngstown State, Akron and Kent State. Along those lines, though, how do you explain LSU's losing to both Arkansas and Kentucky? The Razorbacks turned around and were hammered by Missouri 38-7 in the AT&T Cotton Bowl. And if Georgia thinks it has a gripe with the BCS, the Bulldogs might want to check with the folks from Mizzou. The Tigers went from being No. 1 in the BCS standings the final weekend of the season to being left out of the BCS bowls. The constant in all this may be Ohio State's defense. The Buckeyes are ranked No. 1 nationally in both scoring and total defense and held the Wolverines to 91 total yards and three points in Ann Arbor in the final regular-season game. That same Michigan team put up 41 points against Florida on Tuesday and lost two fumbles at the goal line, or it could easily have had 50-plus points. And back to Georgia for a minute. The Bulldogs trailed Tennessee 28-0 before getting drilled 35-14 and didn't even win their division in the SEC. And, yes, that's the same Tennessee team that was humiliated by 39 points by Florida and 24 points by Alabama and then beat Wisconsin in the bowl game, the same Wisconsin team that lost to Illinois and beat Michigan. What's all this mean? Maybe Appalachian State deserves a shot.
Chris Low is a college football writer for ESPN.com. Send your questions and comments to Chris at espnclow@aol.com.
SPONSORED HEADLINES
MORE COLLEGE FOOTBALL HEADLINES
MOST SENT STORIES ON ESPN.COM
2007 Bowl Season
College football's bowl season ended with the crowning of the LSU Tigers in the Allstate BCS National Championship Game, but not before Georgia and USC made convincing arguments on the field that they deserved to be the top team in the land. The good news? The 2008 season is mere months away.
BCS Title Game
Features
•
Maisel: What a way to geaux
•
Wojciechowski: Miles deserves a wa-hooooo
•
Forde: Ohio St. buckles under BCS pressure
•
Schlabach: Game analysis
Video
•
GameDay: Big Ten weak?

•
Forde/Schlabach: BCS analysis

•
Forde/Schlabach: Keys to the game

•
McShay: BCS breakdown

•
Postgame quotes: Jim Tressel

•
Postgame quotes: Glenn Dorsey

•
Postgame quotes: Les Miles

•
LSU celebrates win over Ohio State

BCS Title Game Preview
Features
•
Forde/Maisel: 10 reasons Ohio State/LSU will win
•
Forde: BCS title game important for more than football to New Orleans
•
Maisel: OSU's children of the scorn
•
Forde: Destiny's Team tag fits Tigers well
•
Wojciechowski: Don't believe the hype
•
Forde: Tale of the tape
•
Maisel: BCS QBs not stars, but leaders
•
Schlabach: 'Ironhead' Heyward's memory alive in son
•
Beanie carries the load for Bucks
•
Maisel: Healthy Dorsey ready to roll
•
Wojciechowski: Ohio State's motivational DVD
•
Maisel: Face of the Ohio State
•
Wojciechowski: Les is more
•
Schlabach: BCS notebook
•
Low: Steltz family ties
•
Low: Early bowls offer BCS game clues
•
Scouts' edge: LSU or Ohio State?

Video
•
Forde/Maisel: Breaking down the title game

•
Forde/Maisel: Hester, Laurinaitis define teams

•
Forde/Schlabach: X-Factors

•
Schlabach: Bucks' WRs key

•
Players expect electric atmosphere

•
GameDay: Which defense will prevail?

•
Forde/Maisel: LSU's D-Line vs. Ohio State's O-Line

•
Maisel/Schlabach: Title game intangibles

•
Forde/Schlabach: Pelini's impeding departure a factor?

•
McShay: BCS Championship preview

Fiesta Bowl
•
Forde: Stewart nails on-the-job interview
•
Forde: Scene of the crime
•
Forde: Mo' money, mo' problems
•
Forde: Picture worth 1,000 words
Rose Bowl
•
Schlabach: USC looks like nation's best team
•
Feldman: McKnight's impressive coming-out party
•
Schlabach: Illinois' offense as easy as 1-2-3
•
Feldman: USC defense starts, finishes up front
•
Schlabach: Rose coaches have similar stories
•
Feldman: Patience helps Booty weather storm
•
Schlabach: Leman's success mirrors Illini's rise
•
Feldman: USC still up despite 'down' year
•
Schlabach: Third year a charm for Zook, Illini
Sugar Bowl
•
Maisel: Seems like old times
•
Low: Howard hosts sack party
•
Maisel: Sweet smell of success
•
Schlabach: Richt takes a walk on the wild side
•
Dinich: Jones finds ohana in Hawaii
•
Low: Growth spurt helps Georgia come of age
•
Nielsen: 'Dread-Heads' Hawaii's unsung stars
Orange Bowl
•
Dinich: Kansas proved it belonged
•
Dinich: Kansas time share
•
Dinich: Virginia Tech makes two work
Other Bowl Coverage
•
Adelson: A final spin in the old Carr
•
Dinich: Texas Tech steals a bit of luck
•
Low: Liberty Bowl win caps MSU's season
•
Low: Croom's breakthrough season
•
Low: UCF's Smith running into record books
•
Feldman: Motivated Horns stampede Sun Devils
•
Maisel: Lone Star State QBs shining on bowls
•
Schlabach: Coaching transition game
•
Forde: Schnellenberger takes road less traveled
What To Watch
•
Pat Forde: Bowl-der Dash
•

Feldman's picks:
December
|
January
•
Flash Gallery: Chris Low's impact players
•
Heather Dinich: Bowling for the best gifts
BCS Selection Sunday
•
Pat Forde: The grateful duo
•
Ivan Maisel: Tigers, Bucks survive, advance
•
Gene Wojciechowski: Theater of the absurd
More Bowl Coverage
•
BCS:
Rose
|
Sugar
|
Fiesta
|
Orange
•
BCS National Championship Game
•
Bowl Overview
|
Bowl Schedule
|
Bowl Index