Commentary
Tressel, Ohio State made for each other
Updated:
January 4, 2008, 9:29 AM ET
By
Ivan Maisel
| ESPN.com
NEW ORLEANS -- They have been seven years of feast, and no famine is in sight. In seven years, Jim Tressel has transformed from being merely the coach of Ohio State football to being the face of Ohio State football. There is a difference. John Cooper, his predecessor, won a lot but never quite enough. Before Cooper, Earle Bruce never escaped the shadow of Woody Hayes.
Tressel has brought the Buckeyes to their second consecutive BCS Championship Game and third during his tenure. But an Ohio State victory won't place Tressel's face on the Mount Rushmore of Columbus. His sweater-vest got chiseled up there some time ago.
[+] Enlarge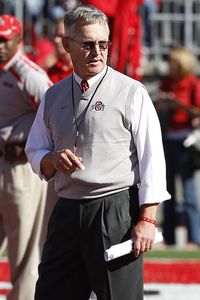 Matthew Emmons/US PresswireJim Tressel has led the Buckeyes to a 73-15 record and one national title during his Ohio State tenure.
Unlike pro football, with its mercenary bent, college football at its best promotes the connection between coach and campus. You rarely hear of an NFL coach being the right fit for a city and its fans. You hear of nothing else when it comes to Pete Carroll and USC. Carroll channels his unbridled competitiveness through a hey-dude vibe that resonates with California kids.
Just as Carroll is SC, Tressel is Ohio State. He exudes Midwestern dependability. He is as clean-cut as Carroll is shaggy. Tressel is an Ohio product, scarlet and gray through and through. On his Web site, he lists Rex Kern as a childhood hero. Kern, who played quarterback on the Buckeyes' 1968 national championship squad, entered the College Football Hall of Fame last year.
Kern, recalling Tressel's hiring, made it clear they have a mutual admiration society.
"Somebody brought up Jim's name," Kern said. "My comment was, 'He could be a Woody Hayes.' Woody came from a very small school. Woody came from Denison and was at Miami [Ohio]. I know Jimmy's background. … He came from a great family and [had] all of the elements in the package. He's a guy from the small school that you knew was ready. He really was."
In 28 years at Ohio State, Hayes went 205-61-10 (.761) and won three national championships. In seven years at Ohio State, Tressel has gone 73-15 (.830) and is one game away from winning his second national championship.
"Jim is the consummate coach for us," Kern said. "He has matured to this great level."
Tressel's brand of football is no longer quite as conservative as Hayes'. Ohio State gains more than 3 yards a play, and there are no clouds of dust in the palace that is Ohio Stadium. But as a young quarterback coach calling the plays at Syracuse in 1981, he called plays from a page out of Hayes' book.
"We played Illinois when we had [tailback] Joe Morris," Dick MacPherson, the former Syracuse coach who hired Tressel, said from his winter home in Florida. "Jimmy runs a sprint draw nine times to get into the end zone. The next series, he starts with a sprint draw. I get on the phone, and excuse my language, I said, 'Jesus Christ, Jimmy, don't we have another damn play?'
"He said, 'Yes we do, Coach. As soon as they stop this one, I'll call it.'
"That's Jimmy Tressel to me."
Is it possible that Tressel once was young enough to be known as Jimmy? UConn coach Randy Edsall, a former Syracuse quarterback who served as a graduate assistant when Tressel coached there, remembers how mature Tressel seemed even then, as a coach not yet 30.
"He wanted to present an image of being a little older than he really was," Edsall said. "He looked more like an executive than a football coach."
Edsall remembered something else.
"He was very organized, very meticulous," Edsall said. "The attention to detail in terms of coaching. … If you were a player who did something wrong on the field, you were always going to get corrected."
[+] Enlarge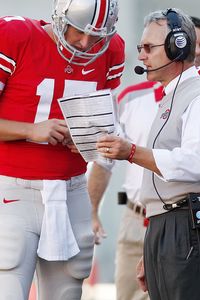 Gregory Shamus/Getty ImagesJim Tressel's attention to detail translates into limited mistakes by the Buckeyes.
A generation later, Tressel coaches the same way. His teams play the same way. They don't make mistakes. They take advantage of the mistakes the other team makes. Tressel holds high regard for field position. You can tell by how good his team's kicking game is. If you play a short field and make your opponent play a long field, it's easier to win. That's not rocket science, which is just the point.
Kern believes that Tressel has given offensive coordinator Jim Bollman a little wiggle room.
"He's taking a few more chances here and there," Kern said. "He's still basically the same guy. He's going to want to punt for field position. He's going to want to not take many chances. He'll play it close to the vest. If he's close, his field-goal kicker will come in at the end."
Close to the vest, no pun intended. Tressel is known as "The Sweater Vest," after his signature clothing. Speaking of which, has there ever been a head coach whose birthplace is so apt? Tressel was born in Mentor, Ohio, which is like saying Bobby Bowden was born in Dadgum, Fla.
Tressel's father, Lee, coached the local high school in Mentor, a Cleveland suburb. He also coached at Massillon, the longtime power in Ohio schoolboy football, before he returned to his alma mater, Baldwin-Wallace College. Lee Tressel coached there for 23 seasons, won the 1978 Division III championship, and had a record of 155-52-6 (.742).
"Let me tell you about his father," said MacPherson, who before coaching at Syracuse was an assistant coach with the Cleveland Browns, who trained at Baldwin-Wallace.
"His father was a great guy," MacPherson said. "He loved to play poker, at the coaches convention or at a clinic. His father couldn't hear very well. He had a hearing aid, and he wore these reading glasses. What he would do is take his hearing aid and turn it off and put the glasses on, and as soon as he threw his hand in, he would turn the hearing aid on again."
Like father, like son.
"Everything Jim does is, he is concentrating," MacPherson said. "He as a person is a lot of fun. When it comes to business, he turns his hearing aid off and puts his glasses on so he can't be disturbed."
When MacPherson took over at Syracuse, he hired Tressel and they drove east together. Lee Tressel retired in 1980 and died the next spring, at age 56, of lung cancer.
Jim Tressel will turn 56 this year. The milestone is an obvious one.
"He has two older brothers who are already past that age," Ellen Tressel said of her husband. "You often think about things like that and wonder if things could have been different."
"He would still be coaching if he could be," Jim Tressel said of his father.
Tressel, in the wake of Lloyd Carr's retirement from Michigan, said Wednesday he hasn't begun to think of how long he will coach.
"At Ohio State, you go game by game," Tressel said, a twinkle in his eye.
Tressel is signed through the 2012 season. If the Buckeyes beat the Tigers and win the BCS championship, he may renegotiate his contract. It is remarkable that, one year after Ohio State suffered a humiliating 41-14 loss to Florida in the BCS Championship Game, the Buckeyes are back. Texas coach Mack Brown said the credit is due to the man at the top.
"They asked Jim what's it going to take for a young guy to be a head coach," Brown said. "He said without question, taking a negative and turning it into a positive. If you can't handle that, you're not going to make it."
The last question in a 26-minute news conference Wednesday regarded whether Tressel would be able to enjoy the bowl week in New Orleans. His answer explained why he won't stop coaching anytime soon.
"The beauty of my job," Tressel said, "is work is play."
Ivan Maisel is a senior writer for ESPN.com. Send your questions and comments to Ivan at ivan.maisel@espn3.com.
Senior Writer, ESPN.com
ESPN.com senior college football writer
Five-time FWAA award winner
28 seasons covering college football
2007 Bowl Season
College football's bowl season ended with the crowning of the LSU Tigers in the Allstate BCS National Championship Game, but not before Georgia and USC made convincing arguments on the field that they deserved to be the top team in the land. The good news? The 2008 season is mere months away.
BCS Title Game
Features
•
Maisel: What a way to geaux
•
Wojciechowski: Miles deserves a wa-hooooo
•
Forde: Ohio St. buckles under BCS pressure
•
Schlabach: Game analysis
Video
•
GameDay: Big Ten weak?

•
Forde/Schlabach: BCS analysis

•
Forde/Schlabach: Keys to the game

•
McShay: BCS breakdown

•
Postgame quotes: Jim Tressel

•
Postgame quotes: Glenn Dorsey

•
Postgame quotes: Les Miles

•
LSU celebrates win over Ohio State

BCS Title Game Preview
Features
•
Forde/Maisel: 10 reasons Ohio State/LSU will win
•
Forde: BCS title game important for more than football to New Orleans
•
Maisel: OSU's children of the scorn
•
Forde: Destiny's Team tag fits Tigers well
•
Wojciechowski: Don't believe the hype
•
Forde: Tale of the tape
•
Maisel: BCS QBs not stars, but leaders
•
Schlabach: 'Ironhead' Heyward's memory alive in son
•
Beanie carries the load for Bucks
•
Maisel: Healthy Dorsey ready to roll
•
Wojciechowski: Ohio State's motivational DVD
•
Maisel: Face of the Ohio State
•
Wojciechowski: Les is more
•
Schlabach: BCS notebook
•
Low: Steltz family ties
•
Low: Early bowls offer BCS game clues
•
Scouts' edge: LSU or Ohio State?

Video
•
Forde/Maisel: Breaking down the title game

•
Forde/Maisel: Hester, Laurinaitis define teams

•
Forde/Schlabach: X-Factors

•
Schlabach: Bucks' WRs key

•
Players expect electric atmosphere

•
GameDay: Which defense will prevail?

•
Forde/Maisel: LSU's D-Line vs. Ohio State's O-Line

•
Maisel/Schlabach: Title game intangibles

•
Forde/Schlabach: Pelini's impeding departure a factor?

•
McShay: BCS Championship preview

Fiesta Bowl
•
Forde: Stewart nails on-the-job interview
•
Forde: Scene of the crime
•
Forde: Mo' money, mo' problems
•
Forde: Picture worth 1,000 words
Rose Bowl
•
Schlabach: USC looks like nation's best team
•
Feldman: McKnight's impressive coming-out party
•
Schlabach: Illinois' offense as easy as 1-2-3
•
Feldman: USC defense starts, finishes up front
•
Schlabach: Rose coaches have similar stories
•
Feldman: Patience helps Booty weather storm
•
Schlabach: Leman's success mirrors Illini's rise
•
Feldman: USC still up despite 'down' year
•
Schlabach: Third year a charm for Zook, Illini
Sugar Bowl
•
Maisel: Seems like old times
•
Low: Howard hosts sack party
•
Maisel: Sweet smell of success
•
Schlabach: Richt takes a walk on the wild side
•
Dinich: Jones finds ohana in Hawaii
•
Low: Growth spurt helps Georgia come of age
•
Nielsen: 'Dread-Heads' Hawaii's unsung stars
Orange Bowl
•
Dinich: Kansas proved it belonged
•
Dinich: Kansas time share
•
Dinich: Virginia Tech makes two work
Other Bowl Coverage
•
Adelson: A final spin in the old Carr
•
Dinich: Texas Tech steals a bit of luck
•
Low: Liberty Bowl win caps MSU's season
•
Low: Croom's breakthrough season
•
Low: UCF's Smith running into record books
•
Feldman: Motivated Horns stampede Sun Devils
•
Maisel: Lone Star State QBs shining on bowls
•
Schlabach: Coaching transition game
•
Forde: Schnellenberger takes road less traveled
What To Watch
•
Pat Forde: Bowl-der Dash
•

Feldman's picks:
December
|
January
•
Flash Gallery: Chris Low's impact players
•
Heather Dinich: Bowling for the best gifts
BCS Selection Sunday
•
Pat Forde: The grateful duo
•
Ivan Maisel: Tigers, Bucks survive, advance
•
Gene Wojciechowski: Theater of the absurd
More Bowl Coverage
•
BCS:
Rose
|
Sugar
|
Fiesta
|
Orange
•
BCS National Championship Game
•
Bowl Overview
|
Bowl Schedule
|
Bowl Index
MORE COLLEGE FOOTBALL HEADLINES