TOSTITOS FIESTA BOWL
Glendale, AZ - Jan. 5, 2009
FOX, 8 p.m. ET
Closing Arguments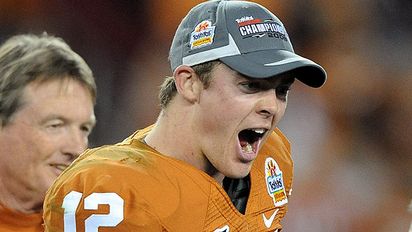 Kirby Lee/US Presswire
Colt McCoy and Texas want a share of No. 1. Will the voters listen?
Minutes after Texas beat Ohio St. in the final seconds, the Horns made their pitch for a No. 1 ranking. It's a tough sell.
Adam Rittenberg
•
Schlabach: Tables turned
|
Recap
|

Watch
:
Highlights
|
Analysis
•
Blog
:
OSU senior sendoff spoiled
|
Texas' Cosby goes out in style
•
Bowl central
|
Overview
|
Schedule
|
Insider Pick Center
|
Bowl Mania
Bowl Overview
It was over when...
Colt McCoy drove the length of the field and hit Quan Cosby on a 26-yard TD pass with 16 seconds left.
Gameball goes to...
Cosby
. It's a toss-up between Cosby and McCoy but we'll take the senior and his 14 catches for 171 yards and 2 TDs.
Stat of the game...
1-6
. With the Buckeyes' loss, their third straight BCS defeat, the Big Ten finished 1-6 in the postseason.
OHIO STATE VS. TEXAS
ESPN'S TAKE

Close Doesn't Count

GLENDALE, Ariz. -- Texas needed one final push against a staunch Ohio State defense that had kept Longhorns receivers in front of it all game.
The Longhorns got it from wideout Quan Cosby, who wriggled free of Ohio State safety Anderson Russell and sprinted to the end zone for a 26-yard touchdown pass with 16 seconds left. Quarterback Colt McCoy led a masterful drive as Texas marched 78 yards in 11 plays without using a timeout. Cosby had a huge performance in his final game in a Longhorns uniform.
Though Texas failed to make the statement it needed for a split national title, the favored Longhorns survived to notch their fifth straight bowl victory and third in a BCS game.
Ohio State mounted an impressive fourth-quarter comeback behind quarterbacks Todd Boeckman and Terrelle Pryor, who hooked up for a touchdown with 7:26 left. The Buckeyes' ground attack secured the lead despite a hamstring injury to Chris "Beanie" Wells, but a defense that had stepped up all game couldn't get one final stop.
The Buckeyes weren't embarrassed like the last two seasons and had control for most of the game, but they ended up dropping their third consecutive postseason contest. The Big Ten did absolutely nothing to improve its national reputation with a 1-6 bowl record, arguably the worst postseason performance in league history. The league has lost six consecutive BCS bowls.
-- Adam Rittenberg | Read more in the Big Ten blog
---

Horns rally
Quan Cosby punctuated his college career with an exclamation point.

Cosby snagged a career-high 14 receptions for 171 yards, including a game-winning 26-yard touchdown reception from Colt McCoy with 16 seconds left to boost the Longhorns to a 24-21 victory over Ohio State in the Fiesta Bowl.

The victory came despite a struggling defensive performance down the stretch. The Longhorns denied Ohio State a touchdown for the first three quarters before the Buckeyes charged back from a 17-6 deficit to claim the lead on two scoring drives in the fourth quarter. The Texas defense looked gassed on drives that consumed 80 and 73 yards.

But the Longhorns' late rally enabled them to escape with the victory, stretching their bowl winning streak to five games.

To read the entire post, click here.

-- Tim Griffin | Read more in the Big 12 blog
Team Stat Comparison
1st Downs
21
33
Total Yards
379
468
Passing
176
414
Rushing
203
54
Penalties
7-67
8-83
3rd Down Conversions
4-12
6-17
4th Down Conversions
0-0
3-4
Turnovers
0
1
Possession
30:13
29:47
Fantasy
Here's your chance to be the expert and pick the bowl winners. Create your FREE entry and compete for a chance to win a home theater system.
College Bowl Mania

Texas Passing
C/ATT
YDS
TD
INT
C. McCoy
41/58
414
2
1
Ohio State Rushing
CAR
YDS
TD
LG
C. Wells
16
106
0
26
Texas Receiving
REC
YDS
TD
LG
Q. Cosby
14
171
2
26