FEDEX ORANGE BOWL
Miami - Jan. 1, 2009
FOX, 8:30 p.m. ET
Foster's Children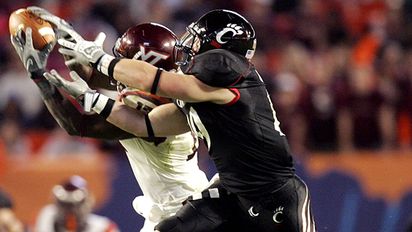 AP Photo/J. Pat Carter
Virginia Tech picked off four passes in its 20-7 win over Cincinnati.
Bud Foster's defensive squad put on another stellar performance during the Orange Bowl. So "The Question" needs to be asked again: When is a school going to make the Virginia Tech defensive coordinator a head man?
Pat Forde
|
Blog reaction
|
Watch: Highlights
Bowl Overview
It was over when...
Backed up on their own 1-yard line, the Hokies stuffed Tony Pike on fourth-and-goal with over seven minutes remaining.
Gameball goes to...
Darren Evans
, who rushed 28 times for 153 yards and a touchdown.
Stat of the game...
10
. The Hokies have won at least 10 games for the fifth straight season, trailing Texas (8) and USC (7) for the longest active streak.
VIRGINIA TECH VS. CINCINNATI
ESPN'S TAKE

Complete Game
Tech coach Frank Beamer was convinced his team had yet to play its best football game of the season, and he was right. The Hokies saved their best for last.

Cincinnati played not to lose, and Virginia Tech played like it had everything to lose.

Instead, the Hokies gained respect and redemption in this year's FedEx Orange Bowl with their 20-7 win over Big East champ Cincinnati. Virginia Tech represented the ACC well by playing a complete game and snapping the league's eight-game losing streak in BCS games. The win gave the conference a needed boost, as the ACC finished with a 4-6 bowl record, and it helped ease the sting of last year's Orange Bowl loss to Kansas.

To read the rest of this post, click here.

-- Heather Dinich | Read more in the ACC blog
---

Great Year, Tough Finish
MIAMI -- Cincinnati had a great year. It did not have a great finish.
The Bearcats scored on their first possession and then never again, as Virginia Tech's defense overpowered them in a 20-7 Hokies win at the FedEx Orange Bowl. Quarterback Tony Pike threw four interceptions -- and could have easily had five if not for a replay overturn -- and he was stopped at the goal line in the fourth quarter on a fourth down run from inside the 1 yard line.
Virginia Tech earned a little ACC pride, snapping the league's streak of eight straight BCS losses. Tyrod Taylor and Darren Evans each had big games to power an offense that performed better than most expected.
It wasn't Cincinnati's finest hour -- the Bearcats had a season-low point total and made some costly mistakes -- but give most of the credit to Bud Foster and the Hokies' defense.
-- Brian Bennett | Read more in the Big East blog
Team Stat Comparison
1st Downs
14
23
Total Yards
310
398
Passing
239
140
Rushing
71
258
Penalties
3-30
3-17
3rd Down Conversions
2-9
8-18
4th Down Conversions
1-2
1-2
Turnovers
4
1
Possession
20:21
39:39
Fantasy
Think you know who will win all 34 bowl games this season? Put your prognosticating skills to the test in College Bowl Mania, featuring both confidence-style and straight-up selections.
College Bowl Mania

Cincinnati Passing
C/ATT
YDS
TD
INT
T. Pike
16/33
239
1
4
Virginia Tech Passing
C/ATT
YDS
TD
INT
T. Taylor
13/22
140
0
1
Virginia Tech Rushing
CAR
YDS
TD
LG
D. Evans
28
153
1
32
Virginia Tech Receiving
REC
YDS
TD
LG
D. Coale
3
52
0
35