Commentary
Texas QB has grown up since Buckeyes last saw him
SCOTTSDALE, Ariz. -- When Texas quarterback Colt McCoy took his seat at the Home Depot ESPNU College Football Awards in early December, he heard a familiar voice behind him.
"I gave him a little back rub," Ohio State linebacker James Laurinaitis said Friday. "I was letting him know I was there."
[+] Enlarge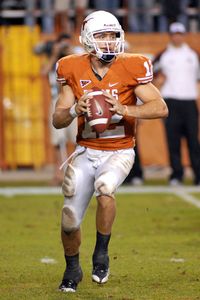 Icon SMIA lot has changed for Colt McCoy since he last faced Ohio State.
McCoy remembers Laurinaitis well. In the second game of McCoy's redshirt freshman season in 2006, defending national champion Texas was ranked No. 2 in the country. Ohio State was ranked No. 1. It was the first regular-season matchup of No. 1 and No. 2 in a decade. McCoy and the Longhorns were overwhelmed in a 24-7 loss at Darrell K Royal-Texas Memorial Stadium. McCoy passed for 154 yards and one touchdown against the Buckeyes. He also threw his first college interception to Laurinaitis. "I helped make him an All-American," McCoy joked. "He hit me right between the 3s," Laurinaitis said, referring to his No. 33 jersey number. "I was even a little bit smaller back then." McCoy and Laurinaitis will meet again in Monday night's Tostitos Fiesta Bowl at University of Phoenix Stadium in Glendale, Ariz. The No. 3 Longhorns hoped to be playing in Thursday's FedEx BCS National Championship Game in South Florida. Instead, they were left out of the Big 12 title game after losing a tiebreaker to Big 12 South foe Oklahoma. "We were disappointed a little bit," McCoy said. "We're human. We were a little disappointed we weren't in the Big 12 title game because we thought we did everything we could do, beating the two teams that were there. But we have great leadership and put the disappointment behind us." The No. 1 Sooners will play No. 2 Florida for the BCS national championship, and the Longhorns can only hope for an Associated Press national title. Their chances of earning a split national championship seem slim. "There's still a lot to play for," McCoy said. "It's going to be tough. Every time I turn on the film, Ohio State gets better and better. We have a chance to win 12 games, which we haven't done in a while, and we have a chance to win a BCS bowl. There's a lot at stake for us." Every time McCoy watches film of Ohio State's defense, he can't take his eyes off No. 33. Laurinaitis started each of the past three seasons at middle linebacker for the Buckeyes and was named an All-American this season. The senior will be playing his final game for Ohio State. "I've grown up a little bit since that first game," McCoy said. "Playing against the No. 1 team in the country as a freshman was tough. I was definitely able to grow from it and learn from it. I've played so many games since then, and you try to forget the losses as quickly as you can. I think Laurinaitis has grown up, too. We were both young players back then." McCoy is in his third season as Texas' starting quarterback, having led the Longhorns to a 31-7 record. His 31 victories are the most in school history, one better than Vince Young's 30. He was the runner-up this season for the Heisman Trophy, which was won by Oklahoma quarterback
Sam Bradford
. McCoy ranked third nationally in pass efficiency during the regular season, completing 77.6 percent of his passes for 3,445 yards with 32 touchdowns. He is on pace to break former Central Florida quarterback Daunte Culpepper's NCAA single-season record for completion percentage (73.6 percent in 1998).
[+] Enlarge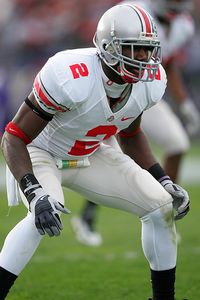 Paul Jasienski/Getty ImagesOSU's Malcolm Jenkins says McCoy's accuracy is a challenge.
"When you play against somebody as accurate as him, every step counts and every inch counts," Ohio State cornerback Malcolm Jenkins said. "He can squeeze a ball into spots where you think you have coverage. He'll nickel-and-dime you to death and try to bore you, and then he'll throw it over the top." It wasn't always this easy for McCoy. He became the first Texas quarterback to win 10 games as a freshman in 2006. He was named the Big 12 freshman of the year after throwing for 2,570 yards with 29 touchdowns and seven interceptions. The Longhorns finished 10-3, one year after Young led them to a 13-0 record and their first national championship since 1970. The following season, McCoy struggled mightily, throwing 22 touchdowns with 18 interceptions. Texas finished 10-3 for the second season in a row. McCoy said his early struggles helped him become the player he is now. "I think that was a blessing for sure," McCoy said. "To be able to play early is something all quarterbacks dream about, and it really has helped me in my development to where I am right now." The Buckeyes know they'll face a much different quarterback Monday night than the one they saw two years ago. "I think he's not even the same player," Buckeyes linebacker Marcus Freeman said. "I don't even know if he's the same person." If Ohio State is going to end its recent slide in BCS bowl games, the Buckeyes know they'll have to slow down McCoy. He also leads the Longhorns in rushing with 576 yards and 10 touchdowns. "Colt is their offense," Jenkins said. "He's their leader and gets everything going on offense. He's a great runner and throws the ball around. Nobody has stopped him yet."
Mark Schlabach covers college football and men's college basketball for ESPN.com. You can contact him at schlabachma@yahoo.com.
College Football and Basketball
College football writer for ESPN.com
Author of seven books on college football
Formerly at the Washington Post and the Atlanta Journal-Constitution
TOSTITOS FIESTA BOWL


From the announcement to breakdowns to the final gun, we have the Tostitos Fiesta Bowl between Ohio State and Texas covered.
Texas 24, Ohio State 21
Features
•
Schlabach: Horns turns tables on Buckeyes
•
Rittenberg: Longhorns make their pitch
•
Schlabach: Bucks, Horns seek Fiesta party favors
•
Schlabach: Orakpo poses challenge to Buckeyes
•
Rittenberg: OSU seniors ready for bowl finale
•
Schlabach: McCoy eager to face Ohio State again
•
Rittenberg: College game comes easy to Pryor
Blog Network
•
Texas' Cosby goes out in style
•
Ohio State senior sendoff spoiled
•
Texas' Brown in top form as countdown begins
•
Tressel, Buckeyes feeling loose before bowl
•
Horns not counting on split national title
•
Brown, Tressel coach in shadow of legends
•
Ohio State line looks to make statement
•
Gideon moves on from crucial drop
Watch
•
Game highlights
|
Expert analysis

•
McShay breaks down the Buckeyes and Horns

•
Maisel/Schlabach: Fiesta Bowl preview

More Coverage
•
Scouts' edge

|
Simulation
|
Vote: Your take?
Bowl Coverage
• Fiesta Bowl coverage | Complete bowl coverage

MORE COLLEGE FOOTBALL HEADLINES
Nike Men's Ohio State Buckeyes Script Ohio Local Attribute T-shirt Shop »

MOST SENT STORIES ON ESPN.COM