Commentary
Andrew Luck impresses Cardinal QBs
Originally Published:
December 31, 2010
By
Ivan Maisel
| ESPN.com
The position of "Stanford quarterback" is iconic in college football, just like "USC tailback" or "Joe Paterno." Four Stanford quarterbacks have been elected to the College Football Hall of Fame -- Frankie Albert, John Brodie, Jim Plunkett and John Elway. A total of 19 former Cardinal quarterbacks have gone on to play in the NFL, from Hampton Pool with the wartime Chicago Bears to Trent Edwards, who is expected to start Sunday for the Jacksonville Jaguars.
The Stanford quarterback not only must handle the athletic demands of Pac-10 football and the academic demands of one of the nation's leading universities, he must uphold the legacy created by his predecessors. In other words, those are three more things at which redshirt sophomore Andrew Luck has excelled.
Luck has thrown for 3,051 yards and 28 touchdowns while completing 70.2 percent of his passes this season. More important, Luck has led No. 4 Stanford to an 11-1 record and the Discover Orange Bowl on Monday against No. 13 Virginia Tech.
In the two weeks after the game, Luck will decide whether to forego his last two seasons of college eligibility and, in all likelihood, become the fourth Stanford quarterback selected as the first player in the NFL draft. Who better to assess Luck's skills, his career and his future than the players whose shoes he has more than capably filled?
ESPN.com interviewed five former Stanford quarterbacks -- Plunkett, Elway, Edwards, Steve Stenstrom and Todd Husak -- about the current one. Here are their thoughts:
Jim Plunkett (1970 Heisman Trophy winner, 16 years in the NFL, two Super Bowl victories, lives in Atherton, Calif., a short drive from campus): We've had all the quarterbacks over for dinner. It's something I've done off and on through the years. We talk to them, get to know what's happening with them outside of football. It's a lot of fun.
He's a very modest guy. He lays a lot of his success on the people around him. From my standpoint, it's really good to see. It's not all about him the way it is with so many players. You can see from the get-go he has the time of his life doing something he likes to do. His demeanor and personality is outgoing. He's having a great time going through life.
Todd Husak (led 1999 Cardinal to the Rose Bowl, five years in the NFL, analyst on the Stanford radio broadcasts): I coached there in '05, so when he signed [in 2008] I still knew some of the fifth-year guys. They would come over to me and say, 'Hey, this guy' -- his nickname was The Truth -- 'can really ball.'
Steve Stenstrom (starter, 1991 to 1994, led Stanford to share of 1992 Pac-10 title, five years in the NFL, president of Pro Athletes Outreach, a Christian organization): David Shaw, the offensive coordinator, was one of my teammates. We came into Stanford together. I remember him commenting I had to come out and see this freshman. I went out there, you could tell from the first practice. You could tell from the first practice he was distinguished from the other athletes.
Husak: His first year, the year he redshirted, one of the assistant coaches came up to me, and he had been in the NFL, and said, 'He's the best player I've ever been around.' My question was, 'Why isn't he playing?'
Trent Edwards (starter, 2004 to 2006, four years in the NFL with Buffalo and Jacksonville): It's one thing to have all the accolades and all the hype coming out of high school. And now he has accolades based on the field, which is even more impressive to me.
Plunkett: On the field, he's certainly one of the best I've ever seen as far as being an NFL-style quarterback. I don't think I've seen any better. I know Elway was great.
John Elway (1982 Heisman runner-up, 16 years in the NFL, two Super Bowl victories): To me, just looking at him, he's a guy that can win with his arm if he has to sit in the pocket or he can buy time with his legs. That's the complete guy. That's exactly what the NFL wants. He's big, physical, got good speed. He's running faster than he looks because he's so big. He's got the total package. In the NFL, you've got to beat people with your arm. He can do that. He can make that play that you can't coach.
Plunkett: One of the things you see, as he's dropping back, he makes up his mind quicker than another quarterback as he's reading the defense, and more often than not he goes to the right guy. His decision-making is really sharp. Whereas another quarterback might take a full second more to make that read, then it's too late.
Elway, on the comparisons of Luck to him: To me, it's a nice comparison. He deserves every bit of that. Heck, he was on better teams than I had. Our games are very similar. I was able to throw the ball. I was able to move around. He is a lot bigger than I was. When I came out of college, I weighed only 200 pounds. He's 230, 235. How times have changed. God! When I came in, a big linebacker was 235. Now they're 260.
Husak: His physical attributes stand out. He can throw the 20-yard out to the wide side on a line and hit the receiver in the breadbasket. But it's his understanding of the offense. He's calm. He doesn't take sacks. I don't know if I've seen a young quarterback with his understanding of the offense. He moves in the pocket, hits his checkdowns and makes it look easy. His biggest detriment is that he makes it look easy and people don't understand how difficult what he does really is.
Stenstrom: He's an outstanding competitor. You pick up on that from watching him on the field and how he prepares himself. There are some athletes who have great ability and get by on that ability. Some have great work ethic and attention to detail and they get by on that.
Husak: His mechanics -- oftentimes, the more talented physical player doesn't have to be mechanically talented. Look at JaMarcus Russell. From an early age, he could get away with things other guys couldn't. He didn't have to be fundamentally sound. Guys said, 'We don't have to coach this guy.' Andrew is a teach tape. His fundamentals, his ball mechanics, the way he feels the pass rush. Andrew does not take sacks.
Stenstrom: There are a unique few, one-tenth of 1 percent, who have that physical ability and the same attention to detail and work ethic. He seems to have that, in my estimation. To reach a level of excellence you have to have both of those things. When I got to the NFL, I determined there were 100 guys in America who had the job I had. Only 32 got to play. The difference was, of the 100 guys, only five or six, maybe 10, stood out from the other 90.
Husak: He makes the right decision. I can think of three or four plays where Dave [Flemming, play-by-play announcer] or I would say, 'Oh, I don't know if that was the right decision.' Out of 1,000 snaps, three or four where he made mistakes. He just does everything right.
Edwards: What strikes me the most is his poise. He takes big hits, or he gets knocked down -- he gets back up and on the next play delivers an accurate throw. You can tell a lot about a quarterback in how he responds to a negative play, or maybe when he gets down a couple scores. I've been really impressed with his ability to just respond to that. He'll need to be able to do that in the future, too.
Stenstrom: What I observe in Andrew from a decision-making standpoint is what makes me so high on him. ... There is a guy who has an uncanny ability to make good decisions whether he has a lot of time or not. And he has all the physical abilities to follow through, whether it's a 50-yard throw or a 2-yard scramble. He has the ability to make the decisions and make them well and the statistics support him.
Plunkett: He's having the time of his life. He enjoys his teammates. Certainly he enjoys Stanford. Whether he comes out or not, I don't know. I don't want to ask him.
Elway: He's a smart guy, a mature guy. He'll be able to have a voice in where he's going. If it's Carolina [the Panthers own the first pick in the draft], Carolina is bad right now but they've been a playoff team. ... It's a good organization.
Plunkett: If not for his size, you wouldn't ever know he's a player. I still do TV for the Raiders. It's something you don't see in today's athlete. The attitude of a lot of these players, it's about them, criticizing everybody else instead of looking at themselves. I guess it's the times. It doesn't thrill me that much.
Stenstrom: No matter what, he's going to have a long career. He's going to play the game for a long time.
Ivan Maisel is a senior writer for ESPN.com and hosts the ESPNU College Football podcast. Send your questions and comments to him at Ivan.Maisel@ESPN.com.
SPONSORED HEADLINES
MORE COLLEGE FOOTBALL HEADLINES
MOST SENT STORIES ON ESPN.COM
BCS BOWL GAMES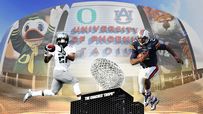 The BCS bowl games are set. Get all the information you need right here. Bowls Home »
STORIES
BCS TITLE GAME
ROSE BOWL
FIESTA BOWL
ORANGE BOWL
SUGAR BOWL
VIDEO
GAME HOME PAGES
Nike Men's Stanford Cardinal Rose Bowl Game Mascot T-shirt Shop »