Saban psychology vs. Manning mystique
Ole Miss plays its biggest game in 50 years this weekend, but Saturdays's SEC showdown is just another game for Nick Saban and LSU.
Originally Published:
November 20, 2003
By
Bill Curry
| Special to ESPN.com
Langston Rogers is the sports information director at Mississippi, but he is much more than the normal SID. He knows Ole Miss Football better than anybody alive.
I called Langston to see where this week's match with LSU in Oxford ranks in the pantheon of big games in the little college town that will be the center of the Southern football universe this Saturday. As usual I assumed I knew the answer, and as usual I was wrong.
"Surely this is the biggest game since 1959, when Billy Cannon's punt return won the game and won Cannon the Heisman Trophy in Baton Rouge?" I asked.
"Nope, that's not it," Langston replied.
"Well then I know it has to be the rematch of the same two teams in the Sugar Bowl following that season, when Ole Miss got its revenge, 21-0," I re-inquired.
"Wrong again." He was enjoying this so I went silent and waited.
"The year was 1952!" he enthused. I asked what could have happened in '52 that was significant. "Maryland was ranked third in the country, came down here in November that year and we beat them 24-14," Langston said. "That game established Johnny Vaught and the Ole Miss football program. This is the biggest moment for us since that day!"
Let's see, we've had three wars, 10 presidents, and a civil rights revolution since that game. We have seen football's size, speed, systems, talent and publicity explode. It occurs to me that everything has changed except for one abiding constant: Football matters in these parts.
You have to be a football junkie if you are reading this, so you may be wondering what happens to the teenage male performers at these moments. What will they feel when they are told things like, "This is the single most important moment in your life!"
Left to their own devices their natural tendency is to go in one of two distinct directions:
They learn the magic of stage fright and behave as if they have never played or practiced football. The faces go blank, eyes glazed over with an expression best described as "brook-trout stare". They run, but not very fast. They try, but not very effectively. They drop snaps, handoffs and passes, then look at their hands as if they had never seen them before. They struggle mightily to tackle and block, but seem to slip, reach and fall rather than completing assignments.

Or ...
They become hyperactive, pumping adrenaline, fists, legs and perspiration in jerky, hysterical movements. They fly around the field, smashing each other in warm-ups. They wonder why they feel strange prior to the kickoff, but start the game firing on all cylinders. They can be seen flying to the football, scoring points, leaping, celebrating and dancing in maniacal premature celebration. Then comes the second half. Depleted, dehydrated and baffled, they are pounded into the turf in utter astonishment.

Such are the natural responses of immature males trying to assimilate the notion of "Biggest Event of My Life" while simultaneously performing at a high level on national television.

Coaches that can harness the energy and focus the concentration of their teams in such moments are hard to find.

This game is a fascinating duel between two very bright coaches competing in the crucible. It is a game within the game to study their psychology, and to understand what each is attempting to elicit from his squad.

LSU's Nick Saban has been here before and has assiduously studied the response mechanisms and team dynamics. He clearly understands the tendency to assume that competition becomes somehow easier as success builds upon success, and he knows how terribly wrong that assumption is and has a way to counteract it.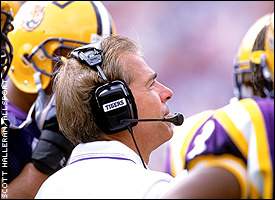 This week's trip to Ole Miss is just another game, or so Nick Saban is telling his players.

Saban's method is to deny the singular importance of any game. His contention is that if his men are focused on the job at hand and play each snap independent of the scoreboard or previous result, his team will function at its maximum capacity.

Saban is correct in downplaying the emotional response mechanism for two reasons. Most important is the fact that he has the more talented squad. He has the best scoring defense in the land, a high-powered offense and good special teams. If his players focus, pay attention to the details and commit few errors, Saban knows the Tigers will win.

Second, he knows LSU has to play Arkansas next week, and that a visit from the Razorbacks will be just as important in the larger picture.

Mississippi's David Cutcliffe is dealing with the antithesis of the Saban scenario. He has a smaller, slower squad, and while there has been improvement on defense and in the running game his men will be playing at a physical disadvantage.

His advantages lie in the best quarterback in America, Eli Manning, a wonderful offensive system which leads the SEC, and a great field goal kicker, Jonathan Nichols, who is 23-of-24 on the year. Cutcliffe knows Manning will keep his cool and he will trust Nichols' unerring leg.

Beyond that Cutcliffe must take a substantial risk with his team. He is using the hype to stimulate his squad. Listen to Langston Rogers: "David has embraced this game. He has said, 'I would be crazy not to emphasize the importance of this moment. Our kids know it, so why not just say it? This is a huge game!'"

Cutcliffe is hoping for an emotional outburst that will not fade in the second half. He is hoping that the adrenaline and force of will in the stadium will force turnovers and rattle the big, fast Tiger squad. His job is to walk a fine line between hyperkinetic, frantic energy expenditure and directed energy.

He has a powerful ally, one of the best I have ever seen.

Eli Manning is a once-in-a-generation combination of talent, humility, brains and courage. Every teammate knows he walked away from the NFL's millions to stay with them. Every teammate knows why he did it and each knows what Manning is when the pressure is greatest. They know, and they respond.

As a political reality, Eli and his friends need this one and the next one at Mississippi State to cement the Heisman for Manning. If those wins occur, Eli jumps to the top of the heap. It is hard for me to believe the men will not think of that and bear down at least once during this week of preparation. And the most pleasing aspect of young Manning? He won't. He'll just be studying film and joshing with his buddies.

He is that greatest of all combinations for the chaos of brutal competition: calm, prepared, sharp and unflappable. He alone is capable of equalizing the talent gap in this game. His record against LSU is 1-1.

But for a bizarre bounce of the ball off a teammate's helmet it would be 2-0. The Tiger coaches and players have that stored in their hard drive like a bad virus. If this game gets tight down the stretch that little bit of doubt could be the difference. I have seen precisely that happen with great quarterbacks many times.

Ole Miss needs a couple of breaks in this one. But the most significant break for the Rebels will be to find themselves in a tight game late in the fourth quarter with Eli at the helm. At just that moment they become the favorites to win.
Game Plans
No. 3 LSU
No. 15 Mississippi
Offense
You are as important as the defense in defending Eli. Use Clayton and the young RBs to keep Manning off the field.
Have a Matt Lavalais plan. The big DT can take over a game. He must be blocked.
Your poise and experience must prevail. You are minus-2 in fumble ratio this year and must win that stat today.
Blitz drills must be honed to perfection this week for every member of the offensive unit.
Expect a four-quarter ordeal. This will not be another easy victory.
Preserve your right to kick field goals. No big losses inside the 40!
Defense
You lead the nation in scoring defense. You can be remembered as one of the best ever.
You need DT McKinley Boykin! Whether or not he plays, DTs must play lower and harder than ever before.
Manning will not be impressed. You must be patient and force errors from receivers.
Take Clayton out of the game with double coverage.
Their red zone offense is the best in the country. Defend your territory as you did vs. Georgia.
Mauck is 14-2 as a starter, but he can be forced into errors when surprised.
Special Teams
Your only advantage is in punt returns. Special attention to field position.
Nichols must have perfect protection and mechanics. Emphasis!
Have Jackson and Gaudet compete for the kicking job under intense pressure during the week.
Clayton must be blocked or he will ignite his team with big hits.
Michael Clayton, your teammates feed off your big hits on special teams!
You must find at least one fake and execute it well enough to score. You will need it!
Players
Do not repeat the foolish penalties committed at Alabama.
Eli Manning, this is why you stayed. You know what to do.
If you get the lead talk on the sidelines about putting the opponent away.
Preparation time will be harder to find than you can imagine. You must be away from family and friends!
&nbsp
Clayton, preach the Saban focus plan all week long. They listen to you.
Talk about adrenaline, energy and how to play football without wasting it. The fourth quarter is what you will remember all your life.
Coaches
Any sense of frustration or panic will be reflected on the field.
Coach Cutcliffe has won a national championship as an assistant. Watch and listen to him.
Prepare the team for Eli. His mystique can dominate a team if they become preoccupied with him.
Maintain perfect order on the sideline. Rehearse every conceivable scenario.
Be conservative, play field position and exude confidence.
Have fun and make it clear that you are loving this moment. The players will mirror you.
ESPN college football analyst Bill Curry coached for 17 years in the college ranks. His Game Plans for marquee matchups appear each week during the college football season.
College Football
Former coach Bill Curry joined ESPN in 1997 as a college football game analyst. His primary assignment is the ESPN2 College Football Saturday Night telecast, along with selected bowl games. His knowledge and easy-going manner have translated quite effectively into the broadcast booth, where he's been well-received by fans and media alike.
EDITORS' PICKS
Bold predictions heading into spring.
Miller »

Top athletes in NFL draft.
Story

These 10 teams need a big spring in recruiting.
Hamilton
MORE COLLEGE FOOTBALL HEADLINES

MOST SENT STORIES ON ESPN.COM