Compassion, optimism hallmarks of Robinson's life
Eddie Robinson's greatest accomplishments weren't on the football field. His ability to inspire compassion in his players had a far greater impact, writes Bill Curry.
Updated:
April 4, 2007, 7:41 PM ET
By
Bill Curry
| Special to ESPN.com
Eddie Robinson passed away Tuesday night, having lived in the shadows of the netherworld of racism for much of his life. Like all great leaders, he refused to be defined by external circumstances, deciding very early in life that he would be a positive human being. When he decided to express his gift by being a football coach, it was an eternal blessing to all of us drawn to the huddle. In this era of many claims and few results in the area of uniting disparate segments of society, Robinson used our sport to do precisely that, often under the most intense sort of scrutiny.
In 1941, he took his first and only head coaching job. It was at a place called Louisiana Negro Normal and Industrial Institute. In 1946, the school became Grambling College, and in 1976, Grambling State University, its present name. Through it all, the name of the head football coach remained consistent, as an unparalleled record of excellence was being lived out in the obscure rural academic community.
Much is being written and spoken about Robinson's stunning records and accomplishments today. Combine a football record of 408-165-15 with an 80 percent graduation rate and they are big numbers. Put them in perspective, comparing and contrasting their reality with the paltry offerings of us normal human beings, and they become virtually unimaginable. His endurance and consistency make his legacy the stuff of legitimate legend.
I was born on Oct. 21, 1942. Eddie Robinson was the coach of a school that would become Grambling State University. I grew up, went to school, graduated, spent 10 years as a player in the NFL, and then coached 22 years. When I was 54 years of age in 1996, I left coaching after 42 years as a full-time participant in the sport. Eddie Robinson was still the head coach at Grambling State University. A sport that had exhausted so many with its demands had only invigorated this great man.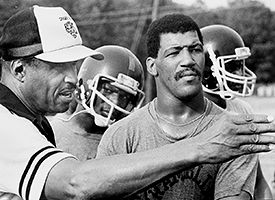 AP Photo/The News-Star, Eddie CoxEddie Robinson inspired his players -- who went on to inspire the world.
In 1965, I reported to the Green Bay Packers as a raw rookie, a last-round draft choice, who had never been in a huddle with an African-American player. There I encountered Grambling product Willie Davis, defensive captain, All Pro, and future NFL Hall of Fame member. Davis simultaneously was working on his master's degree in business at the University of Chicago, thereby shattering every racist stereotype I had learned growing up in Georgia. I assumed that Davis and his black teammates would see me as a racist intruder, and that they would summarily reject me.
I could not have been more wrong. Davis became the encouragement I so desperately needed as he mirrored the leadership style of his college coach. He went out of his way to encourage, and as I watched him work, it became clear he was doing the same for most other teammates. Great football teams always have someone who can bridge the chasms we create with our biases and prejudices. Willie Davis was the best I ever saw at that unique style of leadership. Eddie Robinson had a great deal to do with teaching such compassion and community building.
In the early '50s, Robinson had the audacity to attend the convention of the all-white American Football Coaches' Association. According to his biographer Rich Lapchick, he thought very differently than most of us would have. As he walked into the auditorium and scanned the audience of famous big-time coaches, he began to calculate. He pondered, "I wonder how long it will take for me to become president of this organization?" It took only 25 years. In 1976, he became president of our most august coaches' organization, having won the universal respect of his peers across the nation. Nothing intimidated Eddie Robinson.
In 1986, I had the thrill of being invited to speak to the coaches' convention, held in New Orleans that year. I was overjoyed until I walked into the large room and saw who was seated in the front row. There, pencil and pad in hand, sat Eddie Robinson, staring intently into my eyes, waiting. I set a new world record for instant cottonmouth and had a hard time concentrating. Why would the greatest living coach show up to pay attention to a newcomer?
Afterward, I made my way through the crowd that always surrounded him at our meetings. When I stuck out my hand, told him how honored I was and asked him the obvious question, he gave his typical honest response. He smiled, and again fixed me with that powerful gaze, and enthused, "Why son, you brag on one of mine when you talk. … That is why I showed up!" Sure enough, I had mentioned Willie Davis, and how he had changed my life. The coach's loyalty was as durable as his football tenacity.
Endurance, honorable intention toward all, a sense of personal destiny and the capacity to transcend society's foolish barriers are the hallmarks of Eddie Robinson. While we will miss his wonderful presence, we will continue to live in his glow through the lives of his pupils for generations to come.
ESPN college football analyst Bill Curry was an NFL center for 10 seasons and coached for 17 years on the college stage. He is the executive director of Leadership Baylor, a comprehensive leadership initiative at Baylor School in Chattanooga, Tenn. His column appears each week during the college football season.
College Football
Former coach Bill Curry joined ESPN in 1997 as a college football game analyst. His primary assignment is the ESPN2 College Football Saturday Night telecast, along with selected bowl games. His knowledge and easy-going manner have translated quite effectively into the broadcast booth, where he's been well-received by fans and media alike.
SPONSORED HEADLINES
MORE COLLEGE FOOTBALL HEADLINES
MOST SENT STORIES ON ESPN.COM
Eddie Robinson, 1919-2007
• Born Feb. 13, 1919 in Jackson, La. Graduates from McKinley Senior High in Baton Rouge, earns degree from Leland College.
• Hired at Grambling State in 1941. His first team goes 3-5, but the 1942 squad goes 9-0 and is unscored-upon.
• In 1949, Grambling's Paul "Tank" Younger signs with the Los Angeles Rams, becoming first player from historically black college to join NFL.
• Robinson becomes president of American Football Coaches Association in 1976.
• On Oct. 5, 1985, a 27-7 Grambling win over Prairie View A&M gives Robinson win No. 324, passing Paul "Bear" Bryant as winningest college football coach.
• 1997: Robinson resigns in 1997. He leaves with record of 408-165-15, a .707 winning percentage and 17 SWAC championships.
---
Stories:
•
Legendary coach Eddie Robinson dies at 88
•
Wojciechowski: No ordinary life
•
Curry: Robinson transcended social boundries
•
Lapchick: Coach Robinson was a blessing
•
Eddie Robinson on Eddie Robinson
Reaction:
• Fans share their thoughts and memories
• Quotes on death of legend

Audio:
• Bill Curry sizes up Robinson's legacy


• Doug Williams remembers "Coach Rob"

Images
• Photo gallery