A relationship that keeps growing
Originally Published:
April 12, 2004
By
Bob Davie
| Special to ESPN.com
AUSTIN, Texas -- When Mack Brown was first hired as the head football coach at Texas, he sought the advice of legendary former Longhorn coach Darrel Royal.
The first thing Coach Royal told him was that it's not important for you to cultivate relationships with Texas high school coaches -- "It is essential." Because of the size of the state and the quality of high school football being played, recruiting the state of Texas is actually comparable to recruiting four states.
There are over 1,200 high schools playing football in Texas and this past year, 245 players signed Division I-A scholarships. The Longhorns, for example, signed 19 players to letters of intent and all 19 were from the state of Texas.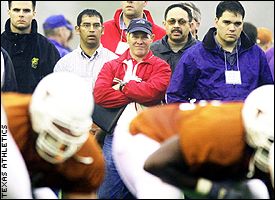 Texas -- among others -- gives prep coaches total access during spring football.
The Texas high school coaches association is strong and its influence on recruiting is obvious. Coaches are knowledgeable and since many don't teach classes, they have the ability to travel and visit college campuses to study football. On our visits to Texas, Texas A&M and Texas Tech, there were as many as 30 high school coaches attending spring drills on the days we were there.
At Texas, Brown completes his spring drills in late March so that they don't interfere with the high school spring practices, which start in April. This allows high school coaches the chance to visit without interfering with their own practices. At all three schools, high school coaches are given full access to practices, videotapes and meetings. Coaches also set aside meeting time to visit with high school coaches individually.
Spring clinics are held on each campus and many times guest speakers are brought in from across the country. Texas this past spring had over 1,100 high school coaches in attendance.
Not only are high school coaches given open access, they are recognized for success. Brown personally returns each high school coach's phone call and state championship coaches also have the opportunity to get two free tickets to home games. Keep in mind, home games are normally sold out and tickets are in demand.
"Mack has done a fantastic job with high school coaches," said Eddie Joseph, the executive vice-president of the Texas high school coaches association for 24 years. "He takes time, remembers names and even makes junior high coaches feel important."
To be successful in Texas, you have to have the Texas high school coaches on your side.
Bob Davie is an analyst for ESPN and his Football 101 is a weekly feature on ESPN.com during the season.
EDITORS' PICKS
Expect new CFB Playoff Committee member Bobby Johnson to fit right in.
Low »

Should we have the same expectations for programs with very different budgets?
Haney

Incentives written into contracts can mean millions more.
Low »
MORE COLLEGE FOOTBALL HEADLINES

MOST SENT STORIES ON ESPN.COM