Berlin's comeback says it all
Originally Published:
September 6, 2003
By
Bruce Feldman
| ESPN The Magazine
MIAMI -- Brock Berlin is a 'Yes, sir,' 'No, sir' kind of guy. The soft-spoken son of a Louisiana preacher, he is deeply religious and about cocky as a wood-paneled station wagon. He's probably the last guy you'd expect to go all Bradlee Van Pelt on anyone.
But there he was, just as the clock hit zeroes, strutting, OK strolling, towards the open end zone of the Orange Bowl, where a sea of orange-and-blue clad Gator fans sat with their jaws on the floor. Berlin surveyed the scene for a second and then nodded his head at them, pointed both index fingers and broke into his own mock Gator chomp.
It was sweet. And never has a 'Cane said more or made a bolder statement than the junior QB did Saturday night.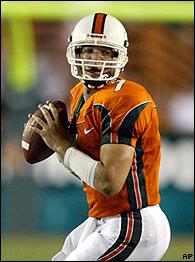 Brock Berlin completed 18 of his last 21, including 12 in-a-row, to spark Miami's comeback win.
The manic second-half comeback from a 33-10 third-quarter deficit will go down as one of the greatest wins in Miami's storied history, equaling any of the Wide Right miracles against Florida State or Steve Walsh's dramatic 31-30 comeback at Michigan in 1988 when the 'Canes rallied from 30-14 with 10 minutes left in the fourth quarter. Truth is, though, none of those other wins had the drama that Berlin's revenge had.
All week leading up to his showdown against the Florida Gators, a team he used to play for, Berlin heard all about how his ex-teammates were gonna hit him right in the mouth, make him bleed. He heard all the barbs about how he never lived up to his National Prep Player of the Year status in his two years in Gainesville. Flop Berlin they nicknamed him.
Berlin just smiled through it all and talked about how he was a Hurricane now. But you couldn't blame him if he was having his doubts about being UM's QB at about 10:35 ET Saturday night. That's when Berlin, having just thrown two interceptions, trotted out onto the field to a shower of boos. "Man, I don't think I ever heard them boo a 'Cane here," said former UM wideout Lamar Thomas.
The Orange Bowl crowd seemed to be asking coach Larry Coker to yank Berlin for backup Derrick Crudup, the guy Berlin beat out for the starting job at the end of the spring. But Berlin had a response for them -- and his former teammates. Playing in a no-huddle, shotgun attack, similar to the system he thrived in at Evangel Christian Academy in Shreveport, Louisiana, Berlin got hot, leading UM on a nine-play, 85-yard TD drive in just under three minutes.
"It kept them (Florida) off balance," says Miami offensive coordinator Rob Chudzinski of the hurry-up shotgun offense. "It was a good change of pace for them and for Brock." Just as importantly, his receivers started hanging onto the ball.
Berlin hit 18 of his last 21 passes, including 12 in a row to lead UM to its four TD drives. He also converted a fourth-and-one by scampering six yards on a bootleg to keep the game-winning drive alive. Maybe the most amazing part of the comeback was that the go-to guy wasn't superstar tight end Kellen Winslow. It was senior Kevin Beard, who caught seven balls for a career-high 164 yards and a touchdown.
"We learned a lot about ourselves tonight," Beard says. "We know we are not a quitting team and we have a lot of fight in us."
Berlin's performance, the drama of the primetime stage, against a hated rival, cements him as a leader on an offense that was looking for leaders this summer.
"My emotions are sailing right now," a dehydrated Berlin said after the game. "I am grateful to be here in Miami."
So are his teammates. "That just shows what kind of heart Brock Berlin has," said center Joel Rodriguez. "That whole comeback, it felt so surreal. The people were going nuts. It's like something you'd see in Varsity Blues."
"We always believed," said UM defensive end John Square. "We're the Miami Hurricanes. We win games like this."
Bruce Feldman covers college football for ESPN The Magazine. E-mail him at bruce.feldman@espnmag.com.
EDITORS' PICKS
Dak Prescott has turned around Mississippi State's offense.
Maisel »

Latest ESPN 300 has a new No. 1.
Rankings »

Wazzu QB Connor Halliday is on a blistering pace.
David Lombardi »