Leinart 'miles ahead' of last year
Originally Published:
October 6, 2004
By
Bruce Feldman
| ESPN The Magazine
Practice already had broken up. Most of the USC players had filed off the field. All except Trojan QB Matt Leinart who stood at the far end of the field Tuesday afternoon lofting up corner route after corner route to USC receivers. A few feet away, QB coach Carl Smith and Trojan offensive coordinator Norm Chow each observed like proud parents as the All-American quarterback floated the ball into the arms of his targets. Leinart wasn't perfect, though, and when he overshot Willie Buchanon, the junior QB jerked his head back and smacked his hands together as if he just misfired on a fourth-and-long play.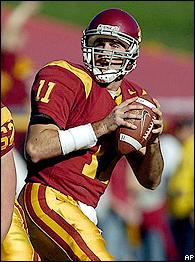 USC's Matt Leinart threw 38 TDs last season and he may be even better this year.
USC's biggest game of the year is only days away and Leinart knows on some level his season will be defined by what he does against Cal Saturday. The Bears, after all, did hand USC its only loss last season and in that game, Leinart threw three picks. Of course, that happened before Leinart had established himself as the Trojans' horse and as a Heisman frontrunner. Things are much different now. His star receivers Mike Williams and Keary Colbert are gone. His experienced O-line is too. Instead, all the buzz around Troy these days revolves around USC's game-breaking TB-WR-KR Reggie Bush, who has swiped some of Leinart's luster.
You could say Leinart's contracted Ken Dorseyitis, meaning in the media's eyes, he has been digested. Many are saying he's not even the best player in the Trojans backfield, much less the country (a la the Willis McGahee example in Dorsey's case.) Some have even gone so far to say Leinart's not the player he was last year. They're right. He's been much better.
Leinart's numbers through four games are dramatically better than they were at the same stage last year. His completion percentage has jumped from 58 percent to 68 percent. He's cut his INTs from 6 to 2 and his QB efficiency rating has gone from 132.27 to 155.11. Given all the personnel that he's lost, that's impressive.
"He's done a tremendous job because we don't have the veteran guys like last year," says Chow. "Sure his numbers could be better -- he could have numbers like (Kyle) Orton, but that doesn't matter to him. All he wants to do is win."
Leinart downplayed any revenge factor. He said he took the loss at Cal personally, but so much is different now. "Last year is last year," he says. "This is a whole new year. I didn't play well last time, but I was a young guy finding my way. I'm a bit more seasoned now. I feel like, in comparison, I am miles ahead of where I was. I was just trying to hold down my spot back then. I wasn't the player I would be three weeks later. The game has definitely slowed down more."
Random Notes

Richie Incognito, the embattled former All-Big 12 O-lineman, won't be playing for the Oregon Ducks in 2005. Mike Bellotti released Incognito from his program, saying the former Nebraska center failed to meet certain conditions.

So what happened?

"Richie just realized he doesn't want to sit out a season then wait and play another season," says the lineman's father Richie Incognito Sr. "He did say Oregon has a great program up there but after all was said and done, he feels its useless to sit out a season and start all over again in the spring."
Great battle this week in the Big Ten with Michigan and its conference-leading run D (1.5 ypc) hosting Minnesota. The Gophers feature the run-away leader in the Big Ten ground game (at 323 yards per game, almost twice what the second-best team is doing). The thunder-and-lightning tandem of Marion Barber III and Laurence Maroney gets all the attention, but a big key for the Gophers attack is not only standout center Greg Eslinger's ability to pull, but their O-linemen's style of cut blocking, something that is hard for rival Big Ten teams to prepare for. Linebackers get chopped on virtually every snap. Since a lot of teams don't often face that style it makes it that much more effective because defenders must protect their legs.

That also helps explain why another similarly styled team Wake Forest led the ACC in rushing last year and is No. 2 this season. "It's a real pain in the butt for our guys to prepare for," says one ACC coach, "because it gets in their heads and makes them play slow."

"Playing them (Minnesota)," says one Big Ten coach, "is like playing on a field with some steaks tied to your socks and there's a bunch of pit bulls running around."
You will hear the "H-word" ad nauseum this week leading up to the OU-Texas showdown with Cedric Benson, Jason White and Adrian Peterson all taking center stage. But don't forget about another award frontrunner, Texas LB Derrick Johnson.

Three years ago, the Red River Shootout was decided by the best player on the field, OU superstar Roy Williams. Johnson has been spectacular this season and has the talent to do the same. Last week he had 11 tackles, 3 TFLs, tipped a pass that resulted in an INT and recorded his fifth forced fumble of the season. Sure, it was against Baylor, but don't be surprised if he is the player everyone is talking about come Saturday night.
We admit we're not on the Joe Must Go bandwagon. After all, no coach has done as much for his school as Joe Paterno and the guy deserves to go out on his terms. The debate on just how far the talent level has slipped in State College, though, is interesting. One rival Big Ten assistant says the Lions have fallen off the map, but it's not because they aren't recruiting.

"That's a myth," the coach says. "They're getting some talent. We recruited a lot of their kids, and to be honest, we really wanted some of those guys. A few of them looked like Superman. But you watch them on tape now and you're like 'That's so-and-so? Man, what happened?' These kids aren't developing. It's actually like they're regressing athletically when they get there. That tells me the problem isn't just the coaching in practices, but in the weight room too."
Best thing we hear about Wyatt Sexton is he's a quarterback. Sounds dim, right? Well, in coachspeak, that means he understands the position. Sexton isn't the athlete Chris Rix is. He can't run anywhere near as fast and he doesn't have as powerful an arm, but he is effortless. Watch him. He looks off receivers and can go through progressions and plays in rhythm. Things that Rix struggles to do, especially when under pressure. He appears to have a presence, something FSU has lacked and really has missed since Old Man Weinke was lighting up defenses and letting his playmakers shine. We're not saying Sexton will be another Weinke, but he might be a better fit for the 'Noles.
Speaking of FSU QBs, Fabian Walker is doing just fine these days. The former 'Nole QB is now at D-II power Valdosta State and putting up big numbers. Last week against Delta State, the 6-2, 219-pound Walker was 19-of-24 for 300 yards with two touchdowns, while running for 70 yards on 10 carries with a touchdown. On the season, he is completing 65 percent of his passes with 8 TDs and 2 INTs and looking like a pro prospect.
Player who really impressed us last week? Northwestern's Brett Basanez. Anytime a guy can convert on 12-of-20 third-down attempts (several on third-and-long) against a defense like Ohio State's, he deserves all the credit he can get.
Maurice Drew is making a run at All-American honors by rolling up an 8.4-yard per carry average for UCLA. Drew, a guy who once beat Reggie Bush in a race, relies on terrific balance and a great burst to gash defense. But give some credit to his blockers, especially Bruin TE Marcedes Lewis, a guy who had been hailed as a game-breaking receiving prospect and now looks like a solid all-around tight end. It was the 6-foot-7, 245-pound Lewis (9 rec., 115 yds) who threw the key block to spring Drew on his 57-yard run against San Diego State.

Bruce Feldman is a senior writer for ESPN The Magazine. His first book Cane Mutiny: How the Miami Hurricanes Overturned the Football Establishment is out in bookstores. He can be reached at bruce.feldman@espn3.com.
SPONSORED HEADLINES
MORE COLLEGE FOOTBALL HEADLINES
MOST SENT STORIES ON ESPN.COM
EDITORS' PICKS
The impending absence of Chris Petersen's expected starter provided Thursday's top headline.
Miller »

Big 12 coaches invade the College Football podcast.
Listen

LeBron effect taking hold of recruiting.
Crabtree »