Trojans have 'mark of a champion'
Originally Published:
October 9, 2004
By
Bruce Feldman
| ESPN The Magazine
LOS ANGELES -- USC didn't beat the Cal Bears so much as it survived them. Kinda like a baseball team that gets no-hit by a flawless pitcher and yet still claws out the win anyway. That's how amazing Cal QB Aaron Rodgers was Saturday afternoon in the Coliseum and that's how gutty USC was in response.
The top-ranked Trojans won despite having two all-star type tailbacks in LenDale White and Reggie Bush manage just 41 rushing yards -- the program's lowest total in a victory in nearly a half-century (it hasn't happened in so long the USC records people couldn't even trace it back.) Meanwhile, Cal's running game gashed the Trojans D, piling up 157 yards.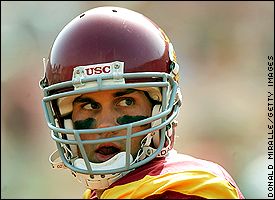 Matt Leinart got knocked around pretty good, but still managed to toss two TDs in the win.
The Bears also battered All-American QB Matt Leinart early in the game. "He got really woozy," says Trojan QB coach Carl Smith. "We were hoping maybe he'd at least have a Favre moment." (No luck there. Leinart played well, but it was the other QB, Rodgers, working all the magic.) Worse still for the defending co-national champs, wideout Steve Smith, the team's top receiver, fractured his left fibula and will be lost for two months, maybe the season.
"Just don't forget that we won the game," reminded USC offensive coordinator Norm Chow, sizing up the aftershocks.
Truth is, never has a team looked so good in a loss as Cal did Saturday. After the game all everyone was talking about was the brilliance of Rodgers -- and that perhaps USC wasn't quite as mighty as we all had thought. "Nine times out of 10 we'd beat USC," said Cal free safety Ryan Gutierrez.
That said, USC has now survived three heart-stoppers, the first two coming against Virginia Tech and Stanford. And that, perhaps even more than being loaded with first-round talent, is what defines a championship team. USC's winning streak is at 14 straight and 17 in a row at home.
"We knew it was going to come down to the last play, and it did," said USC D-lineman Shaun Cody. "We know we've got to play 60 minutes every time. When you're No. 1, you've always got that bull's-eye on your back.
"This game is the mark of a champion. We pull the close ones out."
They do. Not quite in the same fashion Ohio State was doing, but winning nonetheless. Winning because they are well-conditioned, they usually win the special teams battle and deep down when it's fourth-and-goal and the other team's quarterback is even as steaming hot as Rodgers was, they still believe they are going to make the big play. Just like the Trojan's defensive line did swarming Rodgers, forcing an incompletion to preserve the W.
"No matter how well Rodgers was playing," said White, "I have so much confidence in our defense. I go against them everyday, and if they can stop us, they can stop anybody in America."
USC doesn't get much time to recoup. Undefeated Arizona State is heading to L.A. next Saturday. The Sun Devils are led by a pretty spectacular QB too in Andrew Walter, a guy who doesn't have the quick-trigger release of Rodgers, but will no doubt test the USC deep downfield. The Trojans also must take stock in their passing game, now that Smith will be joining a staggering collection of wideouts who attend USC games in street clothes, standing right next to Mike Williams and Whitney Lewis, who are both ineligible to play.
On the bright side, Saturday may have been the breakout game the Trojan coaches were hoping they'd get out of promising true freshman receiver Dwayne Jarrett who caught four passes (including an acrobatic catch to convert a fourth down) and a touchdown.
"He looked really good," said USC coach Pete Carroll. "Going for it on fourth down wasn't so much a great decision as it was a smart football move. To see Dwayne go up and snatch that ball and do that summersault thing was huge. It led to a touchdown so it was big. And with Steve Smith going down, it was needed that he have a big game."
Lane Kiffin, the Trojans bright young passing game coordinator, was asked how the loss of Smith will impact the offense. "Hopefully it won't," he said. "But that's up to the other receivers because we won't change anything in the offense 'til we have to. We've lost some great players, but all we can say is who's next?"
Bruce Feldman is a senior writer for ESPN The Magazine. His first book Cane Mutiny: How the Miami Hurricanes Overturned the Football Establishment is out in bookstores. He can be reached at bruce.feldman@espn3.com.
SPONSORED HEADLINES
MORE COLLEGE FOOTBALL HEADLINES
MOST SENT STORIES ON ESPN.COM
EDITORS' PICKS
The best quotes from the 2014 season.
Story »

Looking for the winner of the College Football Playoff?
McGee »

Oklahoma isn't close to fielding a title-caliber defense.
Trotter »