They're lovin' Zook -- for now
Originally Published:
October 30, 2003
By
Pat Forde
| Special to ESPN.com
In Gainesville, the affectionate term for the head football coach is The Zooker. Lord knows, there are a multitude of less affectionate terms floating around out there for Ron Zook.
Saturday, Florida can steal a page from Hollywood and Ronald Reagan. It can win one for The Zooker.
The Gators can win one that might -- just might -- transform a mutinous fan base. Beat fourth-ranked, defending SEC champion Georgia in the World's Largest Outdoor Cocktail Party in Jacksonville, and Florida backers could conceivably go from on The Zooker's back to having his back. They just might let him up and let him breathe.
At least until the next loss to Mississippi.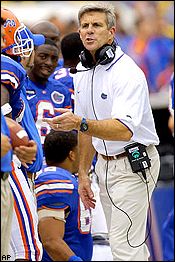 Ron Zook is 13-8 in his first 21 games as Florida coach.
That's the way it's been through 21 peak-and-valley games as the guy replacing Steve Spurrier. (The Zooker is 13-8 to date. Spurrier was 18-3 through 21.) The definitive word on The Zooker Era is that it has been outrageously undefinitive. Triumph and trauma are never far apart for the manic, motor-mouthed coach who speaks so fast yet says so little.
He owns wins over Tennessee, Auburn, Georgia, LSU and Arkansas. He also owns two losses apiece to Miami and Mississippi, two shamefully lucky victories over Kentucky and a record that in no way or shape approximates what Spurrier was able to do at Florida.
But say this much for The Zooker: He will keep you guessing. He will keep you off-balance. He will put you through the wildest of mood swings within a season.
The Zooker will make you believe he's an irredeemably lousy head coach. The Zooker will make you believe he's terribly overmatched by the Florida football job in general, and following Spurrier in specific. The Zooker will make you believe that regime change should be imminent and unavoidable.
And then, when things look bleakest and FireRonZook.com is taking more hits than Tex Cobb, The Zooker does something like this. The Zooker beats No. 6 LSU and No. 11 Arkansas in back-to-back weeks. On the road.
Charlie Strong's defense has played sensationally, holding LSU without an offensive touchdown and intercepting the Razorbacks three times in building a 33-7 lead. True freshman quarterback Chris Leak has played remarkably, throwing for 598 yards and three touchdowns in those wins. Sophomore running back Ciatrick Fason has run authoritatively, injecting big-play ability into the position.
The whole disjointed thing looks like it's coming together. "We have always believed and now other people are believing too," said center Mike Degory. Complete the upset trifecta against Georgia and The Zooker is Houdini of the Everglades. His comeback from the precipice might work out.
But of course, we have swerved down this winding road before. Last year. The Zooker was 4-3 and widely viewed as a nincompoop until a late four-game winning streak -- highlighted by an upset of Georgia -- lessened the vitriol. It rose again when the Gators closed the season with a lopsided loss to Florida State and a boneheaded loss to Michigan in the Outback Bowl.
The Zooker lost five games his first year. It took the Head Ball Coach 25 games and more than two full seasons at Florida to lose that many.
In February The Zooker rallied again, signing a smashing recruiting class highlighted by all-everything quarterback Leak.
Then The Zooker got the 2003 Gators off to the program's worst six-game start since 1986. They goofed around with rotating quarterbacks before giving the ball to Leak full time. They coughed up a 23-point lead to Miami. They took a two-touchdown home whipping from Tennessee. They gasped past Kentucky one week and lost at home to Ole Miss the next to go 3-3, giving The Zooker three league losses in The Swamp in 10 games. Spurrier lost three SEC games in The Swamp in 12 years.
Gator Nation collectively lost its mind.
Two upset wins later, Florida is the best three-loss team in America. But Florida isn't supposed to be a three-loss team -- certainly not in early October.
Defeat the beat-up Bulldogs for the 13th time in the last 14 years and Florida has a great chance of at least tying for the Eastern Division title and forcing a weird, three-way-tie-breaking vote of the league athletic directors to see who advances to the SEC title game. But Eastern Division titles used to be routine occurrences, happening seven times in 10 tries under the Head Ball Coach.
Coax Leak through a third straight poised performance outside The Swamp and the future only looks brighter. But the more immediate future offers a trip to South Carolina and a home game against Florida State to close the regular season -- additional opportunities to lose and undo momentum.
That's the way it's been for The Zooker in Gainesville. Every losing streak has a silver lining. Every winning streak is a false dawn.
So far. If the Gators win one for The Zooker Saturday, the painful post-Spurrier transition just might turn the corner and take off.
Pat Forde covers college football for the Louisville Courier-Journal.
SPONSORED HEADLINES
MORE COLLEGE FOOTBALL HEADLINES
MOST SENT STORIES ON ESPN.COM
EDITORS' PICKS
No code violation

Bowling Green edged South Alabama.
Analysis »

Smaller games are still an important building block.
Ryan McGee »