The Dash is thankful for ...
Originally Published:
November 24, 2004
By
Pat Forde
| ESPN.com
Forty names, games, teams and minutiae making news in college football (turducken sold separately):
Attitude Of Gratitude
This being the week for giving thanks, we've listed 10 gridiron-related things that bring a smile to the curmudgeonly face of The Dash:
The Return of the Head Ballcoach (1): College football is always more interesting with Steve Spurrier than without him. The sausage grinder that is the SEC East somehow just got tougher -- and Florida-South Carolina is suddenly among the most fascinating games of 2005.
The Utah Trailblazers (2): Watching the Utes become the first Outsider to forcibly enter a BCS system designed to exclude them was inspirational. Watching their entertaining style of play and the birth of a joyous football spirit in Salt Lake City made it even better.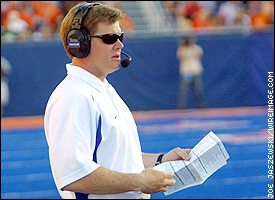 What Dan Hawkins has built at Boise State cannot -- and should not -- be ignored.
The Boise Buzz (3)
: Everything about the Boise State program is enjoyably quirky, from the blue turf to the gadget-intensive playbook to philosopher/coach Dan Hawkins. On Hawkins' desk sits a copy of the book "Black Elk Speaks," a book on the teachings of an Oglala Sioux holy man. On the book shelf are works by or about men ranging from Gandhi to Rockne. The son of a logger is a hot name in college coaching circles, but he says with some believability that he could see himself happy in Boise for another 20 years. "I love what we've got going here," he said. "I really enjoy the heck out of my job." And The Dash enjoys the job he's doing.
John L. and Diana Smith (4): In August, the Michigan State coach had no guarantee that his wife would be alive to see the season's end. The cancer diagnosis was suitably grave that family members made their way to their home state of Idaho to select a burial plot. But then came an experimental drug proposed by University of Michigan doctors, of all places, and now there is hope for a recovery. Great news for one of the more genuine, unpretentious coaches in the game.
All the Quarterbacks (5): The Dash gives thanks for Jason White, who might soon have as many Heisman Trophies as ACL surgery scars. For Matt Leinart, who breaks hearts and defenses with equal ease. For Alex Smith, Phi Beta Kappa in the classroom and the pocket. For Aaron Rodgers, who had a day in the L.A. Coliseum that people will remember for years to come -- in a loss. For Jason Campbell, rocketing from maligned to magnificent in the space of a senior season. And for Stefan LeFors, the unwanted recruit, the underappreciated senior, the kid who was the speaking conduit to the outside world for his deaf parents as a child -- and the guy currently on course to break Shaun King's 1998 NCAA single-season pass efficiency record. Yeah, it's been a pretty great year for QBs.
Adrian Peterson, Michael Hart, Jamario Thomas & Co. (6): You sure you guys are true freshmen? Can we see some ID?
Cal-USC (7): The Dash gives thanks for being there on a classically sun-splashed SoCal Saturday in early October to see the Game of the Year, when Rodgers and a Golden Bears team armed with a brilliant game plan pushed the defending national champions to the brink of defeat -- but the indomitable Trojans refused to let it happen. Great theater, great setting, two great teams.
Mike Price, Comeback Coach of the Year (8): Price did not cover himself in glory during his 15 minutes at Alabama, but he has since reiterated his coaching prowess at backwater Texas-El Paso. Talk about making the most of a deserved second chance.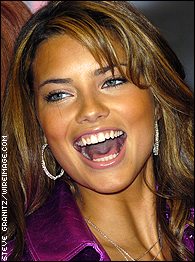 Admit it -- you're as thankful for Adriana as we are, aren't you?
DeAngelo Williams and Sandra Hill (9)
: Earlier this month, The Dash saw Williams run for 200 blazing yards on Louisville and was impressed. That same night The Dash met Williams' irrepressible mother, Hill, at the game just a couple of weeks after a double mastectomy, and was
truly
impressed.
Adriana Lima (10): The Dash is thankful to have Our Girl around to talk football with. Just for her, we're willing to put up with the constant phone calls from the fashion shows in Milan to catch up on MAC scores.
Yes, hon, Toledo came back to beat Bowling Green, 49-41. Hope you had the over. Now get back out there on the catwalk.
Rivalry Week, Take Two
Last week The Dash previewed 10 big rivalry games. This week, we offer 10 more games to watch between periods of tryptophan-induced slumber in the recliner -- with more notes on which team needs the win more:
Notre Dame-Southern Cal (11): This marks the 11th time the Trojans have been undefeated when facing the Fighting Irish, and the results of the previous 10 have not been great joy for Troy. USC is 4-4-2 in those games, despite being the higher-ranked team in eight of the 10. In relatively recent history, Notre Dame has ended two undefeated USC runs: 38-10 in South Bend in 1995, when the Trojans were 6-0 and ranked No. 5; and 27-10 in Los Angeles in 1988, when both teams were 10-0 and ranked 1-2 (Notre Dame being No. 1).
Who needs it more: USC has everything to lose. A second straight national championship and an Orange Bowl bid would disappear with an upset here. Even though Ty Willingham has been housed twice by the Trojans as coach of the Irish, he was 4-3 vs. USC while at Stanford -- and this year's team has shown a penchant for the big upset (ask Michigan and Tennessee for details).
Texas-Texas A&M (12): The 21st century has been nothing but indigestion for the Aggies vs. the Longhorns: they're 0-4 and haven't come within two touchdowns in any of the beatings. But this was the moment Dennis Franchione was hired for.
Who needs it more: Tough call between Cal, Boise State and a few other interested parties. But as it pertains to the two teams on the field, the Horns need it more. They're still chasing an elusive BCS bid, and Mack Brown doesn't need to give the fans another rivalry-game reason to rip him.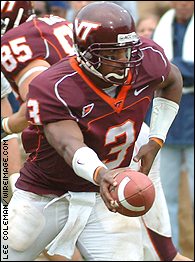 Bryan Randall has the Hokies two wins away from a BCS bowl bid.
Virginia-Virginia Tech (13)
: With the Cavaliers and Hokies a combined 16-4, now in the same conference and both still fighting for at least a share of the ACC title, this is as good as its. Last year Virginia passed for 358 yards on the Gobblers, but that seems like a long time ago now.
Who needs it more: Virginia Tech. Win this one and the Hokies visit the Orange Bowl with a BCS bid on the line.
Georgia-Georgia Tech (14): Mark Richt is 3-0 against Tech and solidly favored to make it four straight. But this has been a season of streak-busting in rivalry games for Richt: was 3-0 against Tennessee, then lost; was 0-3 against Florida, then won.
Who needs it more: Georgia Tech. Chan Gailey is 0-2 against Georgia and 20-16 overall in Atlanta. This would be his biggest win as coach of the Yellow Jackets, and might instill hope that he can make them a contender in the formidable new ACC.
Arizona-Arizona State (15): The Sun Devils have controlled this series in recent years, but lost some shockers to the Wildcats in the 1980s. A loss here by the 8-2 Devils to the 2-8 Cats might qualify as the biggest shocker of them all.
Who needs it more: ASU, working on its best regular-season record since the Jake Plummer days, clearly has more to lose. It's basketball season in Tucson (and given the upset loss to Virginia, even that isn't going as well as planned).
Pittsburgh-West Virginia (16): The series is known as "The Backyard Brawl." (Note to teams, in these contentious, fight-filled times: the name is not to be taken literally.) No team has beaten the Mountaineers more often than the Panthers, who have done it 58 times in 96 meetings.
Who needs it more: Pitt. After a season of wild mood swings -- upset Boston College and Notre Dame, lost to UConn, barely beat Furman and Temple -- Walt Harris' job security could be on the line.
Colorado-Nebraska (17): Might not be an intrastate rivalry, but what the schools lack in proximity they make up for in bad blood. Buffaloes are 2-3 against the Cornhuskers since Gary Barnett arrived, but get bonus points for the 62-36 shellacking in 2002 of an undefeated Nebraska team -- which somehow still went to the national championship game.
Who needs it more: Tossup. The Huskers are scrambling for bowl eligibility, but a Colorado win Friday, coupled with an Iowa State loss Saturday to Missouri, gives the Buffs the Big 12 North title. And that would make it hard to pressure Barnett out the door.
Mississippi-Mississippi State (18): Say this much for the ol' Egg Bowl: this is the first time it has matched up two teams with losing records since 1988. This year, with the Rebels and Bulldogs both 3-7, the only thing at stake is year-round bragging rights.
Who needs it more: State. A victory here would give Sylvester Croom a big leg up on proving he can rebuild the program, and some momentum for 2005.
Grambling-Southern (19): The State Farm Bayou Classic in the Superdome, better known as the Soul Bowl, has taken over New Orleans for more than three decades now. Southern has won 10 of the last 11, all in front of crowds in excess of 60,000.
Who needs it more: We're not talking about the game. We're talking about the real event: the halftime show. Southern's band, known as the "Human Jukebox," is rated a slight favorite.
Army-Navy (20): The Dash had to sneak ahead to Dec. 4 to grab this one, but it's too big to leave out. There's nothing quite like the sight of all those men in uniform in Philly every December.
Who needs it more: Give the nod to Army. The Cadets have made strides in Year One under Bobby Ross, but an upset of 8-2 Navy would officially make this season a success.
Adrian Karsten Golden Suspenders Award
For coaching excellence goes to Mike Riley (21) at Oregon State. The Beavers won five of their last six games to become bowl eligible, capped off by routing rival Oregon 50-21 in a game both teams needed for a winning season. And if you want to talk about quality losses: Oregon State's five defeats all came against current Top 25 teams with a combined record of 45-5. (The bad news in Corvallis: Five players have been suspended in the past month for violating team rules. Where's the discipline?)
Trev Alberts Fire-Him-Now Award
To Wisconsin's Barry Alvarez (22). His team was 9-0, in the thick of the BCS/Big Ten fight, with a Rose Bowl bid the minimum potential payoff. Then the Badgers were bombed in their final two games, at Michigan State and at Iowa, by a combined score of 79-21. That's quite a collapse for a defense that had given up a total of 82 points in the first nine games.
Five Laterals Beats One Bomb
ESPN.com has been reminiscing this week about the 20th anniversary of the Flutie-to-Phelan "Hail Mary" play that beat Miami and helped win Doug Flutie the Heisman Trophy. But anyone who votes that as the most memorable play in college football history was either born after 1982 or really is afflicted by East Coast bias.
No way that play -- or any other -- tops the five-lateral Cal maneuver through the Stanford band for the game-winning touchdown on the last play of the '82 Big Game rivalry. Here is how The Dash voted in the SportsNation poll of the eight most memorable plays in college football history:
1. The Cal kick return (23). We'll never see anything like it again. Period.
2. Nebraska goes for two against Miami in the 1984 Orange Bowl (24). This gutsy-but-failed call decided the national championship, ended the run of one of the most dominant teams in modern college history and launched the Hurricanes' dynasty. Pretty big moment.
3. The Bluegrass Miracle (25). Marcus Randall's 75-yard pass to Devery Henderson, off a couple of Kentucky defenders, was the most difficult Hail Mary throw of them all -- but the added trapping of having Kentucky fans hanging from the goal posts and rushing the field at the time pushes this one over the top. (The Dash admits that being present for that play might affect the rankings.)
4. Hail Flutie (26). Hey, it was awesome. Just not No. 1.
5. Kordell Stewart to Michael Westbrook (27). The Colorado Buffaloes' bomb, complete with leaping catch of a tipped ball, did the impossible: turned 100,000-plus celebrating fans into church mice in Michigan Stadium.
6. Desmond Howard strikes the pose (28). After scoring against Ohio State, the Michigan receiver and everyone else in the nation knew he had clinched the Heisman. So Howard did his best imitation of the statue's stiff-arm pose, launching dozens of imitators in the coming years.
7. Eric Crouch's 95-yard run (29). How to turn a near-safety for Missouri into a dazzling Nebraska touchdown and eventual Heisman Trophy, in about 15 easy seconds.
8. The Nebraska flea-kicker touchdown pass (30). Scott Frost's last-play pass against Missouri was kicked into the air by the Huskers' Shevin Wiggins and caught by Matt Davidson for a touchdown that sent the game into overtime, where, naturally, Nebraska won. (In terms of truly memorable plays, this one should rank higher. The fact that it should have been overturned as an illegal play because of the kick, and the fact that it happened at the expense of The Dash's alma mater, and was perpetrated by eternal tormentor Nebraska, has nothing to do with putting this last. Nothing at all. No, sir, we're not bitter.)
One-Hit Wonders
The Dash was thinking about some of the great game performances of the season -- and wondering whatever happened to those guys.
Remember Kay-Jay Harris (31)? The West Virginia running back opened the season with 337 yards on East Carolina -- still the top single-game yardage total of the year. Since then: 483 rushing yards in an injury-plagued season.
Remember Maurice Drew (32)? The UCLA running back went for 322 and five touchdowns against Washington. Rest of the season: 564 yards and three TDs.
Remember Tielor Robinson (33)? The Army running back scored five touchdowns and had 193 all-purpose yards against Cincinnati to help break a 19-game losing streak. Rest of the season: one touchdown, 471 all-purpose yards.
Remember Dale Rogers (34)? The San Jose State quarterback posted the No. 1 quarterback rating of the year against Rice, a staggering 368.6, throwing for 359 yards and five touchdowns. Rest of the season: 985 yards passing and six TDs.
Remember Kentucky (35)? The Wildcats' offense had a career night against Indiana, rolling up 51 points. Rest of the season: Kentucky scored 91 points, and never more than two touchdowns in a single game.
Who Shows Up ... And Who Doesn't
Which school does the best job of putting butts in available seats? According to NCAA statistics, North Carolina State (36). The Wolfpack averaged 56,200 fans per home game this season, 109.3 percent of capacity at Carter-Finley Stadium.
At the opposite end of the spectrum is San Jose State (37). The Team That Nobody Watches drew an average of 6,469 fans per home game in 28,867-seat Spartan Stadium. That's well below the NCAA Division I-A average minimum of 15,000, which might indicate that this isn't the appropriate level of football for SJSU. It might also indicate why coach Fitz Hill resigned this week, after four seasons in one of the toughest jobs in America.
Putting Out An APB For ...
... This being Texas-Texas A&M week, The Dash was waxing nostalgic about the old Aggies wishbone teams of the 1970s and wondering whatever became of halfback Bubba Bean (38). Anyone with information on the whereabouts of Bubba, please advise.
The Dash regrets to inform the readership that it has received no credible updates on last week's subject, former Ohio State wingback Brian Baschnagel (39). But we're patient. The former Chicago Bear has to be out there somewhere.
Point After
The Dash was in Tuscaloosa last Saturday, but Iron Bowl Day is no time to try to eat the Food of the Gods at Dreamland. Not unless you feel like waiting half the day. As a palatable barbecue substitute in T-Town, The Dash recommends Woodrow's (40), which offers the same ribs-and-white-bread minimalist's touch in a vinegar-based sauce. If you're not full when you leave, you have a tapeworm.
Pat Forde is a senior writer at ESPN.com. He can be reached at ESPN4D@aol.com.
EDITORS' PICKS
The Texas job provides the best path to the College Football Playoff.
Dinich »

Camp season begins with NFTC Miami.
Primer

Get to know the underrated 2016 QBs.
Hamilton
MORE COLLEGE FOOTBALL HEADLINES