Commentary
Gators, Crimson Tide clash worthy of the buzz
Originally Published:
December 4, 2008
By
Chris Fowler
| ESPN.com
I am closing my eyes and picturing the scene inside the Georgia Dome at 4 ET Saturday afternoon.
There's the clash of colors -- a lot of orange and blue, even more crimson -- and the steady, building buzz. There's the very palpable sense that something special is about to happen. Then it's all punctuated by the deafening roar when No. 4 Florida and No. 1 Alabama hit the field.
The thrill of that big-game buzz just before the opening kickoff collisions begin is a huge reason we are college football fans.
[+] Enlarge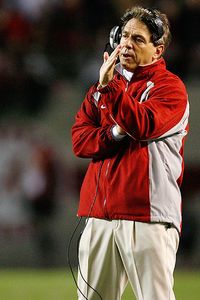 Kevin C. Cox/Getty ImagesNick Saban and the Crimson Tide are one win from an SEC title.
Will the game equal the hype? Probably not. After all, this one is pretty far off the charts: a de facto national title semifinal and the SEC championship. Just the latter would be enough to have the Dome vibrating at high frequency.
The SEC had the original conference championship game, and it remains by far the best of them. Empty seats? Forget about it. Lackluster matchup? Impossible. The setting in downtown Atlanta at the crossroads of the conference is perfect. I am generally not a fan of the conference title games. They were designed as money grabs and act as impediments to a playoff system. But I have to admit that the SEC's annual rumble is almost enough to change my mind.
Alabama, of course, comes full circle from the '08 opener in the same building. The Tide are underdogs again to a flashier team with more big-name stars. When Alabama bloodied Clemson's snout back on Aug. 30, it raised some eyebrows but didn't signal that this team was destined for a return trip 14 weeks later. The takeaway that night was more about the Tigers' shortcomings than the Tide's dominance.
That all changed with the beatdown of the Georgia Bulldogs four weeks later.
How have the Tide done it? Well, start with the best coaching job in the country this season. Nick Saban probably will fill a shelf with awards in the next few weeks. He deserves them, regardless of Saturday's outcome. The job began right after the 2007 Independence Bowl win and carried throughout the long winter months of chemistry building.
Saban got a small but significant senior class to embrace a sense of urgency. There would be no distant timetable for success -- not next season or the one after. The Tide would rise right now, thanks to the leadership example of Antoine Caldwell, John Parker Wilson, Rashad Johnson and the other veterans.
"College GameDay"

Set your alarm clock Saturday. Chris Fowler, Kirk Herbstreit, Lee Corso and the rest of the "College GameDay" crew will be in Atlanta for Alabama vs. Florida in the SEC title game. Tune in to find out about all the Week 15 action and everything else in college football.
When: Saturday, 10 a.m. ET
TV: ESPN Where: Atlanta

The old-school Tide have done it by dominating the real estate closest to the football. The offensive line pushes people around, and the D-line can't be pushed around, especially when a healthy Terrence Cody is anchored there.
So much is made these days about dominating the edges of the football field with recievers on corners. But spread attacks are everywhere. The novelty is long gone. But Bama does OK out on the perimeter, too, with Julio Jones dragging defensive backs all over the place.
However, I enjoy watching Caldwell, Andre Smith and that group road grade people. I'm not going to say this group is better than the massive Oklahoma O-line that can leave you speechless or maybe Penn State's cohesive group of overachievers. I am certainly not an expert at dissecting O-line tape. But the Tide's front wall is fun to watch.
Caldwell told me it's wild when the Tide go "good against good" in practice, something they do a bit more than most teams. He and Cody have had some epic battles in the middle.
There is a reason Florida is concerned about defensive line depth. The Gators will enter Saturday's mosh pit with some bodies already banged up. Not many teams are capable of withstanding Alabama's pounding, and the Tide are hard to prepare for.
Health is another reason the Tide are one step from the BCS title game. Unlike the Gators, who have endured a steady rash of injuries, Alabama has been astoundingly healthy.
The Tide have lost only a handful of starters to injury, and for a maximum of two games apiece. Check out the numbers Alabama SID Jeff Purinton provided me:
Total starts missed: 5
NG Terrence Cody: 2 (Tennessee and Arkansas State)
OG Marlon Davis: 1 (Western Kentucky)
OT Andre Smith: 1 (Tulane)
WR Mike McCoy: 1 (Kentucky)
Notice that not only did all five avoid serious injuries but the games they missed were not against the tougher teams on the schedule. Cody was not full strength against LSU, which is why Charles Scott was able to make some headway on inside runs. But Cody has since regained his lower-body power.
This is the type of good fortune that often accompanies championship teams. Alabama's depth is still not great. If not for a little luck, the Tide probably would not be perfect.
Too many critics out there want to say that the Tide's rise is thanks mostly to the (relative) weakness of the SEC this season. They point to a schedule that turned out to be much less imposing than it seemed in August The opener with Clemson, road trips to Georgia, Tennessee, LSU and the annual Auburn cage match were all, in fact, less imposing than expected.
But let's not say that was just pure luck. Part of the reason teams such as Clemson and Georgia sagged this season was the humbling spankings they took from the Tide.
Maybe the Tigers and Dawgs were never the same. By the time Bama headed to Rocky Top, Tennessee already was spiraling down. But LSU still had life when the Saban Bowl dominated the spotlight Nov. 8. The Tigers' OT loss sort of ripped out the remainder of their heart, so what happened after that (losses to Ole Miss and at Arkansas) does not reduce the value of Bama's win in Baton Rouge as much as some think.
Look, I don't think the Tide are the team to beat Saturday. But I am not in the camp that believes it'll be a Florida romp, either.
[+] Enlarge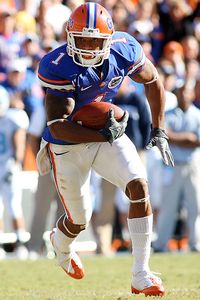 Charles Sonnenblick/Getty ImagesPercy Harvin's status remains in question for Thursday's title game.
Percy Harvin is very unlikely to make much, if any, impact. I'm told that his ankle has not improved enough and that he is a long ways from being able to put a foot in the ground and explode out of a cut. If he can't do that, he is not Percy Harvin. A high ankle sprain is one of the worst non-surgery injuries a guy with Harvin's skill set could have.
What the Gators lose without Harvin is some of the rushing production from the receiver position and the direct snap package. In the games when Harvin has been out, Florida becomes more of a true spread passing team, but one that also has the ability to feature the more conventional tailback runs with Chris Rainey and Jeff Demps.
If you were wondering whether it is Harvin or Tim Tebow who should be regarded as Florida's '08 candidate for the little bronze guy, imagine the conversations we'd be having if No. 15 were seriously gimpy rather than No. 1. Tebow's presence is far more crucial, as a leader and playmaker.
Saban and Urban Meyer have been chewing on nails all week. Neither has to say much to inspire his team. Saban is actually much more vocal in weeks leading up to Tulane or Mississippi State. But Caldwell told me that doesn't mean Saban is carefree, cruising around the football complex with a loose, nothing-to-lose demeanor!
Meyer has the laser focus going, too. Small talk is not part of the program. Only around a few, select people, such as Tebow, will Meyer let down the steel curtain of intensity.
I was imagining the Thanksgiving table at the Meyer household: Meyer intently slicing each piece of turkey exactly a quarter inch thick, delivering instructions on stuffing preparation to his wife, Shelley, while Nathan, Gigi and Nicole perform their assigned tasks to prepare the meal.
Not the way it was, Tebow told me. Just a regular Thanksgiving dinner. Meyer can switch off the laser focus at home. Much of the time, anyway.
But there is no switching off the effect Saban and Meyer are having in the shark tank of the SEC. Why are the fuses getting shorter and the heat being ramped up? Because of the increasingly scary shadow being cast by these two coaches and their programs.
You don't think the folks who just forced out Tommy Tuberville at Auburn and sent Sly Croom packing at Mississippi State, and forced out Tennessee lifer Phil Fulmer, were fearful of the growing gap and potential impending dominance of these two behemoths? Meyer won his national title in Year 2 at Gainesville, and Saban, of course, is flourishing in his second year in T-town.
If both men stay, both programs will remain at the top -- and everybody knows it. Before long, Mark Richt and Les Miles will be hearing the howling with increasing volume. It has become obvious that the pace of change has accelerated and the reservoir of patience has dried up. That seems unlikely to roll back now.
Is the Big Orange nation right to believe that, with the perfect coach, the Vols are just two seasons from great things? Probably not. But this is the SEC. Realistic expectations get you nowhere.
Good luck, Lane Kiffin.
Will the Sooner Schooner tip over?
I'm not asking whether the Sooners will stumble Saturday night against Missouri. Although they might. Literally. The Arrowhead field looked quite chewed up Saturday in Kansas' win over Missouri, and Chase Daniel confirmed that. Daniel told me the grass was so chewed up (the sod had been replaced in the center, between the hash marks) that he actually thinks it will be an edge because the Tigers have had a game to get used to it.
Daniel also said that Mizzou's offensive approach must be modest -- taking a few yards when that's all that's there and just avoiding the damaging negative plays that hurt the Tigers against Oklahoma State and Texas. Easier said than done.
Rose Bowl angle
Here's a note to file away for New Year's Day. Joe Paterno's teams have never lost a bowl game west of the Mississippi. JoePa's Lions have won six Fiesta Bowls, two Cotton Bowls, two Alamo Bowls, a Rose Bowl, a Holiday Bowl and an Aloha Bowl. That's 13-0 west of the Superdome.
Jay Paterno passed that along. I gave him a friendly suggestion: Leave the unearthing of tidbits to our research staff -- and dive in to that USC defensive tape to uncover a way to make some first downs against those guys.
Chris Fowler is the host of ESPN's "College GameDay." Kick off each Saturday with "College GameDay" at 10 a.m. ET to get the latest news on college football.
College Football
Since 1989, Chris Fowler has been ESPN's primary college football and men's college basketball studio host. He's anchored College GameDay, the network's award-winning Saturday morning college football preview show, since 1990.
SPONSORED HEADLINES
MORE COLLEGE FOOTBALL HEADLINES
MOST SENT STORIES ON ESPN.COM
EDITORS' PICKS
With six 1,500 yard rushers -- and four in the top 20 of the #CFBrank -- the B1G RBs exceeded the preseason hype.
Adam Rittenberg »

Which players are impressing at the Senior Bowl?
Todd McShay

Look ahead to the names that might be in 2015's #CFBrank.
Haney