Some young pups leading the Dawgs
Originally Published:
November 17, 2003
By
Ivan Maisel
| ESPN.com
For years to come, Georgia will serve as the benchmark for dealing with injuries. The Bulldogs haven't been at full strength since practice began in August. However, after their dominating 26-7 victory over Auburn, and barring an upset of them or of Tennessee, the Dawgs, (8-2, 5-2) will repeat as SEC East champion and return to the Georgia Dome on Dec. 6.
"We've had more injuries than I've ever seen, on both sides of the ball," offensive coordinator Neil Callaway, in his 26th season of coaching, said Sunday night. He added the reference to the defense so he wouldn't sound as if he were making excuses, because no part of the team has been as decimated by injuries as the offensive line that Callaway coaches.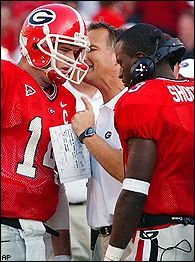 Mark Richt isn't letting injuries stand in the way of an SEC East title chase.
When the season began, the Georgia O-line had no juniors, no seniors, and only one lineman, sophomore guard Josh Brock, who had ever started a game. Things went downhill from there. Sophomore guard Bartley Miller has had two shoulder surgeries this year and tried to play, but he couldn't will himself back to health. He's back on the sideline.
Last Friday, as Brock drove to the team meeting, his car was rear-ended. He came into the meeting complaining of neck pain. He got enough treatment to be able to start the game, but he didn't last very long.
Sophomore center Russ Tanner, the elder statesman of the line, moved over to replace Miller, and freshman Nick Jones replaced him. When Brock went out of the game, freshman Fernando Velasco replaced him. That left Georgia with two true freshmen among its first seven offensive linemen, as well as sophomore guard Ryan Schnetzer, a former walk-on.
Coach Mark Richt took the patchwork offensive line into account as he called plays against a tough Auburn defense. He eliminated any passes that called for quarterback David Greene to make a seven-step drop.
"We moved the pocket a little," Richt said. "We threw a lot more quick passes. We used a little bit more max protection. Sometimes we had eight guys blocking, even if they used a four-man rush, to help those guys and to help (quarterback David) Greene. In the second half, we only threw five times, because we didn't have to. We ran it 45 times. We only threw it 25 times. Early in the game, the most important thing was David Greene on third down. We had not only third downs, but third-and-longs, that we converted. That kept the ball in our hands. We kicked field goals, but we also chewed up the clock."
Richt referred to the first quarter, in which Georgia converted four third downs from at least five yards out and held the ball for nearly 11 minutes. The Bulldogs built up a 13-0 lead by halftime, which forced Auburn out of its comfortable, run-first game plan. The Tigers gave the ball to tailback Carnell Williams only twice before the half.
Georgia got its first defeat of Auburn between the hedges since 1991, and restored its confidence after a painful loss to Florida two weeks earlier. It helps to be healthy. To get to the SEC Championship Game, Georgia has conference games remaining at home against Kentucky and at Georgia Tech, the latter being the Yellow Jackets' first SEC game since they withdrew from the league in 1964. Think about it -- for Georgia to win the SEC East, it must remain within five positions of Tennessee in the BCS rating. We may as well call it a conference game.
What A Letdown
One week after Oklahoma stirred up a ruckus with its 77-0 defeat of Texas A&M, the Sooners turned in a workmanlike defeat of Baylor, if 41-3 may be described as workmanlike. The Sooners led, 34-3, at the half, and yes, coach Bob Stoops emptied the bench in the second half.
As the follow-up to the emotional defeat of the Aggies, the Sooners had to endure a letdown. They got through without suffering any consequences.
"We didn't play great. We were average," co-defensive coordinator Mike Stoops said Sunday afternoon. "We had a very average week of practice. We just showed up and played. We were a little ragged. We missed tackles. The intensity level wasn't near what it's been."
Baylor rushed for 75 yards, threw for 108, and committed two turnovers, and Oklahoma didn't allow a touchdown for the third consecutive game. That's how "uninterested" the Sooners played. They still managed to clinch their third Big 12 South championship in the last four seasons.
Crazy Like A Fox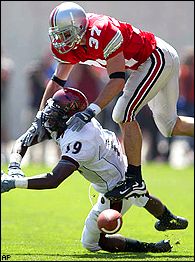 The Buckeyes will need a strong effort on defense.
Ohio State cornerback Dustin Fox gets picked on like a kid brother every Saturday, which is what happens to you when Chris Gamble mans the other corner. There's a reason that Fox is tied for second in tackles (65) on the Ohio State defense. Judging by the way in which Purdue quarterback Kyle Orton threw to Fox's side, Orton must have eyeballed him from the time that Fox left the sideline.
Fox drew the assignment of covering John Standeford, the Purdue record-setting senior who is tall (6-foot-4), precise and has hands tackier than Homer Simpson. Standeford has the most receptions (253) in school history and the most yards (3,535) in Big Ten history. He made eight catches Saturday, his second-highest total of the season, and he made most of them while wearing a Fox stole. But Standeford's eight catches gained only 56 yards, his second-lowest total of the season.
"One of our goals was no runs after the catch," Ohio State defensive coordinator Mark Dantonio said. "Dustin went out and played press coverage, and I thought he played very well. We played press because their quarterback can get the ball off so quick. I think (Fox) took a big step. Dustin continues to be a good player for us."
Fox drew a holding call and a pass interference call. But he also led the Buckeyes in tackles with 10, nine of them solo, and broke up four passes, as many as he had all season. He is not insulted because quarterbacks throw his way. "I look back at it and say it's fun," Fox said. "It's just kind of how it's been here. You get used to it."
Fox also got a finger on the game-ending kick by Purdue's Ben Jones that sailed just wide of the left upright. He said he didn't know if he made a difference on the kick. No one had any doubt about his contribution the rest of the game.
This Couldn't Really Happen, Could It?
Case No. 473 of It's the Money, Stupid:
When is a conference champion not a conference champion? If Ohio State, USC and LSU lose, we may find out.
Here's the scenario -- Oklahoma finishes the regular season No. 1. The above teams lose, and Texas, the Big 12 South runner-up to the Sooners, finishes No. 2 ahead of Michigan. The Sooners lose the Big 12 Championship Game to, say, Kansas State, yet the Sooners' margin in the BCS is sufficient that they fall only to No. 2, and still qualify for the Sugar Bowl in a rematch against the Longhorns.
That would leave the official Big 12 champion at home, according to BCS officials.
While a league champion is whoever the league says it is, there is one rule that supersedes that in the eyes of the BCS. No conference may consume more than two slices of the BCS pie. In other words, forget what happens on the field. The money has to be split fairly.
There's a word for that, and I don't think it's capitalism.
Better Than It Looks In Lincoln
Nebraska defensive coordinator Bo Pelini ran to midfield after the Huskers' 38-9 loss to Kansas State and unleashed a profanity-laced tirade at Wildcats coach Bill Snyder because Snyder sent his starting offense out on the field in the final two minutes against the Husker reserves. Tailback Darren Sproles ran through the defense as if it were, well, a scout team, and Kansas State tacked on a "meaningless" touchdown.
"I let him know that's not the way I've gone about things in the organizations I've been in," Pelini said, which is United Nations-speak for a profanity-laced tirade.
In most other circumstances, the touchdown would be meaningless. When a team defeats an archrival in its own stadium for the first time in 35 years, and when a team does so to clinch a tie for a division title, then slack should be cut. The victory was a long time coming.
In Lincoln, meanwhile, grumbling about coach Frank Solich has resumed. The promise of a 5-0 start and the seeming return of a Blackshirt-worthy defense evaporated. Nebraska has split its last six games, losing all three games against teams with winning records, and giving up an average of 37 points a game in those losses. The Blackshirts faded to gray, and so have the Huskers' hopes of a one-year recovery.
However, you don't have to be Tom Osborne to realize that the Huskers have improved. A 7-7 team a year ago is now 8-3. That's an improvement worthy of appreciation. If Husker fans don't think so, ask them to call their friends at Alabama (4-7), Notre Dame (4-6), or Colorado (5-6), where Nebraska plays on Nov. 28. Those perennial powers would love to have the problems associated with an 8-3 record.
Just F.Y.I.
The degree of optimism emanating from sides after the meeting of Division I-A presidents on Sunday reflected the progress that the BCS commissioners have made in finding a way to include the non-BCS leagues in the big bowls. The biggest issue is deciding whether to include a fifth bowl, which the four BCS bowls are against. ... If Miami coach Larry Coker declares "Ich bin ein Berliner," this week, it won't be a tribute to the memory of JFK. Brock Berlin may get his starting job back for the Rutgers game because Derrick Crudup didn't produce in his first start, the Hurricanes' unimpressive 17-10 victory over Syracuse. Crudup committed two turnovers and completed only 5 of 13 passes for 80 yards. That's always the risk when a coach makes a quarterback change. Though fans always love the backup quarterback, if he had shown he was better, he would have already been the starter. ... Do you think that when ABC convinced Notre Dame and Syracuse to move their Carrier Dome game to Dec. 6, the network honchos knew the teams would be playing for the Diamond Walnut San Francisco Bowl? It gives me chills, too. ... By the way, this will be only the second year in the last 13 that one of the Florida teams will not play in a national championship game.
Chat With Ivan
Ivan Maisel will chat Tuesday at 4:30 ET. Click here to send in a question and check back Tuesday to get the answer.
Ivan Maisel is a senior writer for ESPN.com. He can be reached at ivan.maisel@espn3.com.
Senior Writer, ESPN.com
ESPN.com senior college football writer
Four-time FWAA award winner
27 seasons covering college football
SPONSORED HEADLINES
MORE COLLEGE FOOTBALL HEADLINES
MOST SENT STORIES ON ESPN.COM
EDITORS' PICKS
The Wolverines' offense gets an "F."
Bennett »

Oregon's rebuilding project begins at quarterback.
Chantel Jennings »

The SEC is unlikely to get two playoff spots.
Low »