Nothing's changed, everything's changed
Originally Published:
December 1, 2003
By
Ivan Maisel
| ESPN.com
The last weekend of November mimicked the 11 months that preceded it. Few surprises occurred on the field, and a big one took place off of it.
In the first couple of years of the BCS, major upsets took place over the last couple of weekends that wrecked the projected pairings and broke the hearts of schools that had their bags packed for a big game (Kansas State in 1998, Tennessee in 2001).
On the field on Saturday, not one higher-ranked team lost to a lower-ranked one. The teams that were supposed to win won, which, outside of Auburn, is pretty much the way the season went. Oklahoma, the preseason No. 1, has gotten stronger every week The rest of the top five -- USC, LSU, Michigan and Georgia -- all began the season highly ranked.
Off the field, the decision by Nebraska athletic director Steve Pederson to fire coach Frank Solich landed Saturday night with all the delicacy of a wrecking ball. Before the season, it would have been difficult to find anyone who thought that Nebraska's improvement from 7-7 to 9-3 would have resulted in Solich's firing.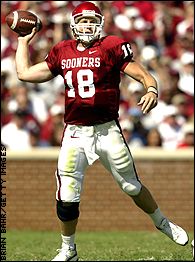 Jason White threw 4 TDs in OU's 65-13 win over Texas last year.
On the field, Georgia beat unranked Georgia Tech, and won the SEC East tiebreaker because Tennessee beat unranked Kentucky and No. 9 Florida State beat No. 11 Florida. Miami beat Pittsburgh, tied West Virginia for the Big East championship and will get the league's automatic bid. On Friday, Texas routed Texas A&M and made its at-large bid all but certain. LSU pulled away from Arkansas and clinched the SEC West.
All favorites, all winners.
Off the field, the Solich firing is similar to the other big stories in the sport this year. Mike Price, Rick Neuheisel, Maurice Clarett, Tulane president Scott Cowen's crusade against the BCS -- all happened far from the stadium.
On the field, the status is so quo that Oklahoma can lose to Kansas State next Saturday night and will still be expected to reach the Sugar Bowl and play for the national championship.
Off the field, Mississippi State is drumming its fingers, hoping that an African-American coach will heed its pleas and become the head football coach. If that's not a surprise as well as a big story, there's no such thing.
There is still room for upsets this Saturday. USC, which has won all 10 of its victories by at least 17 points, plays Oregon State (7-4). Kansas State (10-3) gets Oklahoma in the Big 12 Championship Game. Army (0-12) plays Navy (7-4). Given the rest of this season, upsets are doubtful.
Or maybe just overdue.
Nebraska No Easy Fix
Nebraska athletic director Steve Pederson threw some red meat to his constituents in his announcement Sunday.
"It was a decision based on the overall direction of our program and where I see our program headed in the next five to 10 years," Pederson said. "That ultimately is how I arrived at the decision that our program needed new leadership. I refuse to let this program gravitate to mediocrity. We will not surrender the Big 12 Conference to Oklahoma and Texas."
You have to admire an athletic director who has the guts to make a decision and take full responsibility for it, as Pederson did Sunday. Too often in college athletics, the athletic director isn't given the keys to the car. Nebraska has invested its future in Pederson, and he made a tough call.
(Memo to Pederson: Next time, stop short of telling everyone how Solich had your full support. You left out the clause, "until I canned him.")
Hiring a new coach, however, won't stop the Huskers' short-term slide. For one thing, it's tough to identify a coach out there who still subscribes to the run-first belief that kept Nebraska at the top for so long. The forward pass is the way to go now, and, the Huskers have no arms and few receivers. If anything, a new coach may accelerate Nebraska's slide, at least until he recruits his type of players.
The Huskers have not slid into mediocrity yet, but Pederson is too late to stop the surrender of the league to the big schools in the Big 12 South. Nebraska isn't getting the fourth-best bowl bid in the Big 12 because of a random draw. The Huskers are well behind Oklahoma, Texas and Kansas State at this point.
Solich finishes with a record of 58-19 (.753), one conference championship and one national championship game appearance. Solich has two seasons remaining on his contract, and will get a buyout of nearly $800,000.
Tom Osborne's handpicked successor joins the list of gallant men who tried and failed to follow legends. None of them in recent history did any better with the expectations than fight to a draw.
Ray Perkins, Bear Bryant's handpicked successor, was 32-15-1 with no SEC title in four seasons (1983-86) before returning to the NFL.
Gary Moeller, Bo Schembechler's handpicked successor, was 44-13-3 with three Big Ten titles -- including two outright titles -- in five years but self-destructed in a drunken incident in a Detroit-area restaurant.
Earle Bruce, who followed Woody Hayes at Ohio State, was 81-26-1 with with four Big Ten titles -- including two outright -- in nine years but the Ohio State fans always held it against him that he wasn't Woody.
Dan Devine followed Ara Parseghian at Notre Dame and won a national championship in 1977, and the fans never warmed up to him.
Woe be unto the coach who has to follow Bobby Bowden at Florida State, or Joe Paterno at Penn State. Whenever Clemson coach Tommy Bowden is asked if he is interested in replacing his father once Bobby decides to retire, Tommy always says, "No, no. I want to replace the guy who replaces Daddy."
Fear The Turtle
You wouldn't know it by looking at the rankings, but Maryland finished the regular season 9-3. The Terps just entered the AP poll this week, at No. 24, which perplexes their coach. But that's what happens when you start 0-2.
And that's what happens when you're Ralph Friedgen. In three seasons, his Terps have made a habit of being underappreciated. In 2001, they came out of nowhere to win the ACC and finish 10-2. In 2002, again largely ignored in the preseason, Maryland finished 11-3. The Terps, though they finished tied for second in the ACC, were passed over by the Gator Bowl, which took fourth-place North Carolina State. Maryland went instead to the Peach, where it humiliated Tennessee, 30-3.
Last week, Friedgen learned from the Gator Bowl that they were thinking about not inviting Maryland again. Gator Bowl officials told Friedgen that they wanted to take West Virginia from the Big East, and the Terps defeated the Mountaineers, 34-7, on Sept. 20.
Friedgen told the Gator Bowl he didn't care about a rematch -- "I'll play anybody. I just want to go to the Gator Bowl" -- but he asked why they would invite West Virginia instead of the Miami-Pittsburgh loser.
When told that West Virginia, a co-champion, would finish ahead of the Miami-Pittsburgh loser, Friedgen shot back, "That didn't stop you last year!"
So Maryland will play a very different West Virginia team than the one it saw at the beginning of the season. Friedgen just has to make sure that his team understands that.
"Yeah, I'm concerned," he said. "I think my players are smart enough to know that West Virginia is dying to play us."
Maryland will be as healthy for the Gator Bowl as it has been all season. The Terps went to their opener at Northern Illinois without three starters, and lost 13-10, in overtime. Quarterback Scott McBrien got dinged against Georgia Tech, and Maryland lost, 7-3. At other times, at least four other starters have missed time, including tailback Bruce Perry, who last had a healthy season in 2001.
It's no coincidence that Perry rushed for 237 yards and three touchdowns in the 41-28 victory over stubborn Wake Forest, a game that looked pretty much like Maryland's season. The Terps fell behind, 21-6, before their engine began to rev.
It says in the Coaching Handbook never to think about how good you would be without injuries. Between them and the stumble out of the gate, Friedgen did say, "I think this was our best coaching job."
When a guy has won 30 games in three seasons, that's saying something.
Isn't That Convenient
Normally, I would applaud TCU athletic director Eric Hyman's principled stand against going to the GMAC Bowl. The Dec. 18 game lands right in the middle of final exams at TCU, and Hyman is concerned about the disruption it would cause for his team, the band and whatever other Horned Frog students make the trip.
Except that Hyman has known all year the date of the GMAC Bowl.
And he didn't say a thing until TCU lost at Southern Mississippi.
And the Mobile game is a disappointment for a team that had dreams of a BCS bid. And the Horned Frogs have been there twice in the last four years.
Hey, if you don't want to go to the bowl game, come out and say it. But give me a break with the self-righteousness.
Miami (Ohio), the MAC team in the game, has final exams during bowl week. The school is arranging for the affected students to take their exams several days early.
Simple problem, simple solution, except in the hallowed halls of TCU.
So Close, But So Far Away
Florida athletic director Jeremy Foley and the rest of Gatorland continues to fume about a perceived imbalance of calls by the ACC crew in the Gators' 38-34 loss to Florida State. But if Florida insists on a change in the policy that the visiting team brings its officials -- the policy that exists in nearly every nonconference rivalry in the sport -- then the game next year will be played in Tallahassee with an ACC crew.
Swallow hard, Gators, and play better against the deep ball.
Just F.Y.I.
Friedgen, at 30-8, is one of only eight coaches to average 10 wins over the last three seasons. The others are Mack Brown, Larry Coker, Dan Hawkins, Bobby Pruett, Mark Richt, Bob Stoops, and Jim Tressel. Nick Saban can become the ninth next Saturday. ... One factor in Mississippi State's favor regarding Sylvester Croom's decision to replace Jackie Sherrill: Croom's daughter and grandchild live in Mobile. Croom is building a home there. Last time I checked, Starkville is a lot closer to the Gulf Coast than Green Bay. ... New Arizona coach Mike Stoops may be interested in talking to Ole Miss offensive coordinator and offensive line coach John Latina. ... He won't win coach of the year, but first-year coach Steve Kragthorpe of Tulsa ought to make the finals. The Golden Hurricane, which went 2-21 over the last two seasons, finished 8-4. The interesting thing is, Kragthorpe is an offensive coach, but the turnaround happened on defense. A team that gave up more than 500 yards of total offense in five games a year ago, allowed an average of 377.75 yards per game this year. Tip your helmet to defensive coordinator Todd Graham. ... LSU needs Syracuse (5-6) to beat Notre Dame (5-6) in order to negatively affect USC's strength of schedule. Syracuse has lost three straight, and is playing Notre Dame on Dec. 6 instead of Oct. 4 only because the schools moved the game for ABC. In other words, it's been a long season with a dispiriting finish. Somehow, I think, "Win one for LSU!" is not going to rally the Orangemen.
Ivan Maisel is a senior writer for ESPN.com. He can be reached at ivan.maisel@espn3.com.
Senior Writer, ESPN.com
ESPN.com senior college football writer
Four-time FWAA award winner
27 seasons covering college football