Colclough adjusting to top-level competition
Originally Published:
January 21, 2004
By
Ivan Maisel
| ESPN.com
MOBILE, Ala. -- NFL scouts keep secrets about as well as sixth-grade girls, which is how Tusculum College cornerback Ricardo Colclough went from anonymous to early-round draft choice in less than one year.
Tusculum, a Division II school in Tennessee, doesn't see NFL scouts unless they are lost, searching for an interstate. But once the 5-foot-10½, 186-pound Colclough ran a 4.4 40 for a couple of scouts last spring, the secret began to seep out. When Colclough exploded in consecutive early-season games against Morehouse and I-AA Charleston Southern, word stopped seeping. Instead, it began spreading like an Internet virus.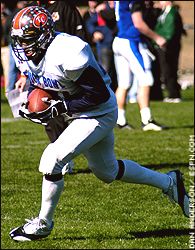 Ricardo Colclough's 4.4 speed caught the attention of scouts.
Against Morehouse, Colclough returned kickoffs for touchdowns from 97 and 92 yards and intercepted two passes in the first half. Against Charleston Southern, Colclough returned a punt 85 yards for one score, then made a one-handed interception that he took 75 yards for another.
From that point until the end of the season, the NFL scouts have gone through Tusculum like the school was giving away steak dinners. Baltimore personnel chief Phil Savage went to Tusculum to see Colclough for himself. When he arrived, he found a stack of business cards from about 80 NFL scouts.
"It got interesting around here," Tusculum coach Frankie DeBusk said. "We've never had a guy get drafted."
The only people who didn't seem to know who Colclough is were the coaches on the opposite sideline. How else to explain how the Defensive Player of the Year in the South Atlantic Conference made 11 picks? Why did he keep getting passes thrown to his side of the field?
"He really got better as the season went along," DeBusk said. "Once he got the attention of the NFL, and he saw the light at the end of his tunnel, he got to be a better person and a better player. He was still a team player, still trying really hard. He never had a chip on his shoulder or felt he was too special."
Colclough said it never occurred to him not to try hard. He feels the same way about the I-A career he never had. It never occurred to him to have that burning desire to prove he could play at that level. "I knew I could," Colclough said. "As for the path I took, I don't regret it. It was a learning experience. Going into a JC, I got a chance to play. If I had gone Division I (-A), I would have sat out."
The Sumter, S.C. native received interest from both South Carolina and Clemson, but his high school grades prevented him from having freshman eligibility. After two seasons at Kilgore (Texas) Junior College, Colclough transferred to Tusculum shortly after his sophomore season concluded. All of which is to say that he didn't step on the field with I-A players until Monday. With wide shoulders and big upper legs, Colclough looked the part.
"If you put a Tennessee helmet on him, it wouldn't look out of place," Savage said.
Perhaps not, but Colclough has never seen receivers moving as fast as the ones he's covering in Mobile.
"I'm sort of trying to get used to the speed," Colclough said, "the receivers' speed and the speed in how we go from drill to drill."
Bengals secondary coach Kevin Coyle spoke to Colclough after nearly every individual drill he ran, reminding him of the clues that lead to good coverage. When Colclough was slow to come out of a break after Oregon State's James Newson stopped suddenly and turned, five yards in front of him, Coyle yelled, "Drive! Drive!"
When Colclough played press coverage on Newson, he matched him stride for stride down the field. However, Michigan quarterback John Navarre threw a perfect fade, Newson made the catch, and Coyle yelled, "Get your head around!"
When he practiced catching punts, Coyle barked at him because Colclough didn't tuck the ball safely in his right arm. He carried it in his right hand, which pumped as he ran upfield.
"Get it up in there!" Coyle yelled, referring to the ball. It's not that Colclough hadn't heard any of it before. He just had never had to execute what he knew so quickly.
"Little technique things," Colclough said, "like reading the receiver's hips when I'm running back with him. I've got to get used to the speed."
Coyle didn't want to give too detailed a critique of any of the players he's coaching. But he complimented Colclough as "a guy who, in the meetings, has been very attentive and answered pop questions with the right answers. He has been there with focus and concentration."
The focus on the field can be the difference between stardom and a bus ticket out of town.
"When a guy is that gifted," Coyle said, "he's not going to have to line up at every snap at the extra level you have to have to be successful. In this league (NFL), there's not a play that you can take off. Young (NFL) players think that they are trying. They don't know what all-out effort is."
Colclough has made it this far, to his first postseason collegiate all-star game, and, he hopes to an early round in the draft. He is a secret no longer.
Ivan Maisel is a senior writer for ESPN.com. He can be reached at ivan.maisel@espn3.com.
Senior Writer, ESPN.com
ESPN.com senior college football writer
Four-time FWAA award winner
27 seasons covering college football
SPONSORED HEADLINES
MORE COLLEGE FOOTBALL HEADLINES
MOST SENT STORIES ON ESPN.COM