Leinart learning to lead
Originally Published:
April 7, 2004
By
Ivan Maisel
| ESPN.com
LOS ANGELES -- USC junior quarterback Matt Leinart went from unknown to unstoppable in the course of one season. He owns a national championship ring. He owns a post position in the 2004 Heisman Derby.
And if he were any calmer, he would be asleep.
"I'm just laid back," Leinart says.
We have been conditioned over the last three decades to expect that talent can't survive without braggadocio, that every game has become an exhibition game. Leinart belies those notions. If there is such a thing as star wattage, Leinart's cables are buried underground.
He is earnest, and he does not grade his play on a curve. Ask Leinart how he could improve his storybook rise from the depth chart to the top of the charts, and he points out that the Trojans lost a game last fall.
"I expect perfection," Leinart says. "I'm very hard on myself."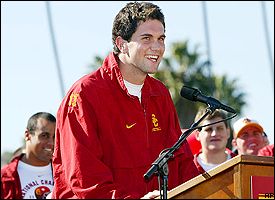 Matt Leinart got a start on being more vocal when he spoke up after USC won the national title.
This from the quarterback who replaced Heisman Trophy winner Carson Palmer, then outdid him. Leinart took the Trojans to a share of the national championship, throwing for 3,556 yards and 38 touchdowns while completing 63.4 percent of his passes.
He took the Trojans to No. 1, but he didn't lead them. USC had a senior-laden offensive line and, in senior wide receiver Keary Colbert, a player who outworked every one of his teammates. With Colbert gone, and All-American wideout Mike Williams gone, and only two returning offensive linemen who have ever started a game, Leinart must not only play quarterback this season but chaperone.
"We don't have a lot of leadership," Leinart says. "It's a young team. All of our returnees are sophomores or juniors. I've got to assume that role to be a leader."
As if to explain, Leinart says, "I'm trying to be vocal."
Last spring may as well have been last century. A year ago, Leinart's experience consisted of sitting in offensive coordinator Norm Chow's meetings -- "Freshen up that Gatorade, Carson?" -- and keeping his mouth shut. Nothing he experienced in the drive to a 12-1 record and the Rose Bowl rout of Michigan compared to the pressure he felt during spring practice a year ago.
"The worst," Leinart says. "I was real nervous. Honestly, the season, even the (season-opening) Auburn game, I wasn't ever nervous. I just wanted to do well. Spring ball, the pressure was so intense."
Leinart came out of spring with, according to the 2003 USC media guide, "an ever-so-slight edge" over junior Matt Cassel for the starting job. Cassel is now a tight end.
Rookie that he was, Leinart didn't assert himself in the huddle last fall. He remembers coming to the line early in the season against BYU and scanning the defense. The Cougars' scheme demanded that the offense find and identify the Mike, or middle linebacker. That responsibility belongs to the center, in this case, senior and three-year starter Norm Katnik.
"If you're young, you want to make them think you know what you're doing," Leinart says. "The linemen are like, 'Who cares? Call the damn play.' I started IDing the front. Norm cursed me."
Sophomore guard Fred Matua, who started seven games last season, remembered, "Matt came out in the huddle early in the season and he was yelling, 'We gotta score right now!' Everybody was looking at him funny."
OK, Leinart is not a holler guy. He's an overgrown (6-feet-5, 220) kid from The O.C. -- Santa Ana, to be exact -- with his air dialed to permanent tousle. He lives with linebacker Matt Grootegoed, a high school teammate whose reticence makes Leinart sound like he's ready to host Hardball.
But then, the other projected stars of the Trojan offense aren't exactly real loud either. Sophomore wide receiver Steve Smith, who averaged nearly 19 yards per reception as a reserve last season, and his classmate, tailback Reggie Bush, who took the ball at least 20 yards on one of every five touches last season, are as polite and humble as an Eagle Scout in church.
"I'm not the guy to give great speeches before the game," Bush says. "Every team has someone who is going to get all hyped, banging his head on the locker. ... I'm the same person no matter what. I'm going to be the same person even if I'm in the NFL making tons of money."
Together, Leinart, Smith, and Bush couldn't produce enough bluster to get former Trojan Keyshawn Johnson past his morning coffee. Relying on their talent and knowledge is a risk that Chow is willing to take. The mastermind of the USC offense glows when he discusses Leinart.
"He was in two years of quarterback meetings and hardly set foot on the field," Chow says. "When he did, he was ready for it. The bullets are flying even faster, but (as a coach) you have confidence because of the time he spent in the classroom. He's beyond us being able to surprise him. He knows. He understands."
Chow grabs a slip of paper and sketches a simple graph. He starts with one horizontal line, then draws a 45-degree V off of it.
"Your career is twofold," Chow says. "The first half of it" -- the horizontal line -- "you're trying to improve. The second half, it's either going to take off (diagonal line up), or you're not going to make it (diagonal line down). The first half, you're challenging a guy for a position. The second half, you're challenging yourself. You're not worried about whether you will play next Saturday."
Leinart knows. He knows how to progress through his receivers, reading the defense and reacting in the three seconds that defense tries to take off his head. "If I ever need to know a route in a huddle, he'll know it," Bush says. "He'll know everything: routes, assignments, everything."
This year, Chow has begun to teach Leinart "alerts," reads at the line that Leinart can make that would override the play call. Chow said that when he showed Leinart the "new wrinkles," as he called them, Leinart lit up. But there are only so many new wrinkles that Chow can teach him when the rest of the offense is so young. Leinart is an AP student stuck in a remedial class.
In one early session this spring, Leinart went through his progression and fired a bullet to fullback Lee Webb as he sprinted downfield. Webb was the third option on the play. In five starts last year, Webb didn't make a single catch. No one was sure whether he would even turn to look at Leinart.
"The fullback runs that route 1,000 times," Chow says. "He knows he never gets the ball. He looked back and the ball was right here."
Chow raised his hands nearly up against his chest.
"When you look at the film, you could see the surprise on his face," Chow said of Webb. "If they're not the first or second option," Leinart says, "they'll jog. ... I want full sprints." Asked about the pass to Webb, Leinart says, "He looks now."
That's Leinart's way of leading.
He says he will lead by example, too. He will be in the weight room on time, every time. He will go to class (In his fourth year, Leinart is leaning toward an American Studies degree). He will arrange the summer passing workouts, just as he got the receivers and defensive backs out for a few sessions before spring ball.
And, if an offensive teammate is not doing his job, Leinart says he will confront him. Not only that, Smith backs Leinart up.
"He is pretty vocal," Smith says. "He'll get on you." But no, Leinart isn't quite Gen. Patton just yet. A few minutes later, Smith describes his quarterback as "a little goofy."
Last week, to prepare for a photo shoot, Leinart had to put on his full game gear. When he walked through the locker room, his teammates all started calling him "Poster Boy." He has proven he can be a poster boy for how to run an offense. This season, USC will find out if he can run it by leading instead of following. He will do it without banging his head on a locker.
"That's just my personality," Leinart says. "Even on the field, I'm like that -- a cool confidence. I've never been arrogant. I could care less about awards. I just want to win."
Ivan Maisel is a senior writer for ESPN.com. Send your question/comments to Ivan at ivan.maisel@espn3.com. Your e-mail could be answered in a future Maisel's Mailbag.
Senior Writer, ESPN.com
ESPN.com senior college football writer
Four-time FWAA award winner
27 seasons covering college football
SPONSORED HEADLINES
MORE COLLEGE FOOTBALL HEADLINES
MOST SENT STORIES ON ESPN.COM
EDITORS' PICKS
Week 2 features plenty of duds. We grade 'em.
Dinich »

Georgia RB Todd Gurley leads Heisman experts' poll.
Heisman Watch »

It feels like a Rose Bowl, but Spartans-Ducks clash might be bigger.
Miller »