Commentary
Plenty of options at quarterback
Maisel's Mailbag
Originally Published:
May 13, 2004
By
Ivan Maisel
| ESPN.com
I received hundreds of letters over the last week, and not all of them concerned the two mistakes that I delivered in the last mailbag concerning the NFL draft and the RAF Lakenheath. See readers take me to task below.
Most concerned my opinion of the five best option quarterbacks in history. While my math skills are limited -- as the old joke goes, where I grew up two plus two equals third-and-six -- I'm still trying to figure out how to cram the 19 additional quarterbacks that you suggested into my five-player list. Not to mention that my defintion of an option quarterback doesn't extend to Casey Clausen.
Full disclosure: I'm still going through the letters. I've got about 250 remaining, because I spent most of the last week on vacation, doing my bit to prop up the Disney bottom line in Orlando. When you hop off of Splash Mountain and walk back to the beginning and get back on without waiting in line, life is good. We didn't get that opportunity because we're a Disney family, or because we had some top-secret Fast Pass. That's what happens when you show up on a Wednesday night in May.
That's the first installment of my new mailbag feature, How I Spent My Vacation. I can't think of anything more exciting for you, except maybe the highlight film of the 2003 Army season. Stay turned for a PowerPoint presentation of my daughter's birthday party.
---
Sir, in your latest mailbag you recieved a letter from RAF Lakenheath. The gentleman is intelligent in the ways of college football because that is an RAF-owned base but run by the USAF. Nice place to be stationed. I spent over 4 years there myself. Go Buckeyes!!!!!!!!!!!!!!!!!!!!!!
Eric Loftus
McGuire AFB, NJ
Regarding your concern over British knowledge of college football, I can assure you that there are 100 Americans for every Brit at RAF Lakenheath as the base is operated by the USAF. However, whether Stephen Massey is a subject of the Crown or an American, he could still watch college football on the American Forces Network or subscribe on SKY TV for up to 4 live games a week for about $20 a month, what a bargain.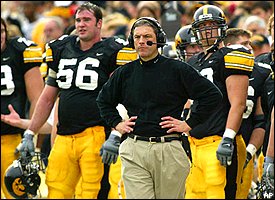 Kirk Ferentz could be keeping an eye on things in Iowa City for a while.
My real question, is the IOWA-Kirk Ferentz relationship a long term one or does he have eyes for the NFL? I discount the folks who think he will return to his Pennsylvania roots and take Joe Pa's place as I don't see any real advantage to him to move within the conference. While I respect Penn State's history and tradition, I don't see it as anymore prestigious than IOWA. What do you think? Is he a Hawkeye for life? Sincerely,
Lance Newbold
Lieutenant Colonel, U.S. Army
U.S. Army CASCOM Liaison Officer to the UK
Thanks to Col. Newbold and all the others who pointed out my ignorance. As for Ferentz, nothing outside of State College or Tallahassee is long-term in college football anymore. But I think he's in Iowa City for a while. Ferentz has relatively young children, and he told me last year that he and his wife like raising them there.
---
In my not particularly humble opinion, Turner Gill was both the best option quarterback at Nebraska and overall. Insert him at the top of the list and slide everyone else down a notch.
Boyd Wiggam
Williamsburg, Va.
For what it's worth, Boyd, Gill was the last guy I deleted.
---
Ivan Maisel's Top 5 all-time option QBs
Player
Skinny
1. Tommie Frazier
Nebraska (1992-95)
Back-to-back national titles, a tough runner and a true leader.
2. Jamelle Holieway
Oklahoma (1985-88)
Was there anyone quicker?
3. Donovan McNabb
Syracuse (1995-98)
Hey, he ran an option.
4. Darian Hagan
Colorado (1988-91)
Led the Buffs from nowhere to the Promised Land.
5. Jack Mildren
Oklahoma (1969-71)
May have had the best season of any option QB ever as a senior.
I agree with you 100% on Frazier and Holieway 1-2, but how do you leave Eric Crouch off that list?
Rob Clark
Portland, Ore.
Winning a national championship carried a lot of truck in making the list. Crouch finished one game short, if you could call the Huskers' Rose Bowl performance against Miami a game.
---
I saw your list of option QB's. You could include another -- he won two I-AA national championships in the early days of the spread option and later played in the CFL's Grey Cup -- Tracy Ham of Georgia Southern. He was absolutely spectacular -- just ask Paul Johnson, head coach at Navy, who was GSU's offensive coordinator.
Chris Spiller
Portsmouth, N.H.
In response to your top five option quarterbacks of all-time, I was surprised to see one omission from the list. How could you have possibly forgotten Dee Dowis from the Air Force Academy? Frazier, Holieway, Hagan, and Mildren are acceptable, but Donovan McNabb? Are you kidding me? Dowis was a true warrior at the quarterback position, especially for a school that has run the option since the dawn of its football program. Four out of five ain't bad.
Vince Azzolina
Asheville, N.C.
My inclusion of McNabb drew the most fire, and I knew that it would. But I saw him do things I haven't seen other college quarterbacks do, and he did them for four years.
---
In reading your articles for the past few years, I realize that you have no respect for Notre Dame, past, present, or future, but when talking about option quarterbacks, how in your right mind can you exclude Tony Rice? It would be one thing to leave him off the list, but putting Donovan McNabb on the list and leaving Rice off is nothing short of a travesty. Rice was amazing and if you doubt that, take a look at the 1988 ND-USC game, you'll be reminded. Regards,
Steve McMullen
Chicago, Ill.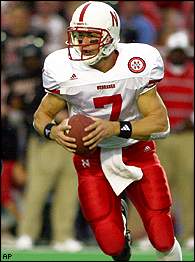 Eric Crouch rushed for 3,950 yards at Nebraska.
I covered that game, Steve, and you get no argument from me. If I had listed the top 10 quarterbacks, Rice would have been on it. But then I wouldn't have gotten as much mail. Among the others receiving votes not mentioned above, and I'll leave it to you to question the intelligence of some of these suggestions: Brad Banks, Eric Crouch, Daunte Culpepper, Steve Davis, Dee Dowis, Marvin Graves, Joe Hamilton, Major Harris, Rick Leach, Chris McCoy, Lance McIlhenny, Beau Morgan, Bucky Richardson, Michael Vick and J.C. Watts.
---
On your list of Top Five Option Quarterbacks, I can't believe you only listed Tommie "Touchdown" Frazier at number one, when we all know he should have been numbers one, two and four. I'm so sick of your anti-Nebraska bias.
Matthew Roubicek
Seattle, Wash.
UNL '91
It's well-reasoned sarcasm like this that makes me so proud of all of you.
---
The Memphis Tigers are getting disrespected by everyone except CBS. The outlook seems bright for the upcoming season following last year's 9-4 record and a bowl win, not to mention the return of senior quarterback Danny Wimprine and running back DeAngelo Williams, who is one of the nation's best backs. Maisel, give Memphis some love.
Justin Skinner
Memphis, Tenn.
Doesn't it seem convenient that Missouri is trying to weasel out of playing Iowa now that Iowa has a solid chance of demolishing them? The only thing I can think of is that Missouri knows what we did to Ben Roethlisberger's chance at the Heisman this year, and are trying to pad Brad Smith's stats. There is no way that playing Arkansas State is better for their program as far as National TV Exposure is concerned. Sniff Sniff & I smell fear.
Thanks for you thoughts,
Chad Smith-Collingwood
We can agree to disagree on whether Mike Williams should be allowed to return to USC, but you seem to be forgetting the hypocrisy of the NCAA on this issue. On one hand, Mike Williams can declare himself eligible for the draft and hire an agent. Things didn't work out the way you thought? No problem. The NCAA should welcome him back to school with open arms.
On the other hand, Jeremy Bloom wants to participate in a completely separate sport and receive endorsement money necessary to do so. According to the same geniuses at the NCAA, that would be jeopardizing the amateur status of college football and do irreparable harm to the game.
Which is it, Ivan? Is the NCAA worried about the integrity of its amateur athletes or is it forgiving when unusual situations arise? Mike Williams should be allowed back into USC no sooner than the NCAA drops their misguided crusade against Jeremy Bloom's skiing career.
Michael Pogue
Norman, Okla.
It never fails to irritate me when readers come up with better column ideas than I do.
---
When was the last time a player has won both the national championship and the Heisman Trophy? It seems like everytime someone wins it, they do not win the championship. I am a Sooner fan, and when White won the Heisman I was furious, because I knew we would lose to LSU just like Weinke did to us, and Crouch did to Miami.
Ajay Menon
Herndon, Va.
Ajay, the losing streak dates only to 1997, when Charles Woodson won the Big Bronze Doorstop and a national championship ring at Michigan. Before that, it was Danny Wuerffel at Florida in 1996 and Charlie Ward at Florida State in 1993. It helps, evidently, to be named Charles.
---
Love your work, neat to see your pre-pre season polls through the year, though your quip about Rodriguez in your most recent poll was wide right. It's hard to police one of your recruits from 250 miles away, and the kid had no criminal record that I've seen published anywhere. Look, when you're WVU, you have to take some chances on your recruiting in order to get players. Williams is academically-challenged, maybe there were some other problems with the kid since it's not everyday that WVU gets a Mr. Football Ohio. We're a second-tier school, Nehlen had a long history of reclamation projects, and Rod is only continuing with a necessary practice. Where Rod (and Don) need slammed is their dismal bowl records. WVU will go 9-2 this year and probably get obliterated in another New Year's Day (God forbid BCS) Bowl game. Give Rod/Don 5 weeks, and they'll prepare the team to get slamballed around.
Mike Smith
Wheeling, W.Va.
That quip did not set well with Mountaineer readers, many of whom believed that Williams is the reason that I dropped West Virginia three spots. He isn't. And I stand by what I said. I have no reason to question everyone's assertion that Rodriguez runs a clean program. But guilt by association is going to hurt him. The goodwill he has built up over his career will see him through the mess, but there is a mess.
---
You missed another pair of running backs from one school who both went in the first round. In 1986, John L. Williams and Neal Anderson of Florida were both picked in the first round. Neither was spectacular, but both had solid NFL careers.
Richard Swank
Orlando, Fla.
Ivan Maisel is a senior writer for ESPN.com. Send your question/comments to Ivan at ivan.maisel@espn3.com. Your e-mail could be answered in a future Maisel's Mailbag.
Senior Writer, ESPN.com
ESPN.com senior college football writer
Four-time FWAA award winner
27 seasons covering college football
SPONSORED HEADLINES
MORE COLLEGE FOOTBALL HEADLINES
MOST SENT STORIES ON ESPN.COM
EDITORS' PICKS
Explaining why coaches of playoff challengers are skittish.
BMOC »

What life is like for the nation's other unbeaten.
Low »

We spent Saturday with commissioner John Swofford in the ACC's operations center.
Adelson »