In Barnett's case there's smoke, but no fire
Originally Published:
May 19, 2004
By
Ivan Maisel
| ESPN.com
BOULDER, Colo. -- If Dr. Elizabeth Hoffman, the University of Colorado president, has any sense of style, she will give Buffaloes coach Gary Barnett his job back on Monday, the day he turns 58.
If Hoffman has any sense of fairness, she'll do it sooner.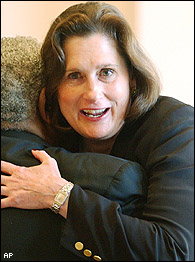 Colorado president Elizabeth Hoffman exchanges a hug with commission member Phillip Porter Jr. after the regents gave Hoffman and her staff a vote of confidence.
Barnett is guilty of making a stupid comment in reference to former kicker Katie Hnida, who has said she was sexually assaulted by a Colorado teammate. Barnett has been accused of bureaucratic sloppiness by the Independent Investigative Commission that looked into whether sex and alcohol were used to recruit prospective Colorado players.
The commission delivered a 51-page report to the university board of regents Wednesday morning in the Glenn Miller Room of the University Memorial Center on campus. A photo of Miller, a Colorado grad and the bandleader who died in an airplane crash during World War II, stared down upon the proceedings. He and his trombone only added to the strangeness of the meeting.
Among the audience were football players, their parents, advocates for rape victims, and several Buffs boosters wearing bright gold T-shirts with big black letters that said "FREE BARNETT."
Even Jim Martin, a Boulder businessman and attorney and the most critical of the regents, said Wednesday, "Barnett ought not to be the fall guy."
All Barnett wants is to go back to being a fall guy, as in a guy who lives for the fall. The coach, wearing a blue Polo dress shirt and dark slacks, appeared in the lobby of the Dal Ward Athletic Center around noon on Wednesday after a meeting with athletic director Dick Tharp.
"I decline comment until things settle down," Barnett said. He will speak publicly, Barnett continued, after he meets with Hoffman, meetings that have not yet been scheduled.
Defensive back J.J. Billingsley walked through the front door of the center. "Dude!" Barnett said. "You parked in my space!"
"I moved it!" Billingsley called back, running up the stairs.
As suspensions go, Barnett is not doing hard time. He is not allowed to represent Colorado as its head football coach. After that, it's all gray area. He comes to his office regularly for meetings and to check his mail. He attended 13 of 15 spring practices as an observer. But you have to wonder if Billingsley would have dared park in Barnett's space if the coach were, well, the coach.
"I was late for class," said Billingsley, employing any student's all-purpose excuse.
Even if you give Dr. Hoffman the benefit of the doubt in suspending Barnett, neither she nor the commission unearthed any evidence that Barnett loaded his white SUV with kegs and headed for the recruits' hotel, or knew that anyone else had. The commission said that Barnett could have spelled out the don'ts of alcohol more clearly to his players who served as hosts.
But the commission also recognized the disciplinary measures Barnett has taken, all the way down to the 48 suspensions he has meted out to 34 different players.
There was little fire and less brimstone in the comments of either the commissioners or the regents. The commission focused its criticism on Tharp and university chancellor Richard Byyny.
The board accepted the report and pledged support to Hoffman. Hoffman backed Byyny: "I'm not going to make any comments about personnel," she said, "other than to say I strongly support the chancellor."
No one spoke up for Tharp, who wanted the coaches to maintain "plausible deniability," according to testimony heard by the commission. Even Tharp received a reprieve in an all-encompassing comment from regent Jerry Rutledge of Colorado Springs.
"If we need a scapegoat," Rutledge said, "go look in the mirror. All of us could have done more."
Judging by that evidence, if a head must roll, it will be Tharp's. If Hoffman seizes upon anything in this report as evidence that her suspension of Barnett should become permanent, she has to understand one thing. Another university president will snap him up faster than Hoffman can spell "scapegoat." He may not always do things the right way, but he tries a lot harder than most.
In the book "High Hopes," which Barnett co-wrote with Vahe Gregorian about the rise of Barnett's 1995 Northwestern team to the Rose Bowl, the coach wrote, "Some people are better the more confident they are. For me, I seem to become more energetic and creative when I'm backed into a corner."
His us-against-the-world mentality will come in handy this fall. For six months, the Buffaloes have been labeled as an outlaw program. The easy way out for Hoffman would be to clean house and start over. But it would be easy only in the short term, and it wouldn't be the right thing to do.
Ivan Maisel is a senior writer for ESPN.com. Send your question/comments to Ivan at ivan.maisel@espn3.com. Your e-mail could be answered in a future Maisel's Mailbag.
Senior Writer, ESPN.com
ESPN.com senior college football writer
Five-time FWAA award winner
28 seasons covering college football
MORE COLLEGE FOOTBALL HEADLINES
Nike Men's Colorado Buffaloes Grey Football Practice Legend T-shirt Shop »

MOST SENT STORIES ON ESPN.COM