A weekend to remember
Maisel E-Mails
Originally Published:
October 5, 2004
By
Ivan Maisel
| ESPN.com
Every season, there's one week that reminds all of us how much fun an autumn Saturday can be. Every season, there's one week in which the top teams play each other in conference after conference, and when the day is done, the fans have a much clearer picture of who is for real and who is not.
That week is here. Look, I'm as pumped up about the baseball playoffs starting as the next casual fan, and I plan to watch games at every opportunity. Except on Saturday, when one of the reasons that I'm most excited about covering Texas-Oklahoma is that I can keep one eye on the television as I write my postgame story.
The games will tumble out one after another -- Cal-USC, Tennessee-Georgia, LSU-Florida, Minnesota-Michigan, Wisconsin-Ohio State, Stanford-Notre Dame -- and by Saturday night, when we're exhausted, when Rece Davis looks across the set and says, "Can't we all just get along?", we'll know a lot more. We'll know whether the Big Ten will continue to be a five-team race, whether Tennessee and LSU will have any chance at winning their divisions in the SEC, whether USC and Oklahoma are really the two best teams in the nation.
When Saturday night is done, we will have reached the halfway point of the season. I'm not as crazy about that. It seems as if we just started. On the other hand, we're halfway done and my wife is still speaking to me, so maybe things are going well after all.
Let's grab the letter opener.
---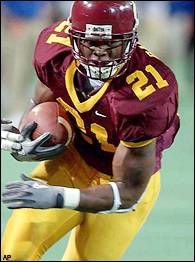 Tough to argue against Marion Barber III and Minnesota's Golden Backfield.
My compliments for your article about the Golden Gopher backfield. I always appreciate the insight that you provide in your articles, and particularly enjoyed this one. Anticipating that there won't be the kind of response to this column that you get by writing about the likes of LSU or Nebraska, I'm writing to fill the void of Gopher fans who don't regularly read about college football.
I'll be honest and say that I'm a transplanted Buckeye, so I might be a little bit biased against Joe Gopherfan. That being said, it mystifies me how little credit most Gopher fans give to Glen Mason, the man who singlehandedly turned this destitute football program around. I suppose his openly campaigning to be named the Buckeyes coach a few years ago can be partly to blame, so much like how John Cooper was unfortunately treated in Columbus, Mason may be seen as an "outsider". That being said, if you examine the record and what the man has done, they should be erecting a statue and naming streets after him, not slowly driving him out of town.
Perhaps the tide is turning with the Gold Rush backfield in place, and a wide-open Big Ten race. I'm behind this team all the way ... that is, all the way to second place in the Big Ten!
Go Bucks!
Rick Lenz
Minneapolis, MN
Rick, spoken like an observer with no Paul Bunyan Axe to grind. Spoken, also, like someone defending a fellow former Buckeye: Mason played and coached for Woody Hayes. I am impressed by Minnesota. If they can win in the Big House on Saturday, I think the rest of the nation may notice the Gophs.
---
I'm disappointed that you would leave Frank Gore and Tyrone Moss out of your list of running back duos in college football. They are gaining big-time yards and carrying the offense despite the fact that teams play the run on almost every down because Brock Berlin is not a passing threat.
Ed Barnhouse
Lynchburg, Va.
Gore and Moss are talented, but they don't strike me as being in the same league as the guys from Minnesota and Auburn, if only because the Miami offense continues to tilt toward the pass. Minnesota and Auburn continue to run first and run often.
---
The latest AP poll demonstrates why humans aren't any better than computers at selecting national champions. The latest polls have Michigan in the top 15 and Purdue in the top 10. At the same time, Notre Dame, who lest we forget has beaten Michigan, never made it into the top 25 and drops from what was essentially number 26 to almost out of the voters minds. Pollsters can't have it both ways. If ND is bad, Purdue shouldn't get such a jump in the ratings for defeating them. By the same token, ND shouldn't be penalized for losing to a legitimate top 10 team. Michigan suffered for losing to ND, struggled the next week against a mid-major, and now is moving back up the polls. Anyone who watched the ND-Purdue game could see that the final score was not indicative of how the game went. Notre Dame's offense showed up and committed just enough errors to allow Purdue to build a big lead early on some big plays and force the Irish out of their game plan. Nine-point-nine times out of ten, if ND puts up offensive numbers like they did on Saturday, they will win the game. Until someone comes up with a better group of people to vote in the polls than coaches, who, let's face it, if they are doing their jobs correctly do not see anything more than the final scores of games involving teams they are voting for, the polls will never truly reflect the real Div I-A landscape.
Thanks,
John Garrett
Vancouver, WA
I will always defend poll voters deciding off of "What have you done for me lately?" Polls are supposed to measure a team's worth that week. That said, if you bring up the victory over Michigan, I can just as easily bring up the loss to BYU. I also disagree with you on the final score not being indicative. Good teams force their opponents to play catchup, get out of their game plan, etc. I think Purdue being 10th is a little high, but not much.
---
Here is a prediction for you that you may not have heard before. The Pac-10 gets two teams in BCS bowls this year. If the Pac-10 runner up has only one or two losses they are going to be picked up by the Rose Bowl if the Pac-10 Champion plays in the Orange Bowl, or the Fiesta Bowl is going to pick the Pac-10 runner up if the Pac-10 champion plays in the Rose Bowl (Especially if ASU is the runner up). It would have happened last year had Washington not upset Washington State in the Apple Cup. Call it a case of West Coast bias.
Alex Hartl
Las Vegas, NV
I like you're thinking, Alex. There's a lot of validity in your what-ifs. But until we see where the BCS Busters end up; until we see what happens to all those Big Ten contenders, until we see just about everything, it's hard to tell. But you've got an idea of how bowl people think. It's all about butts in seats.
---
I have been reading your articles for a couple of years and really enjoy them. I don't always agree with them, but I do always enjoy them. I especially like all of the e-mails from teams who think they don't get any respect (LSU, Ohio State, and yes, even Texas).
My intent of this letter was to respond to a comment written by one of your Sooner fans and some of the media. Please don't dismiss me as an irrational writer yet just because I said Sooner. Mr. Paul Russell wrote that he is more worried about Oklahoma State than he is about Texas because, like some members of the media said as well, Texas struggled against Arkansas. What I would like to point out is that Texas did struggle, but it has a negative connotation on a very positive thing (if you are a Longhorn). Texas beat Arkansas. This is something that the Longhorns haven't done in almost a decade. I would also like to point out that it was done in Fayetteville (where USC, Oklahoma, Georgia, etc. ... could walk in and leave with a loss on any given day). So, yes they struggled, but they did beat a rival that they haven't beaten in a while. Sound familiar?
SO while UT hasn't beaten OU in 4 years, it could be that the young team that we have now, without so many superstars that could get in the way, might be on to something this year. I have tremendous respect for the OU football program. You won't hear too many Longhorns say that. But remember what they say, "Loved by few, hated by many, feared by all!" That said, no disrespect intended, I just wanted to point out how big of an accomplishment (the Arkansas win) was and that I hope the trend continues.
Hook 'em!
Leon Carroll
Anchorage, AK
Leon must be a Texan, because Texans like big things, and he had to go and find himself a state even bigger than Texas.
I admire your loyalty and your optimism, Leon. I agree with you regarding the importance of the victory over Arkansas. I'm not convinced that its meaning will be important Saturday at the Cotton Bowl.
---
The following e-mail is in reference to an e-mail we posted from a Michigan reader last week, complaining that a column I wrote about Wisconsin Matt Bernstein and his decision to observe Yom Kippur and play against Penn State.
I have three points in relation to the letter and the writer thereof who you mocked so thoroughly. First, I should say that I am a college student, and the implied assertion that college students have more growing up to do than, say, anyone else who sends you an e-mail, you generally would not know the names of them, many are probably younger than college age, while having some basis in fact is a rather sweeping generalization and more than a bit repugnant to me.
Secondly, although I am not inclined to believe that the author of that letter was a member of the administration or faculty at his university that possibility should not be ruled out, because students are not the only people with college e-mail accounts.
Lastly, although the tone of the man's letter was undoubtedly meanspirited and the support for his argument undeveloped there are the beginnings of some coherent thought in his letter. This country is supposed to be a secular one and cultural institutions like sports, Seinfeld, and The Simpsons are supposed to bring us together rather than tear us apart, and when sportswriters inject their personal religious views into their coverage of sports it marginalizes atheists, agnostics, and areligious people, who may be just as spiritual as any devout member of any organized religion. These people, myself included, are as passionate sports fans and as good citizens of this country as anyone, and to feel excluded from something we love is not a good feeling at all. An inspirational story in which an athlete jeopardizes his playing career or misses a game to do something truly courageous or benevolent (possible examples: saving people from a burning building or joining the peace corps) would be far more effective in inspiring a broader range of fans. As a sportswriter you should try to touch on our universal values rather than our sectarian ones.
Thank you so much for your coverage. I have thoroughly appreciated it ever since I first saw your name on an ESPN.com byline.
Thomas Silverstein
Springfield, Va
1. Having been a college student once, I am well familiar with the righteousness of their beliefs, no matter how wrongheaded they may be. If that was a professor or administrator, I would be beyond stunned. If that's repugnant to you, then I'll plead guilty to old fartness.
2. I don't think I marginalized anyone. The writer could have promoted agnosticism or anything else without being insulting. I happen to agree that organized religion has fomented many wars. It also brings daily comfort to billions around the world. There must be some good in it.
3. We always hear athletes use religion as a cause or explanation for their actions. We rarely hear of any who put their religion AHEAD of their sport. I think that's inspirational. I don't think that's excluding the sectarian world. By your definition of exclusion, it's a small leap to say that writing about football is demeaning to women, because they are physically incapable of participating. I don't think that's your position. I hope not, anyway.
---
Ok, we'll shut up now. I knew Georgia was better this year, and we weren't as good, but I expected a more competitive game.
Unfortunately, it looks like my preseason prediction is more realistic than the No. 3 ranking we were given: 8 wins and a decent bowl. What do you think?
Jonathan McGowen
Denham Springs, La
Eight wins mean that if the Tigers lose at Florida on Saturday, they will then run the table. I think that's possible, but LSU will have to refocus its goals now. I think there's enough leadership on this team to do that, but they had better start getting better in a hurry.
---
You had an error in your article. Barry Alvarez told Anthony Davis he was most impressed with his 4 yard runs, not 40 yard runs. He was saying that he thought Davis fought for really hard for the short runs so he was more impressed with them than the longer TD runs. Good piece. I enjoy your stuff.
Nick Morikis
Madison, WI
Thanks, Nick. I took the transcription off of the Wisconsin website, but other writers have said "four-yard run," and it makes more sense in that context.
Ivan Maisel is a senior writer for ESPN.com. Send your question/comments to Ivan at ivan.maisel@espn3.com. Your e-mail could be answered in a future Maisel E-mails.
Senior Writer, ESPN.com
ESPN.com senior college football writer
Four-time FWAA award winner
27 seasons covering college football
SPONSORED HEADLINES
MORE COLLEGE FOOTBALL HEADLINES
MOST SENT STORIES ON ESPN.COM
EDITORS' PICKS
No. 22 Utah has the upper hand on Colorado State in the Las Vegas Bowl
Watch

Smaller games are still an important building block.
Ryan McGee »

P.J. Fleck has Western Michigan "rowing the boat."
Fortuna »