Alvarez looks for smooth transition to Bielema
Updated:
July 29, 2005, 10:49 AM ET
By
Ivan Maisel
| ESPN.com
When Barry Alvarez arrived at Wisconsin 15 years ago, he took over the worst program in the Big Ten Conference, if not the nation. The Badgers had won three games in the previous two seasons, running a calcified Veer offense that had been shed years before by other coaches.
When Alvarez announced Thursday that he had decided to retire from coaching after this season, and named defensive coordinator Bret Bielema as his successor, he left one of the best programs in the Big Ten and the nation.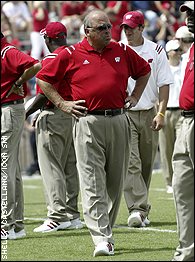 Barry Alvarez will be coaching his final game at Camp Randall Stadium Saturday.
His record of 108-70-4 (.604) doesn't indicate how well Wisconsin has done. The Badgers lost 16 of their first 20 games under Alvarez. By his fourth season (1993), however, Alvarez guided Wisconsin to the 1994 Rose Bowl. At the end of the decade, Wisconsin went to consecutive Rose Bowls (1999, 2000). Alvarez produced a Heisman Trophy winner in tailback Ron Dayne, whose power epitomized the stink-on-stink style that Alvarez prized. He sent a lot more tailbacks and run blockers to the NFL than he ever did quarterbacks.
He tailored that physical style to his new home. "Our hearts and minds will come from Wisconsin," he said when he took over, "but our hands and feet had better come from somewhere else."
And so they did. Dayne came to Madison from New Jersey. The Badgers became a presence there and in Connecticut. The Badgers became a presence in the minds of football fans across the nation, a contender for the Big Ten title on an annual basis.
Alvarez, who will remain as athletics director, gave no public inkling that he had begun to think of coaching retirement. He called a staff meeting Thursday morning, then a team meeting.
"You know what? I have a great guy on staff," Alvarez said of Bielema, who is 35. "I didn't want to lose a year in recruiting."
The Badgers have commitments from eight players, and Alvarez believed that if he waited until January to make an announcement, it would have been too close to the February signing date not to have an effect.
"The only thing that it's changed this year is that Bret will be responsible for recruiting," Alvarez said.
He hired Bielema away from Kansas State before the 2004 season. Bielema had discussed becoming defensive coordinator at Auburn for coach Tommy Tuberville, but decided to go to work for Alvarez. There was no understanding, Alvarez said, that Bielema would be promoted.
"No, I brought him in just to run the defense," Alvarez said.
"I was impressed with Bret, the way he came in last year," he said. "He's very bright. He's got a very good background. He's got a tremendous rapport with the staff and the athletes. I was impressed with how he handled the staff, the older coaches. He's a tremendous recruiter."
Tie goes to the guy in house.
"You think about a lot of other people [as candidates]," Alvarez said. "I had a guy right here. It made it a lot easier to make the decision. Had I not had somebody on the staff, I don't know if I would have been ready."
There will be transition this season, what with the loss of 15 starters. There will be transition next year, when Bielema takes over. By announcing now, Alvarez combined the two. There's a good chance he saved the Badgers a lot of time and angst.
Ivan Maisel is a senior writer for ESPN.com. He can be reached at ivan.maisel@espn3.com.
Senior Writer, ESPN.com
ESPN.com senior college football writer
Five-time FWAA award winner
28 seasons covering college football
EDITORS' PICKS
Spring recruiting dates to know
Story »

What are the 10 burning questions as spring practice kicks off?
Schlabach »

The Texas job provides the best path to the College Football Playoff.
Dinich »
MORE COLLEGE FOOTBALL HEADLINES