Win over OU is nice, but there's still work to do
Texas' win over Oklahoma was sweet revenge for five straight losses, but the Horns still have plenty of work to do.
Updated:
October 11, 2005, 4:40 PM ET
By
Ivan Maisel
| ESPN.com
DALLAS -- All that heartache, all that angst, all that humiliation generated by five straight losses to Oklahoma.
All that hoping, all that dreaming of that day at the Cotton Bowl when Texas would win once again -- all of it came true.
And what a letdown. The No. 2 Longhorns pummeled the Sooners 45-12 in a game with all the competitive drama of election night in Russia.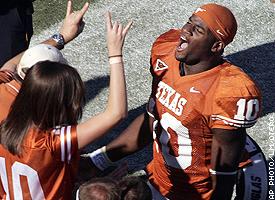 Vince Young and Texas had every right to celebrate the win over Oklahoma, but there's still work to do.
"Dimitri, we are ready to project that Moscow will go to Vladimir Putin with 97 percent of the vote."
Over the last five years, as Texas found new ways to embarrass itself against its Big 12 South rival, Oklahoma loomed higher and higher as the hurdle that the Longhorns had to leap in order to be taken seriously.
You call this a rite of passage? Puh-leez. This win is great news if you want revenge for being the butt of a five-year joke. All the victory Saturday proved is that Texas (5-0, 2-0) is good enough to put the ball on the ground three times, commit 12 penalties and still beat the boomer out of these Sooners.
"I could care less," Texas senior linebacker and defensive leader Aaron Harris said. "Oklahoma wouldn't care."
But beating a mediocre Oklahoma (2-3, 1-1) team despite all those mistakes doesn't get Texas any closer to a return trip to Pasadena, this time to play for the national championship.
As the season approaches the halfway point, and Texas jockeys for position with Virginia Tech, Georgia, Florida State and Alabama in the run for the Rose, the Longhorns have got to understand that great teams don't play well in spite of themselves. They just play well.
Upon Further Review
This is the first season that most major college football conferences instituted instant replay, and while it was almost universally welcomed, the procedures and methods are anything but uniform. While most coaches are proponents of instant replay, several like Bobby Bowden have been frustrated with early-season mistakes. Outside The Lines examines the impact of instant replay on college football. Bob Ley hosts. Sunday, ESPN, 9:30 a.m. ET

This is not about Scrooging the Longhorns out of their celebration. They earned it. Watching a celebration like that is one of the great perks of a press pass. Junior quarterback Vince Young, the hero-philosopher of this team, ran to the east stands, then to the north, then to the west, whooping and hollering and hugging the students and fans who were about six stops past delirium.
"They've been fighting with us since we lost 12-0," said Young, referring to last year's Oklahoma game. "They've been there when we were down 35-7 to Oklahoma State [Texas scored 49 straight points in 2004 to win]. They've been there. They wanted to touch me. I wanted to touch them, too."
Harris, the first Texas player to carry the Golden Hat Trophy up the Cotton Bowl tunnel since 1999, stopped to pose at the request of a photographer. Senior guard Mike Garcia leaned in alongside Harris.
"That's real pretty," said defensive end Eric Hall, watching a few feet away.
After the photographer got her photo, long snapper Nick Schroeder reached in from behind.
"Let me touch it," Schroeder said.
Fifth-year offensive tackle Jonathan Scott said, "I had three things to do: being physical the whole game. Win the game. Put on the Hat."
Mission accomplished. An optimist would say that any team good enough to win this game despite making all of those mistakes must be awful good. An optimist would point to 444 yards of total offense, to the un-rookie-like play of freshman tailback Jamaal Charles (an 80-yard touchdown run), to 12 consecutive victories.
But that's not how football works. There will come a Saturday where the mistakes mount too high to be overcome.
There will come a day when Young fumbles and the ball doesn't hit the heel of one of his offensive linemen and roll right back to him.
There will come a day when the offense coughs up the ball at the Texas 26 and the defense doesn't hold the opponent to a field goal.
There will come a day when the opposing defense intercepts Young, returns to the ball to the Texas 30, and the pick isn't negated by a pass interference penalty that only a striped shirt seems to have seen.
Harris leads a defense that held Oklahoma to 171 total yards, and to not one play over nine yards until the fourth quarter. Asked to assess performance vs. potential, Harris said, "A huge difference.
"We made a lot of bad errors on defense," he said. "Lining up wrong. Simple things you shouldn't be doing. It's exciting to know you didn't play your best and you still did well. It also frustrates you. We had a plan. We executed it most of the time. Not all the time."
Texas coach Mack Brown spoke of the same goal Saturday afternoon that he spoke of in the wee hours in Columbus, Ohio, four weeks ago. His team is focused on getting to Reliant Stadium in Houston for the Big 12 championship game. That is the only postseason game that the Longhorns can guarantee themselves. Anything after that will hinge on how Texas plays there.
That's the appropriate mindset -- one goal at a time. Control what is in your power to control. That's what makes this Texas team a mystery. It is focused on the right goals. But it's sloppy to the point of distraction.
"We're on track to be one of the better teams in the nation," Scott said. "We got to keep working at it. It has been instilled in us that complacency kills. We've got to make sure that we work to get better."
Maybe the best judge of Texas is someone who has played in the last two national championship games. Oklahoma senior offensive lineman Davin Joseph, in his last six games, has lost to USC by 36 and Texas by 33.
"They're very good," Joseph said of the Longhorns. "They've always been a good team. USC plays a different style of ball. Texas has all the potential in the world. Hopefully they'll make a run for it."
Potential. Hopefully. Those are not the words of a team that has arrived. All Texas proved on Saturday is that it has a chance.
And a lot of work to do.
Ivan Maisel is a senior writer at ESPN.com. He can be reached at ivan.maisel@espn3.com.
Senior Writer, ESPN.com
ESPN.com senior college football writer
Five-time FWAA award winner
28 seasons covering college football
EDITORS' PICKS
Expect new CFB Playoff Committee member Bobby Johnson to fit right in.
Low »

Should we have the same expectations for programs with very different budgets?
Haney

Incentives written into contracts can mean millions more.
Low »
MORE COLLEGE FOOTBALL HEADLINES
Nike Men's Oklahoma Sooners Crimson Football Champions Local Attribute T-shirt Shop »

MOST SENT STORIES ON ESPN.COM