Spike that wasn't ends the upset that wasn't
One play would determine No. 1 USC's fate against Notre Dame, and there was no way Matt Leinart and Co. were going to play it safe.
Updated:
October 16, 2005, 1:03 AM ET
By
Ivan Maisel
| ESPN.com
SOUTH BEND, Ind. -- Notre Dame Stadium is in an uproar. The Fighting Irish and their fans have already celebrated their 31-28 upset of No. 1 USC, only to discover that their defense would have to stop the Trojans one more time.
The official stood over the ball, placed on the left hash inside the Notre Dame 1-yard line. There are seven seconds left, and there are 80,795 hearts in 80,795 throats. Even the full moon, brilliantly white, is peeking over the top of the east stands.
There would be no field goal, no overtime. USC coach Pete Carroll had already made that decision. One play would determine whether this would be the end of the Trojans' 27-game winning streak.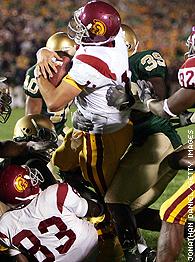 Matt Leinart spun past the Irish to allow USC's winning streak to reach 28 games.
USC senior quarterback Matt Leinart yelled "Clock! Clock! Clock!" That's the signal to his teammates that he will spike the ball. The linemen are instructed to surge forward, in case the defense relaxes, expecting the spike, and then Leinart can choose to sneak it.
Tailback Reggie Bush walked up to Leinart and asked, "You going to go for it or you going to stop the clock?"
"What do you think?" Leinart asked.
"Yeah," Bush said.
Bush could have said no. Carroll could have said no. The official would start the clock before the ball snapped. The safe play would have been to spike the ball, huddle up and call a play. Leinart had no interest in safe.
"I was going to do it anyway," he said.
Leinart took the snap, tried once and spun to his left.
"I didn't know he was going to go for it," USC tackle Winston Justice said. "I kind of felt pressure from behind. I thought, 'He went for it! He's trying to score!'"
Bush had Leinart's back -- literally. A shove from the tailback propelled Leinart to the touchdown that broke Irish hearts around the world.
"Thanks, dude," Leinart told him.
In a rivalry filled with historic moments, there's a new one at the top of the list.
"That will be one I will never forget," Carroll said.
For the record, USC is 6-0 and has won 28 consecutive games. Notre Dame, 4-2, lost to USC for the fourth consecutive year.
For the record, Bush rushed for 160 yards and three touchdowns and finished with 265 all-purpose yards. The Trojans wouldn't have won without him.
As for Leinart, he missed open receivers. For the first time since his sophomore year, Leinart threw two interceptions, including one in the Notre Dame end zone.
"I was off all night," Leinart said. "I don't really know what was wrong."
He looked nothing like the 2004 Heisman Trophy winner -- until USC's last two possessions of the game. Leinart drove the Trojans 80 and 75 yards for touchdowns.
The first drive, which ended in Bush's nine-yard run with 5:09 to play, gave the Trojans a 28-24 lead, and it will never be remembered. The Irish -- perhaps because they held the ball 38:40, and perhaps just because their offense is very, very good -- blew right down the field, 87 yards in eight plays, and took a 31-28 lead with 2:04 to play.
Charlie Weis, the master of the clock, found himself betrayed by it. His team scored too fast. The Irish defense did what it could. Tackle Trevor Laws sacked Leinart on second down, putting him in a third-and-19 at the USC 16. Bush danced for 10 yards. USC called its last timeout.
"Matt Leinart is a cool guy," Trojans right guard Fred Matua said. "It's fourth-and-9. The guy is [in the huddle] just looking at us with that cool smirk."
"There aren't many college quarterbacks," USC offensive coordinator Lane Kiffin said, "who on fourth-and-9 could check the play because of a blitz to the play we got."
| | | |
| --- | --- | --- |
| | " | Matt Leinart is a cool guy. It's fourth-and-9. The guy is [in the huddle] just looking at us with that cool smirk. " |
| | | — USC right guard Fred Matua |
Leinart checked to a three-step drop, with maximum protection, and depended on sophomore Dwayne Jarrett to get past corner Ambrose Wooden. Jarrett raced right past him, and Leinart threaded the ball into his hands. Jarrett took off, and only Wooden's diving stop at the Notre Dame 13 prevented the touchdown.
Two Bush runs moved the ball to the 2, with :23 to play. Out of an empty set, Leinart ran to his left, took a vicious hit from Irish safety Tom Zbikowski and went down at the Irish 1-yard line. Most of the stadium could not see what happened, but they could see the clock tick to 0:00. The students spilled onto the field, just as they have in all the great Irish wins of recent decades.
"I thought we lost," Justice said.
The public address announcer warned the students to clear the field or Notre Dame would be penalized. They scrambled to the sideline.
"It was a little reminiscent of the [1982] Stanford-Cal game," Matua said. "We were standing there all befuddled. We didn't know if we had any time left. You're thinking, 'Man, give us a chance. Give us one shot.'"
What few people in the stadium saw was Zbikowski's helmet propel the ball out of Leinart's arms and out of bounds. The Pacific-10 Conference crew of officials, in their focus on placing the ball in the correct spot, neglected to stop the clock with :07 to play.
"I heard the whistle blow," Leinart said, "and saw the refs signaling that the ball went out of bounds. I wasn't really worried."
"I got a little excited," Zbikowski said, "but it was obviously premature, and I knew another play was coming."
That play, the spike that wasn't a spike, ended the upset that wasn't an upset. USC, the master of the escape, did it again.
"When you're on top," Matua said, "everybody else is trying to grab your ankles.
"You know what? Matt Leinart picked his legs up," he said. "They barely missed."
Ivan Maisel is a senior writer at ESPN.com. He can be reached at ivan.maisel@espn3.com.
Senior Writer, ESPN.com
ESPN.com senior college football writer
Four-time FWAA award winner
27 seasons covering college football
SPONSORED HEADLINES
MORE COLLEGE FOOTBALL HEADLINES
MOST SENT STORIES ON ESPN.COM
EDITORS' PICKS
No code violation

Bowling Green edged South Alabama.
Analysis »

Smaller games are still an important building block.
Ryan McGee »