Back-loaded schedule pays off for Big East
For the members of the Big East, No. 3 West Virginia vs. No. 5 Louisville is more than just a top-five matchup. It's about redemption for the conference, writes Ivan Maisel.
Updated:
November 2, 2006, 10:58 AM ET
By
Ivan Maisel
| ESPN.com
On Wednesday morning, Louisville athletic director Tom Jurich sounded like a kid at Christmas.
"It's finally here," he said.
It, in Jurich's mind, is the game between No. 3 West Virginia and No. 5 Louisville at Papa John's Cardinal Stadium on Thursday night. Both teams are 7-0 and 2-0 in the Big East.
It also means more. For the members of the Big East written off after the departures of Boston College, Miami and Virginia Tech, there is redemption in the game Thursday night.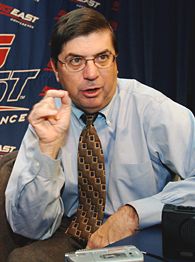 Henny Ray Abrams/AP PhotoNo. 3 WVU vs. No. 5 Louisville's has commissioner Mike Tranghese and the entire Big East smiling.
"It's great for the league. That's who I'm happiest for," Jurich said. "[Commissioner] Mike Tranghese was taking cheap shots, particularly from the Mountain West Conference. They tried to rip down this league."
The Big East held onto its automatic BCS berth, and now it begins November with two teams still in contention for the BCS championship game.
"There's a feeling of gratefulness," West Virginia athletic director Ed Pastilong said. "We feel like we have weathered the storm."
The game will be the second top-five matchup between Big East teams in conference history. The first, in 2000, featured Virginia Tech and Miami. The Big East members are trying not to revel in the fact that when the No. 23 Hokies (6-2) play the Hurricanes (5-3) on this of all Saturdays, only one of them will be ranked.
"This league is committed to excellence," Jurich said. "It was hard to tell people that two years ago."
Two things have paid off for the Big East. Both West Virginia, with its spread that features running quarterbacks, and Louisville, which has spread the field and been as effective running the ball as throwing, utilize offenses that are distinctive. Cardinals coach Bobby Petrino has been pursued famously (or infamously) by teams as varied as Auburn and the Oakland Raiders. Mountaineers coach Rich Rodriguez's name has surfaced as recently as this week regarding North Carolina.
"People like to follow us because we're a bit unique," Pastilong said. "I know football is blocking and tackling. There's a little different flavor here. When you have a quarterback [Pat White] and a running back [Steve Slaton] that can both go the distance on any play, [that's attractive]."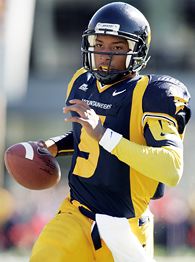 Jeff Fishbein/WireImage.comPat White's running is part of the Big East's distinctive flavor.
The other payoff is the gamble by the Big East to "back load" the conference's best games into the final month of the season. The league worked with ESPN to schedule this game on a Thursday, Louisville at Rutgers next Thursday, and Rutgers at West Virginia on Saturday, Dec. 2 -- or, as it is better known, Championship Saturday.
Did we mention that Rutgers is 8-0 and ranked No. 15? This is the first time since the SEC in 1971 that a league has reached November with three unbeaten teams.
"I thought back loading was great," Jurich said. "We needed to showcase our teams. I'm sure there are some coaches who disagree."
It would be silly to say that anyone in the league knew that West Virginia, Louisville and Rutgers would start out this way. But the league put its best schools in the best position to take advantage of a fast start. As a result, the Big East has reaped a publicity bonanza. It may be better to be lucky than good. But luck had little to do with the conference's being ready to take advantage of its fast start.
There is grumbling among fans of other conferences that the Big East has rebuilt itself on the shaky foundation of manipulated schedules and weak nonconference opponents. That won't be determined for another five weeks. West Virginia's only nonconference opponent with a winning record is Maryland (6-2), against whom the Mountaineers built a 28-0 first-quarter lead and cruised to a 45-24 victory.
The league has encouraged its schools to take advantage of having only seven conference games and build strong nonconference opponents into their schedules. Louisville has completed deals with Utah and North Carolina State and is talking to Kansas, Georgia, LSU and Miami. West Virginia's future schedules include Auburn, Maryland, Florida State and Michigan State.
But that's not about this season, or about Thursday night, when the Big East will enjoy the good publicity that has come so quickly after two years of bad.
"It was so strategic, and the timing so fortunate," Pastilong said of this game's being scheduled for Thursday night. "Now we can rebuild for the future. Things are in pretty good shape."
Ivan Maisel is a senior writer for ESPN.com. Send your questions and comments to Ivan at ivan.maisel@espn3.com.
Senior Writer, ESPN.com
ESPN.com senior college football writer
Four-time FWAA award winner
27 seasons covering college football
SPONSORED HEADLINES
MORE COLLEGE FOOTBALL HEADLINES
MOST SENT STORIES ON ESPN.COM
West Virginia-Louisville
Undefeated teams. BCS championship implications. National media attention. Not what you'd expect from Big East football? Guess again. No. 5 Louisville beat No. 3 West Virginia on Thursday to stay in the hunt for the national title.
Louisville 44, West Virginia 34:
• Louisville slugs West Virginia
• Forde: Destiny's child delivers
• Maisel: 'Neer disaster strikes

Motion:
• Cards trump Mountaineers

• How high will Louisville climb?
Preview content:
• Forde: WVU, Louisville share unlikely spotlight
• Maisel: Big East bonanza
• Fowler: Horse of a different color

• Tale of the Tape: West Virginia-Louisville
• Scouts Inc.: Both sides of ball on display

• Preview: Ready for national (title) spotlight
• Starkey: Is defense key?
• SportsNation: Weigh in on WVU-Louisville

Motion:
• EA Sports preview

• Will West Virginia survive unscated?
Nike Youth West Virginia Mountaineers Gold #8 Football Game Jersey Shop »