Wake's Grobe unparalleled in coaching
Updated:
November 5, 2006, 2:52 AM ET
By
Ivan Maisel
| ESPN.com
WINSTON-SALEM, N.C. -- When it's time for the fantasy draft of college football coaches, I've got my guy. Let me draft last. What do I care? After everyone rushes to grab the Pete Carrolls and the Jim Tressels, after the other teams trade up to pick the Mack Browns and the Bob Stoops, I'll get the best coach that no one knows.
Fight over the national championship coaches all you want. Riddle me this: find another coach who could take Wake Forest to an 8-1 record. That's right -- Wake Forest, a program that has gone 1-for-53 in possible Atlantic Coast Conference championships. Forget league titles. The Demon Deacons have gone 18 years since they had a winning record in conference play.
Yet here they are, 8-1 after the 21-14 victory over No. 16 Boston College on Saturday night. Wake Forest, which surely will move up from No. 22 in the rankings, is tied with Maryland for the lead in the ACC Atlantic at 4-1.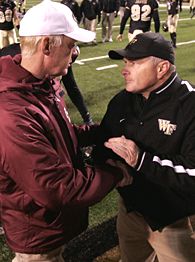 James Lang-US PRESSWIREJim Grobe, right, is on the verge of doing what no coach in Wake Forest history has done: win more than eight games.
Oh, it gets better. Don't try to figure out how the Deacs have gotten to 8-1 by analyzing statistics. It only makes your head hurt. Six teams have outgained Wake Forest. Five of them lost.
Boston College quarterback Matt Ryan set an opponent record for completions (40). He threw for a career-high 402 yards. The Eagles finished with 430 yards of total offense. The Deacs finished with 280. The Eagles lost.
And, here's the finisher: Wake Forest lost its starting quarterback Benjamin Mauk, in the season opener, and its best tailback, Micah Andrews, a preseason all-conference selection, in the third game of the season. The Deacs are so thin at tailback that wide receiver Kenneth Moore, who didn't take snaps in the backfield until this week, started Saturday night.
And yet Wake Forest is 8-1. The reason is a compact man with a warm smile and a plain manner of speaking. Jim Grobe is not going to one-liner his way into a post-coaching TV gig. He doesn't have his own unique offense the way that Rich Rodriguez does at West Virginia. Grobe is not considered a defensive wizard the way that Carroll is at USC.
Don't look for him at the top of the career winning percentage list. The victory Saturday night raised his career record to 67-66-1. It's the first time Grobe has been above .500 in two years.
But he's been driving off-the-lot stock in NASCAR races his entire career. He made a winner out of Ohio U in the 1990s, and now he has made a winner out of Wake Forest, the next-to-smallest school (4,037 undergraduates) in Division I-A. Not that Wake is small, but you take the whole school and tuck it into a corner of the Texas' Forty Acres and no one would notice.
"You just know he cares about you. It's easy to play for someone like that, someone you respect, someone you like. When he speaks to us, it's like a fatherly love. He really cares about players. Not all coaches are like that."
-- Senior Patrick Ghee on coach Jim Grobe
The same goes for Groves Stadium which is not even one-third the size of the Big House. Wake's fans are loyal but they are small in number. The announced crowd of 32,633, while larger than the announced capacity of 31,500, didn't fill every seat. Grobe loved it anyway. He spoke excitedly after the game about how great it was to have the fans arrive at Groves Stadium in time to see the team in pre-game warmups.
Wake Forest has gone 8-1 once before -- in 1944, when there was a war on. It's hardly been a coaching graveyard. Peahead Walker, Cal Stoll, John Mackovic, Al Groh, Bill Dooley have all coached the Deacs, which just goes to prove how tough it is to win here.
All of them are respected coaches, and none of them ever won more than eight games at Wake. No one has ever won more than eight games. Grobe has won eight games and he's got four chances to win a ninth.
Grobe brushed off one question about how Wake Forest can win when the other team gains more yards. But when pressed, he tried to explain.
"We've played pretty good special teams, we've played pretty good defense most of the time, and offensively we've taken care of the football. Typically when you do that, you're going to end up in the fourth quarter with a chance. What's happened is we've ended up in the fourth quarter with a chance a lot, and we've found a way to get it done. We've got a lot of fourth- and fifth-year guys."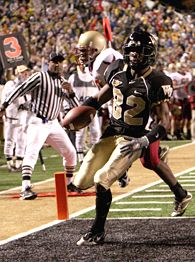 James Lang-US PRESSWIRE Once unthinkable, Wake Forest controls its own destiny to reach a BCS bowl game.
That makes some sense on an x-and-o level. But there's something else at work. You have to see Wake play to understand it.
"We do film exchanges," Wake Forest defensive coordinator Dean Hood said after the game. "We play somebody non-league. Everybody from that league calls. The thing they always say is, 'How do you get those kids to play so hard?' They want a drill or some kind of Vince Lombardi speech. Our kids play hard because they know the head coach cares about them. Period. End of story."
Fifth-year senior Patrick Ghee planned to go to Stanford to play for Ty Willingham. He changed his mind when he met Jim Grobe.
"You just know he cares about you," Ghee said. "It's easy to play for someone like that, someone you respect, someone you like. When he speaks to us, it's like a fatherly love. He really cares about players. Not all coaches are like that. A lot of them are like, 'This is my job. We're going to win and I don't care what the cost is.' Coach Grobe cares about the person first, and about your character, more than he does about what happens in the game."
Doubt Wake Forest if you must. The Demon Deacons play next Saturday night at Florida State. Maryland, their ACC Atlantic co-leader, awaits on Nov. 25. Wake may not get to the ACC Championship Game. Wake may not get to nine wins. Nothing is guaranteed. But the secret about Jim Grobe is about to get out.
Ivan Maisel is a senior writer for ESPN.com. Send your questions and comments to Ivan at ivan.maisel@espn3.com.
Senior Writer, ESPN.com
ESPN.com senior college football writer
Five-time FWAA award winner
28 seasons covering college football
EDITORS' PICKS
Is Jameis Winston still the top pick? Here's how the combine impacted Todd McShay's first-round outlook.
Mock 3.0

These five 2016 QBs could start from Day 1.
Hamilton

Boise State leads the list of top Group of 5 jobs.
Low »
MORE COLLEGE FOOTBALL HEADLINES