Entire team introduced to Shannon's brand of discipline
Updated:
April 13, 2007, 4:34 PM ET
By
Ivan Maisel
| ESPN.com
CORAL GABLES, Fla. -- Randy Shannon has spent nearly his entire adult life either playing on or coaching the Miami Hurricanes' defense. He has won a national championship ring as a starting linebacker (1987), a graduate assistant (1991) and a coordinator (2001) of that defense.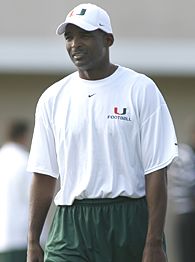 JC Ridley/WireImage.comRandy Shannon will be focused on the Miami defense and offense in 2007.
Shannon immersed himself in his defense. His small assistant's office served as the unofficial clubhouse.
"That was the thing," Miami wide receiver Lance Leggett said. "The defense had that relationship. You go to his office, you'd see like 15 people in that room. The offense was split up."
Shannon's ability as a coach and his relationship with his players ranked high among the reasons that Miami, having fired head coach Larry Coker, promoted an assistant off of Coker's staff (try to recall the last time any school did that).
But the truth is, Shannon had that relationship with just half the team -- his defense.
Shannon's "move" to his new job didn't include a call to Mayflower. But for half of the team, Shannon has been doing what most new head coaches are forced to do: hiring assistants, learning his players' skills on the field and their personalities off of it.
Meet the new coach. Same as the old coach, sort of.
"I'm the same guy," Shannon said. "I'm not going to change. The only thing I'm doing, I'm embracing the whole team instead of just the defense. The defensive players know what the expectations are. They know how I am as a coach. The offensive guys have got to learn that."
Q&A with Randy Shannon

Want to read more on Shannon? ESPN The Magazine's Bruce Feldman had a chance to sit down for a Q&A. Story

Shannon introduced the entire team to his brand of discipline: If a player fails to maintain a 2.5 grade-point average, he must live on campus. If Shannon's phone rings after midnight about any player, that player doesn't play the next game. Hats may not be worn inside the football building or at team meals.
It comes down to this: Do what you're supposed to do.
"Sean Taylor came late one day to meeting," Shannon said of his 2003 All-American safety. "Everybody on defense knew this: If you come late to meetings, you just got demoted. No questions asked. If you miss meetings, late, whatever: If you're first team, you go to second; second team, to third; third team, you probably won't travel. They knew that.
"I came to practice. Sean came out, put the guy behind him in front of him and Sean went back to second team. Never said a word. He knew what was expected because he wasn't better than nobody on the team. He was just like everybody else.
"We played the game that week. He was ranting and raving, high-fiving the guys, yelling, 'Keep going! Keep going!' and then we played Sean in the second quarter. That's when you know you can create a good atmosphere, when you got guys, when they do wrong, accept it, move on and get the other guy to do better than what he's doing."
The offensive players learned Shannon's laws without incident.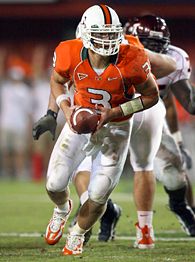 Doug Benc/Getty ImagesAll eyes will be focused on Kyle Wright and the Miami offense in 2007.
"At first everybody was kind of shocked," tight end
Chris Zellner
said. "But coach Shannon has that presence about him. You don't want to test it, so everybody's gon' do what they have to do."
"They learned real fast," defensive end Calais Campbell said of his offensive teammates. "Coach Shannon is real tough on you. You make a mistake, he'll rip you for it. If you do good, he'll praise you for it. They learn real fast you don't want to get in the doghouse."
Leggett noticed the difference in team meetings.
"Last year, you'd still see people laying back in their chairs," he said. "Now, it's more like you're in the Army. Coach Shannon never said anything about it. Everybody just gives him respect."
The other half of being in charge of the offense is figuring out what kind of offense to run. All Shannon knew is that he wanted it better than last year. Miami finished 87th in both total (313.46 yards per game) and scoring offense (19.62). The latter figure finished last among teams with winning records.
Most new prospective head coaches say that they walk into their job interviews with a list of the assistants who will come with them. Shannon had no preconceived notions. He never had spoken to Patrick Nix, the offensive coordinator at Georgia Tech under Chan Gailey, until calling him to gauge his interest in coming to Miami.
Shannon admired Nix's moves in their annual chess game. The Yellow Jackets had beaten the Hurricanes the last two seasons, and Shannon noticed how Nix seemed to get his strongest players lined up against Shannon's weakest. He also liked how, after Georgia Tech starting quarterback Reggie Ball became academically ineligible for the 2007 Gator Bowl, Nix prepared backup Taylor Bennett well enough that the Yellow Jackets scored 35 points against West Virginia.
"That's kind of hard to do," Shannon said.
Nix said that the offense had scored as many as four touchdowns a scrimmage against the Miami defense during the spring. However, in the spring game April 7, quarterbacks Kyle Wright and Kirby Freeman combined to lead their units to a total of seven points. Nix said one of his primary goals has been to rebuild the mental toughness for which Miami has been known.
"They do seem a little fragile at times," Nix said of his offense. "It's been a really good spring. … It's going to be a process. It's going to be a long process of building that confidence and having that attitude. I do think we're heading in that direction. That's encouraging. We've got to keep pounding that into them and they'll believe it. They are good. We've got some very good talent. We have some depth issues. We have talent. If these guys just believe in themselves, we can do some good things."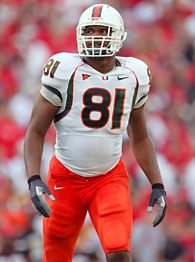 Jamie Squire/Getty ImagesCalais Campbell picked up 10½ sacks for the Canes last season.
Those are the skills that Shannon has employed throughout his career. Most new head coaches bemoan the lack of coaching they do in their new job. Shannon insists that he can swallow the new job before it swallows him.
He is not swayed by the trappings of being a head coach. He barely has occupied his new, larger office. There are plenty of Miami trophies strewn about -- bowls, national championships, player awards -- but virtually no personal touches.
There is, however, room for more players to hang out. They still come by. Some might make only a quick stop at the never-empty candy dish on the desk of Myrna Schneider, Shannon's administrative assistant. Others wander in to talk or watch video.
And yes, some of them even from the offense.
Campbell, who emerged last season to make 10.5 sacks and another 10 tackles for loss, said he has seen a difference in the offense.
"I feel like they have to compete more with each other for positions," he said. "They're playing a lot harder. You always play hard but I feel like you look at film and they've brought it up another notch."
The Miami offense will need another couple of notches to catch up to its defense. Shannon's ability to make the leap from outstanding coordinator to outstanding head coach will depend on it.
Ivan Maisel is a senior writer for ESPN.com. Send your questions and comments to Ivan at ivan.maisel@espn3.com.
Senior Writer, ESPN.com
ESPN.com senior college football writer
Five-time FWAA award winner
28 seasons covering college football
EDITORS' PICKS
Bold predictions heading into spring.
Miller »

These 10 teams need a big spring in recruiting.
Hamilton

The 10 redshirt freshmen to know this spring.
Tom Luginbill
MORE COLLEGE FOOTBALL HEADLINES

MOST SENT STORIES ON ESPN.COM