Commentary
Anticipation high as freshmen report to Auburn
Originally Published:
August 1, 2007
By
Ivan Maisel
| ESPN.com
AUBURN, Ala. -- In the old days, before freshmen began enrolling in summer school, Auburn coach Tommy Tuberville viewed reporting day as Christmas come early.
"You recruit these guys for three or four years, you sign them [in February] and then you didn't see them," Tuberville said. "They would come in and you would see the smiles on their faces. Their parents came with them. The kids had finally made it."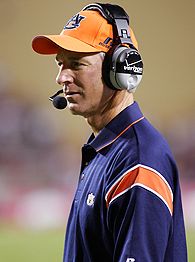 Nelson Chenault/US PresswireAuburn coachTommy Tuberville always looks forward to the day he starts working with the freshmen.
Tuberville sat at the round table he uses as a desk in his office at 8:30 a.m. Wednesday, the day the Tigers reported for the 2007 season. The buzz isn't what it used to be. Mama didn't show up at Auburn on Wednesday, tears in her eyes as she kissed her 300-pound baby goodbye. NCAA rules allow scholarship freshmen to enroll in summer school and work out under the supervision of the strength coach. But anticipation is heightened nonetheless.
"It's exciting because you can start working with them," Tuberville said.
The players used to arrive in August and quickly were overwhelmed by classes, the demands of their coaches and the demands of college.
"I remember being nervous and scared and anxious," Auburn defensive coordinator Will Muschamp, who signed with Georgia in 1991, said. "It's the first time you're away from home. It's the first time you're away from mama, the first time you're away from your girlfriend. There are a lot of intangible things they are going through."
Added offensive coordinator Al Borges, "At UCLA, we called it the I-5 stare," referring to the interstate that runs the length of the West Coast. "Before you knew it, they were on I-5, blowing out of town. It's better now. They get their feet wet."
Twenty-six Tigers freshmen -- scholarship players and walk-ons -- reported Wednesday. The scholarship players have been on campus since June, participating in voluntary workouts under strength coach Kevin Yoxall and in informal practice sessions run by the upperclassmen. The walk-ons reported to the equipment room at 1 p.m.
Tuberville's staff meeting Wednesday, scheduled for 9 a.m., started closer to 9:30. Trainer Arnold Gamber went over a short list of injured players -- a team is never healthier than on reporting day -- and Yoxall gave his opinion on several players and how they have performed in the weight room over the summer.
"Everybody's fine with what position they're playing?" Tuberville asked his staff of the freshmen. Murmurs of assent followed. Tuberville looked to Borges, sitting at his right elbow.
"Kodi Burns is not going to defensive back, is he?" Tuberville asked.
Burns is the freshman all-star quarterback from Fort Smith, Ark., and Borges blanches at the thought.
"We told him he would play quarterback," Tuberville said, continuing his teasing. "We just didn't say how long."
With senior Brandon Cox backed up by junior Blake Field, the Tigers are set at quarterback for the near future.
"He can make stuff happen," Borges said later. "The kid can run and he can pass. We'll see how good a passer he is. He's got a big-time arm."
The coaches began discussing Tuberville's 4:30 p.m. meeting with the freshmen. In this age of lawyers and forms, the players must go into the meeting and wade through 58 pages of paperwork ranging from the Summary of NCAA Regulations to the NCAA Drug-Testing Consent to the Southeastern Conference Compliance Program Automobile Registration form to the Auburn University Student-Athlete Sportsmanship Statement and Code of Conduct.
If all the legalese and questions on the 15 different forms -- "Describe source of funds for making monthly [car] payments" -- didn't make you want to go out and knock someone on his butt, it's hard to imagine what would.
There's one big difference, though: All of a sudden, the players against whom these prized freshmen will line up can be four years older and stronger. That's where football equipment manager Jim Vanzandt comes in to protect them.
Vanzandt measured the scholarship freshmen over the summer for their helmet and pad sizes. He measured the invited walk-ons on Wednesday. Many freshmen don't realize he knows what he is doing.
"In high school, their pads didn't fit them," said Vanzandt, who has been working at Auburn since 2002. "They managed to protect themselves by being bigger and faster. Your helmet should fit tighter than they're used to and their shoulder pads should be tighter. Some of the defensive linemen will literally get their helmets slapped off their heads. They've never been slapped by somebody this big and fast."
Last August, Vanzandt said, freshman defensive lineman Byron Isom insisted on wearing a large helmet instead of a medium. It took one play against senior center Ben Grubbs, who became a first-round pick of the Baltimore Ravens, for the face mask of Isom's large helmet to get shoved into his face. Isom wound up with a scraped nose and lips and got a medium helmet after practice.
When the freshmen report to the equipment room on the bottom floor, Vanzandt issues each player his Under Armour practice gear: jersey, tight T-shirt, shorts, five-pad girdle, socks and gloves.
After the meeting and the paperwork, the freshmen go through a 5:30 p.m. media conference before they get their initiation into one of the great perks of their scholarship -- the training-table meals at Sewell Hall. After dinner will come eye and dental exams, and then a 10:30 p.m. curfew.
Wake-up call is at 6 a.m. Thursday. The freshmen will practice separately from the upperclassmen. Their collegiate careers will have begun.
Ivan Maisel is a senior writer for ESPN.com. Send your questions and comments to Ivan at ivan.maisel@espn3.com
.
Senior Writer, ESPN.com
ESPN.com senior college football writer
Five-time FWAA award winner
28 seasons covering college football
2007 College Football Preview
The long wait for the start of the 2007 college football season is finally over. Get ready for the season with an in-depth look at the teams, trends, players and coaches. Index

Features
• Forde: Arkansas' favorite son also rising
• Forde: Welcome to Trickeration Nation
• Albright: Glanville has Portland State all shook up
• Maisel: Boise State part of quiet revolution
• Edwards: BCS system needs update


• Forde: QBs face burden of proof in '07
• Schlabach: Biggest shoes to fill this season
• Maisel: (Southern) State of the Game
• Schlabach: Hot or Not for 2007
Awards Watch
•
Ivan Maisel's preseason All-America team
•
Heisman Watch: Voters go Hog wild
•
SportsNation: Rank the Heisman contenders
Fearless Forecasts
•
Experts: Conference title projections
•
Maisel/Schlabach: Bowl predictions
•
McShay: Don't sleep on these teams

•
Games to watch:
National
|
Conference
Campus Confidential
•
Forde: Woodson stepping out of the shadow
•
Schlabach: Shhhh! Uncovering 2007's secrets
•
McShay: Seven secrets from the film room

•
Feldman: Saturday's secret agents revealed
•
EA Sports: Trick play simulations
•
Arkansas: Wildhog formation
•
Boise State: Statue of Liberty
•
LSU: Flea flicker
•
Texas: Wide receiver pass
•
USC: Halfback pass
ACC Features
•
Schlabach: ACC needs quality Miami, FSU
•
Schlabach: Wright, Freeman still battling at Miami
•
Schlabach: Wake sets bar high for encore
•
Schlabach: Five ACC predictions
Big East Features
•
Maisel: What's next for the Big East?
•
Maisel: USF's QB exudes old school cool
•
Maisel: Five Big East predictions
Big Ten Features
•
Schlabach: Michigan seniors return on a mission
•
Schlabach: Downsized Hill means supersized play
•
Schlabach: Big Ten at the crossroads
•
Schlabach: Five Big Ten predictions
Pac-10 Features
•
Forde: Now is the time for UCLA
•
Forde: Five Pac-10 predictions
•
Maisel: After long wait, Turner ready for stardom
•
Maisel: Ten Little Trojans running backs
•
Feldman: DeSean Jackson's born identity

SEC Features
•
Maisel: Saban snapshot reveals double feature
•
Higgins: Spurrier, Gamecocks thinking big
•
Schlabach: SEC balance of power shifts East
•
Schlabach: Five SEC predictions
Coaching Corner
•
Schlabach: Coaches on the hot seat
•
Schlabach: Rise of the assistants
•
McShay: Assistant coaches on the rise

•
McShay: Position coaches who deliver

Rule Changes
•
Kickoffs, timing rules highlight changes
•
McShay: Changes put premium on specialists

•
College Football Live: Impact of kickoff rule

•
Joe Tiller: Kickoff changes raise safety issues

•
College Football Live: Matter of time

Campus Call
ESPN.com will hit eight practice sessions to get an early pulse on the season. Check out what's happening on campus.
•
Aug. 7:
Gators looking for bite on D
•
Aug. 6:
ND's Weis plays respect card
|
McKnight makes USC debut
•
Aug. 5: Brown resolute in face of Texas' troubles
•
Aug. 4: WVU has speed to burn
•
Aug. 3: Taylor made Jacket
•
Aug. 2: Hokies begin road back to normalcy
•
Aug. 1: Report day is still a thrill for Tuberville
MORE COLLEGE FOOTBALL HEADLINES