Commentary
Ducks don't have to worry about being No. 2 anymore
Originally Published:
November 15, 2007
By
Ivan Maisel
| ESPN.com
TUCSON, Ariz. -- If I'm Kansas coach Mark Mangino, I don't wait for the BCS to release its rankings on Sunday night. I learn from history.
I wake up Friday morning, and I pull a Calvin Coolidge. I release a statement saying, "I do not choose to run for No. 2 in 2007."
I pull a Lyndon Johnson: "I shall not seek, and I will not accept, the nomination of the polls, Jeff Sagarin and those other computer guys, for a term as the No. 2 team in the nation."
It could be Coolidge. It could be LBJ. It could be LL Cool J. Whatever Mangino has to say, he needs to let everyone know that No. 3 Kansas does not care to be No. 2.
Ask the Oregon Ducks, the No. 2 team stunned at Arizona, 34-24, on Thursday night. Oregon is the the fifth No. 2 team to go down to an unranked opponent in seven weeks, and none of the previous four (USC, California, South Florida, Boston College) went down as hard. The Ducks lost not only the game. They may have lost the leading Heisman Trophy candidate, quarterback Dennis Dixon, for the rest of the season.
Dixon aggravated the left knee he sprained late in the 35-23 victory over Arizona State on Nov. 3. The senior, in attempting to juke Wildcat linebacker Dane Krogstad, simply crumpled, despite wearing a brace. His foot, he said, caught in the grass.
[+] Enlarge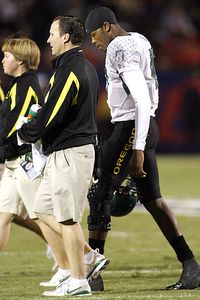 AP Photo/John MillerOregon's season took a turn when Dennis Dixon was lost with a knee injury.
"I think he's probably done for the year," coach Mike Bellotti said after the game. "That would be my guess. … I don't know the degree [of the injury]. I haven't talked to them [the doctors] completely. I think there's some instability in the knee joint, which again, he went out there and felt something shift, and that obviously points to something more serious."
Bellotti added, "It's obviously not a happy deal."
Dixon, who watched the second half in a warmup suit and a knit cap, refused to believe his season is over. He is expected to undergo an MRI in Eugene on Friday.
"The doctors haven't really told me anything. We'll know everything tomorrow," Dixon said. "… Hopefully it is not that case. If it comes down to it, it's going to be kind of hard for me to swallow that."
Arizona (5-6, 4-4), which defeated a ranked team in November for the fourth consecutive season, kept its hopes for a bowl alive.
"It is nice to show what kind of team we have at Arizona," coach Mike Stoops said.
For five minutes and change Thursday night, Oregon (8-2, 5-2) looked like a team that embraced the talk of a national championship. The Ducks took the opening kickoff and went 70 yards in seven plays. Dixon gained the last 39 on a fourth-and-three touchdown run, sailing untouched through the Wildcat defense.
After the touchdown, offensive coordinator Chip Kelly sent a message to Arizona, going for two and scoring easily on a direct snap to tight end Ed Dickson. Oregon led, 8-0. On the possession after the touchdown came the foreboding, the shot in the movie that alerts the audience to impending disaster. In four plays, Dixon moved Oregon from its 43 to the Arizona 4. On first-and-goal, he threw into the left side of the end zone to a wide-open Derrick Jones. When Jones caught it, Oregon would lead, 15-0. Shoot, maybe 16-0.
The Ducks are still waiting. The ball clanged off Jones' hands and into the air. Arizona free safety Nate Ness gathered it in and took the ball to the Arizona 45.
The Wildcats quickly scored to pull within 8-7, and Dixon came right back, driving the Ducks into the red zone again. Oregon had the ball on the Arizona 15 when Dixon injured himself.
Asked what happened, Dixon said, "My foot got caught in the grass, that's all."
If a majority of Heisman voters believe a player's value to a great team is worthy of a vote, then Dixon justified his candidacy. Without him, the Oregon offense went dormant. Before he crumpled, losing five yards, Oregon had gained 183 yards on 19 plays.
By the 11:34 mark of the second quarter, when Dixon finished icing his knee and limped toward the visiting locker room, the Ducks trailed, 24-11.
[+] Enlarge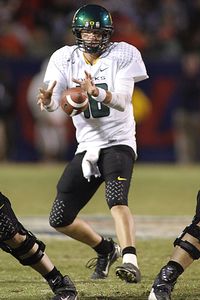 AP Photo/John MillerBrady Leaf's third pass was intercepted and returned for a TD.
Dixon's backup, Brady Leaf, hasn't made the same connection to Kelly's offense. He played as if he were speaking football as a second language. Remember Dixon and his 183 yards? Leaf, on 33 first-half snaps, gained 107 yards.
On Leaf's third pass, he threw to wide receiver Garren Strong without noticing cornerback Antoine Cason lurking behind. Cason had baited a rusty quarterback, and Leaf fell for it. Cason stepped around Strong, picked off the pass and sprinted 42 yards for the touchdown.
Arizona led, 17-11, with 14:45 left in the second quarter. Mark it down, because it was the first time that Oregon trailed since California scored with 3:11 to play to go ahead for good, 31-24, on Sept. 29.
It was the last time Oregon held the lead Thursday night.
As Leaf and the Ducks piled up three-and-outs, Arizona scored two more touchdowns in the second quarter: a 46-yard touchdown from Willie Tuitama to Mike Thomas, and another brilliant score by Cason, this a 56-yard punt return. The Wildcats led, 31-11, with 5:30 left in the first half.
Oregon clamped down, and Leaf, despite turning an ankle early in the third quarter, played adequately in the second half. The Ducks even closed within 31-24 midway through the fourth quarter, but didn't get past the Arizona 49 again.
Bellotti adamantly refused to discuss the national championship race in recent weeks. Now we know why. "If your team figures the only game they're playing for is the national championship, then you lose that opportunity, what is their response going to be?" Bellotti said. "So our philosophy all along has been one game at a time. It has really never been the national championship. It has been, let's win this game. Let's stay in the conference race. By the way, we'll also be in the other one."
Oregon is very much in the conference race, tied with USC, a game behind Arizona State. However, the Ducks have beaten both teams. If the Trojans beat the Sun Devils on Thanksgiving night, or the Wildcats beat them on Dec. 1, then the Ducks can win out and go to the Rose Bowl.
Best of all, they don't have to worry about being No. 2.
Ivan Maisel is a senior writer for ESPN.com. Send your questions and comments to Ivan at ivan.maisel@espn3.com.
Senior Writer, ESPN.com
ESPN.com senior college football writer
Four-time FWAA award winner
27 seasons covering college football
SPONSORED HEADLINES
MORE COLLEGE FOOTBALL HEADLINES
MOST SENT STORIES ON ESPN.COM
EDITORS' PICKS
Can Boston College take down Penn State?
Watch

Nebraska hopes to beat USC and end 2014 on a high note.
Sherman »

Two-time COY