Commentary
Oregon's speed, space a lethal combo
Originally Published:
October 27, 2010
By
Ivan Maisel
| ESPN.com
No. 2 Oregon isn't the first unconventional offense to post offensive numbers on steroids. Two decades ago, Houston used the run-and-shoot to grab victories, headlines and, in the case of quarterback Andre Ware, the 1989 Heisman. In the past decade, coach Mike Leach of Texas Tech spread the field and, if the scoreboard is any measure, confirmed that 50 is the new 30.
But there's a different feel about coach Chip Kelly's Oregon Ducks. The statistics are similar. They are first in the nation in total offense with 569.1 yards per game. They are first in scoring offense with 55.1 points per game. However, unlike the Texas Techs and Houstons that ran into problems against teams with superior athletes, Oregon puts up big numbers regardless of the opposition.
[+] Enlarge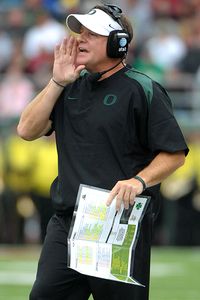 Kirby Lee/Image of Sport/US PresswireChip Kelly has taken the spread offense to a new level.
The Ducks have scored at least 42 points in each of their seven victories this season. Under Kelly, they are 17-3 (12-1 in the Pacific-10 Conference). As Oregon prepares to play USC (5-2), it just may be that the Ducks are changing the way the sport is played.
Kelly didn't bring the spread option to the Ducks. Former coach Mike Bellotti installed it in 2005 after seeing Northwestern gash fellow Pac-10 school Arizona State for 235 rushing yards the year before.
But Kelly has done with the spread option what Bill Walsh did with the West Coast offense. He took someone else's idea and remade it into his own. As Tim Layden wrote in "Blood, Sweat and Chalk," Walsh seized Sid Gillman's vertical passing game and turned it 90 degrees. He found holes in the defense by attacking it from sideline to sideline.
Kelly took the spread option Bellotti imported from Northwestern and ratchetted up the tempo. Oregon will snap the ball with as many as 25 seconds remaining on the 40-second play clock. It might be the greatest marriage since chocolate and peanut butter. It's not just the space the spread option creates. It's not just the speed at which the Ducks operate. The sum is greater than the parts.
"It's a race to run the next play with them," Tennessee defensive coordinator Justin Wilcox said Tuesday.
Wilcox, 33, played at Oregon from 1995 to '99. As the defensive coordinator at Boise State the past four seasons, his Broncos went 2-0 against the Ducks. In the season opener a year ago, Boise State held Oregon without a first down in the first half and won 19-8. In Kelly's 20 games as head coach, only one other team has held Oregon to fewer than 24 points.
This season, Oregon scored 35 points in the second half at Tennessee and won 48-13. Granted, the Ducks' defense and special teams each contributed a second-half touchdown. But still.
"It will prey on an undisciplined player," Wilcox said of the Oregon offense. "It will prey on an unconditioned player."
Tennessee is playing under its third coach in three seasons. It is a young team lacking in leadership, and that's the assessment of its own head coach, Derek Dooley. Once the Ducks found their rhythm, the Vols failed to disrupt it.
Here is what happens when defenses aren't playing Oregon. The tackle is made. The offense substitutes. The defense substitutes to match. The offense huddles. The defensive players look to the sideline to get their signals. They process the call. They assess the personnel, the down, the distance. The offense breaks the huddle and gets into formation. The defensive players check their keys. And the ball is snapped.
Here, according to Wilcox, is what happens when Oregon has the ball.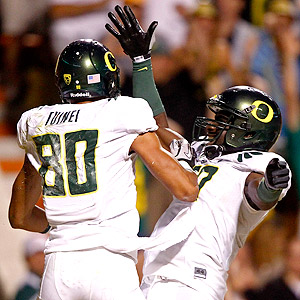 AP Photo/Wade PayneThe Ducks are in position to play for the BCS championship.
"As soon as the ball is being tackled, you're got to start signaling in the next call," Wilcox said. "Your players have to get their eyes on the sideline, line up and get their eyes on their keys and still execute at a high level.
"You can do it from time to time. And you'll do it in bunches. But they have good players. You get in space with LaMichael James and have to make a tackle. They [limit] you and how many coverages you can play. You have to make a one-on-one tackle in space. If you don't make the play, they can be explosive."
In seven games, Oregon has 33 offensive plays of 25 yards or longer: That's 16 passes, 17 rushes -- and 18 touchdowns.
"Teams can hang for a quarter, quarter and a half," Wilcox said. "The D-line is so winded and out of gaps, they crease you and the guy can score."
In the second half, Oregon is outscoring its opponents 156-23. The Ducks had been throwing a fourth-quarter shutout until UCLA's touchdown with 1:53 to play in the Ducks' 60-13 rout last week.
"I don't care how much conditioning they do," Wilcox said. "You've got to be able to rotate your defensive linemen. You've got to be able to get off the field in three plays sometimes."
Oregon's strengths play to USC's defensive weaknesses. The Trojans have so little depth that coach Lane Kiffin limited contact in practice before the season. USC had problems making tackles early in the season.
Even with two weeks to prepare, and allowing for the recommended daily allowance of coaching hyperbole, Kiffin described getting ready for the Oregon offense as "impossible."
"We've spent a lot of time taking our offense and trying to run their offense to help our defense," Kiffin said Tuesday on the Pac-10 coaches' teleconference, "because it's so different than anything we've had to prepare for."
Last year, Kelly and Ducks defensive coordinator Nick Aliotti tried to describe the typical Oregon workout.
"You should watch our practice," Aliotti said. "We can get 25 reps in 12 minutes."
"That's what we average," Kelly said.
"On any given day, we might get 120 reps," Aliotti said.
Practices might not last two hours. The speed at which the Ducks operate forced the Oregon coaches to learn how to teach differently, too. For instance, Kelly uses a board of four photos to call plays from the sidelines. Photos convey information faster than signals.
"You have to get words in and be very brief and specific in your coaching," Bellotti said. "The second thing is the physical fatigue to have to overcome, both as coaches and players, to keep your attention and focus as you get tired. We find that, with new players sometimes, that's the biggest thing. They give in to the fatigue, and they don't focus."
Sound familiar?
"But," Bellotti said, "that's eventually what happens to the opponent."
Ivan Maisel is a senior writer for ESPN.com and hosts the ESPNU College Football podcast. Send your questions and comments to him at Ivan.Maisel@ESPN.com.
Senior Writer, ESPN.com
ESPN.com senior college football writer
Five-time FWAA award winner
28 seasons covering college football
WEEK 9 PREVIEW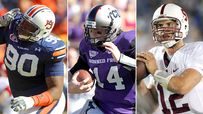 ON THE MARK
FORDE-YARD DASH
POWER AND PAIN
COMMENTARY/BLOG POSTS
SCOUTS INC. PREVIEWS: WEEK 9
BLOG NATION
MORE COLLEGE FOOTBALL HEADLINES
Nike Men's Oregon Ducks #1 Green Replica Game Football Jersey Shop »

MOST SENT STORIES ON ESPN.COM