Commentary
College football's imbalance of power
Originally Published:
November 3, 2010
By
Ivan Maisel
| ESPN.com
Now that the election is over -- and how will any of us survive without the nightly dose of vitriol from political ads? -- it's time for Jon Stewart and Stephen Colbert to tackle an issue that really matters. Politics isn't our only national pastime pleading for intervention. Stewart and Colbert need to convene a Rally to Restore Sanity (and/or Fear) in College Football.
[+] Enlarge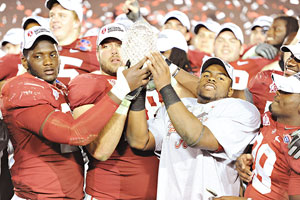 Kirby Lee/US PresswireTraditional powers like Alabama have dominated the BCS championship since its inception.
If the National Mall is booked, Comedy Central could always try Darrell K Royal-Texas Memorial Stadium. The Longhorns haven't shown up there since Sept. 11.
Now was that really called for? No. My apologies to Texas fans. When you come to Yankee Stadium to see your Longhorns in the Pinstripe Bowl, be sure to call me for restaurant recommendations.
The bitter tang of the political season may have distorted my taste buds. But that sharpness has seeped into the discourse regarding the pursuit of the crystal football. On one side are three non-AQs battling again for the respect that would earn them the opportunity to play for the national championship. The later in the season the Boise States, TCUs and Utahs loiter near the top, the more dismissive the old bulls of the sport become.
It is, like the election just concluded, a battle for power and prestige, two commodities that are rarely surrendered without toe-to-toe combat. Just when the traditional powers need to step forward and reassert themselves, many of them have fallen.
And no, they can't get up.
USC is 5-3, and its season-opening victory at Hawaii is its only one over a team with a winning record. USC and Texas are each 2-3 against their respective conference opponents. The Heisman Trophy favorite, Auburn junior Cam Newton, began the season with 21 carries and 12 pass attempts to his name -- at Florida. The Big East is getting a BCS bid because the Fiesta Bowl is legally obligated to provide one.
(The Fiesta Bowl? Doesn't it host the Big 12 champion? Yes. But the Fiesta Bowl has the last selection out of the at-large pool this year. It's possible that the Fiesta Bowl will be left with a team other than Pittsburgh or Syracuse. It's also possible that I will win $104 million in Powerball tonight.)
If sanity is defined as the norm, then the portrait of this college football season is being painted by Salvador Dali. And if insanity is defined as doing the same thing over and over and expecting a different result, then the Michigan defense may need a competency hearing.
Perhaps college football's Powers That Be would prefer to restore not sanity, but fear. The game's old lions have lost a step, and we're not just referring to JoePa and his 5-3 record.
The unease may be as easy to discern as reading off the BCS top five: Oregon, Auburn, Boise State, TCU and Utah. The last three are, as stated above, non-AQ party crashers. The first two may be from power conferences but they aren't exactly college football royalty. They have one national championship between them. Ducks head coach Chip Kelly is in his second season, and Tigers head coach Gene Chizik needs to go 12-0 just to get his career record above .500.
Oregon and Auburn both seem intent on trying to disprove one of the bedrock clichés of the game. In 2010, defense still may win a championship, but it will do so while giving up 30 points. In 1961, Alabama gave up 25 points in 10 games. Last Saturday, Auburn won 51-31, while Oregon won 53-32.
[+] Enlarge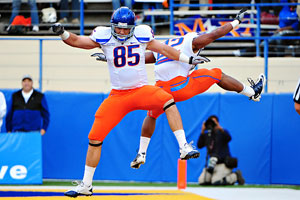 Kyle Terada/US PresswireCould we see the Broncos in Glendale? Not if certain voters have their way.
There is a lot that Bear Bryant might not recognize. The three winningest programs in the history of college football -- Michigan, Texas and Notre Dame -- are a combined 13-12. The Wolverines are 5-3, thanks to their Brett Favre defense -- neither one knows how to get off the field. Notre Dame is 4-5, having lost to Navy and Tulsa.
Texas fans are howling for the head of offensive coordinator Greg Davis, the man who tutored Vince Young and Colt McCoy to lead the Longhorns to 69 victories in the past six seasons. Either Davis has traded in tortilla chips for paint chips, or the Texas fans have.
Discombobulation is the order of the day. The people used to having things their way are cranky. They want the old order to return. They see Baylor leading the Big 12 South. They see South Carolina leading the SEC East and Michigan State atop the Big Ten. They want the BCS to be their playground, just as it has been since its inception in 1998.
There have been 12 BCS Championship Games. Only 12 schools have played in them. If you're one of those schools -- especially if you're one of the four in the SEC who have combined for a 6-0 record in those games -- that fact alone represents the world as we know it to be.
Take a look at the BCS standings. Five of the former BCS Championship Game programs rate among the top 11. But here's the pea for all those football princesses: Again, none of them -- No. 6 Alabama, No. 7 Nebraska, No. 8 Oklahoma, No. 10 LSU and No. 11 Ohio State -- is in the top five.
Every college football fan schooled in BCS angst can conjure a scenario in which his top-15 team cracks the top two by the night of Dec. 4. But the haves have been had. In the era of the BCS Championship Game, only three teams have climbed from outside the top five 10 weeks into the season and into the final game. All three are SEC teams -- No. 8 Florida in 2008, No. 7 Florida in 2006 and No. 9 LSU in 2003 -- and all three won the championship.
Alabama fans may breathe easy. The rest of you may start chewing your nails. The country decided Tuesday that it will undergo an orderly transfer of legislative power. We're about to find out if college football can do the same. If Boise State and/or the TCU-Utah winner reaches the BCS Championship Game, the only thing college football has to fear is fear itself.
If you think that level of tolerance is insane, you'd better get used to it. It's been that kind of season.
Ivan Maisel is a senior writer for ESPN.com and hosts the ESPNU College Football podcast. Send your questions and comments to him at Ivan.Maisel@ESPN.com.
Senior Writer, ESPN.com
ESPN.com senior college football writer
Four-time FWAA award winner
27 seasons covering college football
WEEK 10 PREVIEW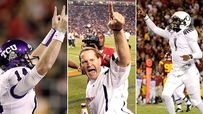 ON THE MARK
FORDE-YARD DASH
POWER AND PAIN
COMMENTARY/BLOG POSTS
SCOUTS INC. PREVIEWS: WEEK 10
BLOG NATION