Commentary
Rich Rodriguez couldn't bridge gap
Originally Published:
January 5, 2011
By
Ivan Maisel
| ESPN.com
Rich Rodriguez came to Michigan three years ago as a pair of jeans and a sweatshirt in an athletic department of blue blazers. He came north, his West Virginia twang and friendliness in tow. Rodriguez, a man utterly and completely without airs, took over a program fueled on championship arrogance for four decades.
[+] Enlarge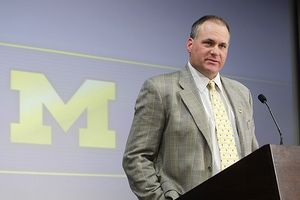 AP Photo/Carlos OsorioRich Rodriguez won just six conference games in three seasons at Michigan.
That kind of arrogance, common among the traditional powers, is pumped with a higher octane in Ann Arbor. It fuels how Michigan views itself and its environs. Think back to 1989, when athletic director and living icon Bo Schembechler fired basketball coach Bill Frieder before the NCAA tournament for agreeing to coach Arizona State the following season. Remember what Schembechler said, "A Michigan Man will coach a Michigan team!"
Rodriguez experienced a few ups and more than a few downs in his three seasons: the messy departure from West Virginia; the Shakespearean NCAA investigation -- more "Much Ado About Nothing" than "The Tempest"; the infighting among Michigan boosters; the 6-18 record in Big Ten play. He never developed the support that he needed. When athletic director Dave Brandon prolonged his assessment through the bowl game, Rodriguez had no constituency behind him.
Bill Martin, the athletic director who hired him, must have believed that Rodriguez's success on the football field would serve as the bridge between the coach and his new constituency. Winning is the grease that makes any round coach fit into a square tradition. Rodriguez didn't create enough grease to fit.
Rodriguez struggled for three years to bridge the gap between his style of play and that of his predecessor, Lloyd Carr. Part of what made Rodriguez such a winner as a coordinator at Tulane and Clemson, and as a head coach at West Virginia, is that his spread option is different. That is surely why Martin hired him. But the players Rodriguez found upon arriving at Ann Arbor struggled with his style.
They may not have been talented enough to play winning football in any style of offense. NFL scouts haven't beaten a path to the Michigan door in three years. The NFL drafted 13 Wolverines after the 2006 and '07 seasons. The league drafted five Wolverines after the 2008 and '09 seasons, and it's possible that none will be drafted this April.
The change in scheme, and the inevitable change in coaching style, resulted in an unusual amount of attrition. Rodriguez had to field teams of freshmen and sophomores in Big Ten competition. Michigan improved in each of Rodriguez's three seasons, from 3-9 in 2008, to 5-7 in 2009, to 7-6 this season. The Wolverines didn't win enough, and when they lost, they lost spectacularly.
Defense, or the lack of it, is what ended Rodriguez's time in maize and blue. Coordinator Scott Shafer left after the 2008 season. His replacement, Greg Robinson, a veteran with a long career of coaching good defenses, didn't coach a good one in two seasons.
[+] Enlarge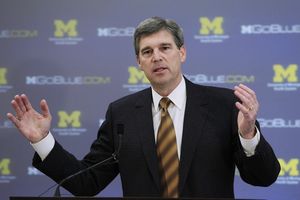 AP Photo/Paul SancyaMichigan AD Dave Brandon is now faced with a rebuilding job, starting with a new coach.
Rodriguez should have gotten a fourth year, a chance to replace his defensive staff and to allow his younger players to mature. But the end of the season killed Michigan's forward propulsion. The Wolverines finished by losing to Wisconsin and Ohio State, two of the Big Ten's three tri-champions, by 20 and 30 points, respectively. That is seven straight losses to the archrival Buckeyes.
Brandon announced that he would make no decision about Rodriguez until the conclusion of the season, after the Progressive Gator Bowl against Mississippi State. The no-decision turned out to be a decision in itself. The recruiting class that Rodriguez planned to sign next month began to go elsewhere. The team that Michigan fielded Saturday in the Gator Bowl had no fight left in it. The Bulldogs spotted the Wolverines a 14-10 lead and won the game, 52-14.
Brandon fired Rodriguez, all nine assistant coaches and nearly all of their support staff. Had he done so after the regular season, when he should have, he might have saved Michigan's recruiting class and allowed the assistants to find other jobs. That would have been the smart and considerate decision to make.
Rodriguez leaves with a $2.5 million buyout. Michigan paid him approximately $10 million for three seasons. Being fired is usually a hindrance to getting rehired. Rodriguez arrives on the unemployment line with his reputation as a winning coach scuffed but still intact. Michigan fired him because he didn't win enough. But Michigan also fired him because he wasn't a Michigan Man.
Brandon now will attempt to hire a coach who will be a better fit. The new coach will find a locker room full of players signed to fit into Rodriguez's style of play. It's hard to imagine how the transition will be a smooth one. It's hard to imagine what Michigan has to be arrogant about, besides the past. The victory in the Allstate Sugar Bowl won't be the only news they celebrate in Columbus, Ohio, tonight.
Ivan Maisel is a senior writer for ESPN.com and hosts the ESPNU College Football podcast. Send your questions and comments to him at Ivan.Maisel@ESPN.com.
Senior Writer, ESPN.com
ESPN.com senior college football writer
Four-time FWAA award winner
27 seasons covering college football
SPONSORED HEADLINES
MORE COLLEGE FOOTBALL HEADLINES
MOST SENT STORIES ON ESPN.COM
RICH RODRIGUEZ FIRED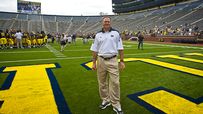 Michigan coach fired Rich Rodriguez, ending a disappointing three-year tenure marred by embarrassing losses and NCAA violations at football's winningest program. Story »
STORIES
VIDEO