Commentary
Selling football not easy in Los Angeles
Originally Published:
June 23, 2011
By
Ivan Maisel
| ESPN.com
Editor's note: This is the fourth in a weeklong series examining the unique circumstances faced by FBS programs that reside in metropolitan markets alongside an NFL franchise.
USC and UCLA share the second-largest media market in the nation between themselves. When the NFL last called Los Angeles home, this fall's incoming freshmen were 1-year-olds.
[+] Enlarge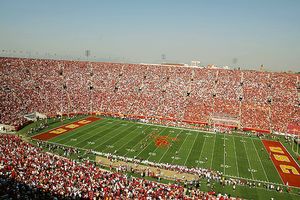 Lisa Blumenfeld/Getty ImagesUSC packed the L.A. Memorial Coliseum during its run under Pete Carroll.
In other words, the only thing standing between the Trojans and Bruins and the 18 million potential ticket buyers in southern California is the beach. And the Dodgers, Angels, Lakers, Clippers, Kings, Ducks and Galaxy. And Disneyland, Universal Studios and Six Flags. I hear the movies are pretty big in Los Angeles, too.
When trying to sell college football tickets in a major media market, not having an NFL team is no panacea.
"There are definitely challenges that we feel and live with every day compared to some of our brethren in college towns," UCLA assistant athletic director Scott Mitchell said. "We're in the media market in the entertainment capital of the world. What I tell all the people working for me is that if you can market in L.A., you can market anywhere."
The NFL abandoned Los Angeles after the 1994 season. The Rams left for St. Louis. The Raiders returned to Oakland. All of a sudden, USC and UCLA had the entire Southland market to themselves. Man the ticket windows! Order the T-shirts! Make room for the displaced fans!
In 1995, UCLA sold exactly 787 more season tickets, an increase of 2.7 percent, and per-game attendance actually decreased to 49,107, a drop of 4.6 percent.
It would be seven more seasons before one of the schools attracted the unserved football fans in southern California. In 2002, USC tapped into something as essential to Los Angeles as the Pacific Ocean and Botox -- the hunger for stars.
Under Pete Carroll, the Trojans not only won like they hadn't won in 25 years, but they did it with arms and doors wide open. Carroll defied the coaching tradition of secrecy and eliminated the barriers that his profession has thrown up in front of the media and, therefore, the public.
"The way Pete ran the program in terms of being open to the media really, really helped us," said Jose Eskenazi, USC associate athletic director and director of corporate services. "I think we transcended the typical collegiate program from that perspective. We were really accessible. There were faces to the names of players ... you'd turn on the news, and there were cameras at practice. People were able to see the culture. Kids were working hard and having fun at the same time. I think it was very inviting to everyone in L.A. It took on the culture in Los Angeles, the personality of the city and what L.A. is all about."
Which is what, exactly?
"L.A. has an attention mentality, a star mentality about what's hot. We have our base of alums, the Trojan family, if you will. When you extend beyond that, it's grabbing attention of folks in the city much like the Lakers did during their heyday. That's what we did, a lightning-in-the-bottle kind of thing. We just took off from '02, '03 [until] prior to all this NCAA stuff. We're still doing relatively well. Obviously we've taken a step back."
Carroll has gone to the NFL. The BCS asked for its 2004 crystal football back. The public access to the Trojans is curtailed, a result of procedures installed after the NCAA penalized USC last year. Eskenazi is paid to market USC athletics. He's a company man but he isn't shy about saying that those procedures make his job harder.
Nonetheless, USC's marketing hurdles are not nearly as high as the ones that face the Trojans' crosstown rivals. For instance, USC's stadium, the venerable Los Angeles Memorial Coliseum, is adjacent to the university's downtown campus.
UCLA's issues will sound familiar to several urban teams in NFL markets. The Rose Bowl, the Bruins' home since they left the Coliseum 30 years ago, is the most iconic stadium in the sport. But it is also 26 miles from UCLA's Westwood campus. Anyone with experience in L.A. traffic understands that distance is equal to, yes, a marathon.
[+] Enlarge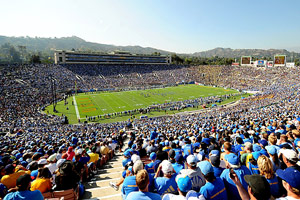 Gary A. Vasquez/US PresswireUCLA slashed student ticket prices last season to draw more fans to the Rose Bowl.
With 190,000 living alumni in the Los Angeles area, according to Mitchell, the distance from campus is not important -- until you try to identify the ticket buyers of tomorrow.
"If you can't get a student to attend when they are on campus, it makes it damn hard if not impossible to get them once they leave," Mitchell said. "... You need to do what you can to get them to attend from the get-go."
UCLA sliced the price of a student season ticket from $149 in 2009 to $99 last year. The strategy worked. The university sold 7,761 such packages, the second-highest total in the last 50 years. Throw in single-game tickets and, despite the price cut, UCLA generated $1.03 million in student sales, a 45 percent increase over the previous year.
To fight traffic issues, UCLA has opened the gates earlier at the Rose Bowl, where tailgating is an art form. However, earlier tailgating means more drinking, especially before a night game. Last year, three hours before the 7:30 p.m. kickoff of the USC-UCLA game, police broke up a brawl outside the Rose Bowl in which two people were stabbed. UCLA is working on strategies of how to calibrate increased tailgating and increased security for this fall.
The NFL has looked longingly at Los Angeles since the Rams and Raiders left. That possibility does not concern either USC or UCLA. The Rams played in the Coliseum, too, from 1946 until 1979. They then played in Anaheim Stadium until they lit out for St. Louis.
"The thing about L.A. is it's such a transplanted market," Eskenazi said. "You probably have more Dallas Cowboy and Philadelphia Eagle fans than you do L.A.-centric fans. Whatever kind of team comes here, an expansion team or a transplanted team from Minnesota or Buffalo or wherever it is, it's going to take some time to generate the same interest level that you would have just from us or UCLA in the marketplace for football."
So the Bruins and the Trojans may rest easy. Except for the beach. And the Dodgers, Angels, Lakers, Clippers, Kings, Ducks and Galaxy. And Disneyland, Universal Studios and Six Flags. I hear the movies are pretty big in Los Angeles, too.
Ivan Maisel is a senior writer for ESPN.com and hosts the ESPNU College Football podcast. Send your questions and comments to him at Ivan.Maisel@ESPN.com.
Senior Writer, ESPN.com
ESPN.com senior college football writer
Five-time FWAA award winner
28 seasons covering college football
SPONSORED HEADLINES
MORE COLLEGE FOOTBALL HEADLINES
MOST SENT STORIES ON ESPN.COM
URBAN SCHOOLS
FBS programs that reside in metropolitan markets alongside an NFL franchise face unique circumstances and similar challenges.
STORIES
VIDEO