Ore helps Hokies crate crucial ACC win
Branden Ore and a suffocating defense powered Virginia Tech past Clemson and back into the ACC title chase, writes Mark Schlabach.
BLACKSBURG, Va. -- Virginia Tech running backs coach Billy Hite had seen enough.
Even though the Hokies had lost senior tailbacks Mike Imoh and Cedric Humes and junior quarterback Marcus Vick, who had been kicked off the team for his poor behavior on and off the field, Hite knew tailback Branden Ore had to change his ways.
During Ore's redshirt freshman season in 2005, he was continually late for meetings, conditioning runs and skipped study halls and classes. So in January, Hite called a meeting with Ore, his parents and high school coach.
"I think players and coaches have to have a relationship," Hite said. "At that point, I had no relationship with Branden. I'd never had him in the office just to talk about life. It was always for something Branden did wrong. One mistake always led to a second and a third. He was on the fence."
Ore and his parents agreed that he would return home to Chesapeake, Va., during spring semester while he rehabilitated from shoulder surgery. He worked at a 7-Eleven warehouse, loading merchandise into crates and onto trucks that would deliver the goods to convenience stores. Ore, 20, said he worked the 9-to-5 shift seven days a week for three months.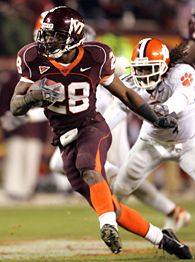 James Lang-US PRESSWIRE Branden Ore rushed for 203 yards and two touchdowns against Clemson.
It was enough to convince Ore he needed to be at Virginia Tech.
"That whole situation made me just see the bigger picture as far as my life," Ore said. "It showed me there's nothing at home for me -- nothing but trouble. It showed me I needed to be here."
Hite and the Hokies are certainly glad the sophomore is back on the team. Ore ran for more than 200 yards for the second consecutive game on Thursday night, leading the Hokies to a 24-7 upset of No. 10 Clemson in front of a sold-out crowd of 66,233 at Lane Stadium. Ore ran a career-high 37 times for 203 yards and two touchdowns, a week after gaining 207 in a 36-6 victory over Southern Mississippi.
"I'm so proud of him," Hite said. "I'm really proud of the way he responded to our little talk in January. I knew he was a special talent and that's what I was trying to get through to him and his family. I think working at a 7-Eleven warehouse in the frozen foods section was the best thing that ever happened to him."
Hokies offensive tackle Duane Brown said he never doubted Ore would return to the team when he left.
"I thought he was going to come back," Brown said. "It was just hard for him to make the transition. He wasn't sure this was the right place for him. He wasn't sure what he wanted to do with his life."
Hite said Ore has done very well academically since returning to school and hasn't been late to meetings or study halls.
"He came back better than ever," said linebacker Vince Hall, a junior who also grew up in Chesapeake, Va.
Hite called Ore's performance against the Tigers the "guttiest" he had ever seen by a Hokie running back. And Hite would know. The 55-year-old, silver-haired associate head coach has worked at Virginia Tech longer than coach Frank Beamer. He is in his 29th season in Blacksburg and has coached ball carriers in each of them. He has coached 23 running backs who played in the NFL, including Detroit Lions star Kevin Jones.
Hite believes Ore could be as good as any of them.
"I think Branden Ore can be whatever he wants to be," Hite said.
Ore was definitely the best running back on the field Thursday night. Clemson running backs James Davis and C.J. Spiller got nearly all of the attention during the short week, after they combined to run for more than 300 yards and scored four touchdowns in last Saturday's 31-7 win over Georgia Tech.
Davis came into the game as the ACC's leading rusher with more than 120 yards per game and had scored 16 touchdowns. Spiller, a true freshman from Lake Butler, Fla., was averaging 65.4 rushing yards and at times has looked like the fastest player in college football.
But against Virginia Tech, Davis and Spiller did nothing. Davis scored a 6-yard touchdown in the first quarter to put the Tigers ahead 7-0. But with linebackers Hall and Xavier Adibi chasing them all night, Davis and Spiller combined for only 71 yards on 22 attempts.
"I think they had a great game plan and we were very consistent," Beamer said. "We talked about being in the right spot, and I thought we were in the right spot most of the time. You didn't see gaps in there, or holes in there, because if you did those two running backs will come out of the other end. [Defensive coordinator Bud] Foster and the boys did a great job."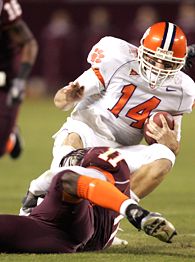 James Lang-US PRESSWIREXavier Adibi (11) and the Hokies held the Tigers to only 166 total yards.
Hall wondered if it was a good enough performance to get back the fabled "lunch pail," which Foster usually gives each week to the hardest working player on defense. After the Georgia Tech loss, though, Foster quit giving it out.
The Tigers had only 166 yards of offense, including just 75 after first two possessions, the lowest in coach Tommy Bowden's tenure and Clemson's fewest since 1998 against Florida State.
"I don't know," Hall said. "I hope so. I don't know if we impressed coach Foster enough. Knowing him, he'll be like, 'This is your goal. Go out and do that every week and you'll get it back.'"
All of the sudden, Virginia Tech looks like the best team in the wacky ACC again. On the last day of September, the Hokies were embarrassed in a 38-27 loss to Georgia Tech at Lane Stadium, in which they trailed by three touchdowns in the first quarter. Only two weeks ago, the Hokies looked abysmal again in a 22-3 loss at Boston College in another Thursday night game.
But good things always seem to happen for the Hokies in Blacksburg on Thursday nights. Virginia Tech is 8-1 in games played at Lane Stadium on Thursday night and it had won 11 games on Thursday night before losing at Boston College.
"It was huge," Brown said. "We'd gotten away from playing Virginia Tech football. Frustration was setting in and guys were starting to point fingers. We got back to playing Virginia Tech football -- flying around the football and having fun."
The Hokies' win put them back in the ACC Coastal Division race, while seriously damaging Clemson's hopes in the Atlantic Division. The Hokies have to hope Miami beats Georgia Tech in Atlanta on Saturday. Then if Virginia Tech defeats the Hurricanes in the Orange Bowl on Nov. 4, there would be a three-way tie atop the Coastal Division. If all three teams finished the season with the same conference records, the tie-breaker would be decided by BCS standings, which would probably favor the Hokies.
"The last two wins have been special, and this one was really special," Beamer said. "I think the other side is we have to continue to get better. I say that and I mean that. We've got to go down to the Orange Bowl and take on that crowd next. It doesn't get any easier."
Mark Schlabach covers college football and men's college basketball for ESPN.com. You can contact him at schlabachma@yahoo.com.
College Football and Basketball
College football writer for ESPN.com
Author of seven books on college football
Formerly at the Washington Post and the Atlanta Journal-Constitution
MORE COLLEGE FOOTBALL HEADLINES
Nike Youth Clemson Tigers #3 Orange Football Game Jersey Shop »

MOST SENT STORIES ON ESPN.COM