Brohm has high expectations for senior season
Louisville QB Brian Brohm's decision to return for his senior season amidst a coaching change surprised many. But he feels he still has plenty to prove, writes Mark Schlabach.
Louisville quarterback Brian Brohm's coach had just bolted for the NFL, and all indications were Brohm would be a first-round draft pick if he chose to turn pro as well. After Brohm won the Big East title and beat Wake Forest in the Orange Bowl, why would he choose to come back to play for a new coach and in a new offense for his senior season?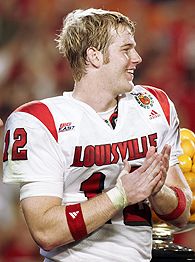 Brian Tietz/US PresswireBrian Brohm completed 63.6 percent of his passes for 3,049 yards and 16 touchdowns in 2006.
"I think we've got a great team coming back," Brohm said. "I think we've got a chance at winning a national title. I just wanted to come back and give it one more shot and work toward that ultimate goal."
With Brohm's return for his senior season, Louisville will indeed be a national championship contender in 2007. The defending Big East champions should return seven starters on offense and five on defense.
The Cardinals should have more than enough offensive firepower to keep pace with West Virginia and Rutgers in the Big East, which proved to be much more rugged than expected in 2006. And if several key pieces on defense are replaced, such as defensive tackle Amobi Okoye and three starters in the secondary, Louisville again should be in contention to play in the BCS title game.
"We were a field goal away from playing for the title last season," Brohm said of Louisville's 28-25 loss at Rutgers on Nov. 9, the Cardinals' only loss in 2006. "We had one bad game offensively. Hopefully, next year we won't have that game."
New Louisville coach Steve Kragthorpe, who led Tulsa to three bowl games in four seasons after inheriting a program that had lost 21 of its previous 22 games, had a difficult time convincing Brohm to stay. Even before former Louisville coach Bobby Petrino was named coach of the Atlanta Falcons, Brohm was mulling an early departure to the NFL.
"It was a sell job, there was no doubt about it," said Kragthorpe, who was named Petrino's successor two days after the former coach left in early January. "I think he was in a state of flux there for a while. He was deciding whether he was going to stay with Bobby staying here, then whether he was going to stay with Bobby leaving, and then whether he was going to stay with me coming. I think there was a window of about a week where it was pretty topsy-turvy for him."
Like Petrino, Kragthorpe built a reputation of being an outstanding quarterbacks coach and offensive mind. Kragthorpe was the Buffalo Bills' quarterbacks coach for two years before taking over at Tulsa in 2003, and also worked as the offensive coordinator at Division I-AA Northern Arizona, North Texas and Texas A&M.
Kragthorpe persuaded Brohm to stay by convincing the quarterback that change and uncertainty would help him in the long run.
"If you're going to be a guy that's going to have a long career in the NFL, you've got to show you can adjust to change," Kragthorpe told Brohm. "It's an industry of change and the best players show they can adapt to new coaches and new systems."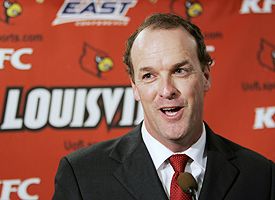 AP Photo/Ed ReinkeSteve Kragthorpe has built a reputation as an offensive-minded coach.
Kragthorpe said the Cardinals' offense wouldn't change dramatically, but Brohm's biggest adjustment will be learning new signals and audibles. Louisville begins spring practice March 30.
"I think the biggest thing is just learning a new set of verbiage," Kragthorpe said. "It will be a little bit different for him. But you know, football is football. The only place where it's different is in Canada, because you have 12 players up there. We will do some things differently."
Brohm said he expects Louisville to put more emphasis on throwing to its tight ends and running backs. Other than that, Brohm doesn't expect the passing game to change much. He completed 63.6 percent of his passes for 3,049 yards with 16 touchdowns and five interceptions in 2006.
"What really sealed the deal was getting on the same page with the new coach, and I really liked what was being said," Brohm said. "The offense is going to be a blend of what we've run here in the past and what he's run in the past. It's going to be a similar pro-style offense, but we're going to have some more quick screens and quick passes and throw to the tight ends and backs a little more. Basically, it's the same type of offense we've been running."
The Cardinals will lose leading rusher Kolby Smith and Michael Bush, a 2006 preseason Heisman Trophy candidate, who broke his right leg in two places during the third quarter of the season-opener against Kentucky. Bush decided to enter the NFL draft rather than request a medical redshirt season in 2007. Freshman Anthony Allen, who ran for 406 yards and 13 touchdowns last season, figures to do most of the running this season.
Top pass catchers Harry Douglas and Mario Urrutia, who combined for more than 125 catches and 2,000 receiving yards in 2006, also are back. The right side of the offensive line must be rebuilt.
"Most people are backing off and moving us down in the rankings because Coach Petrino left," Brohm said. "There's uncertainty with what's going to happen with the program and what kind of offense we're going to be running. But we have a lot of talent here, and Coach Kragthorpe has everyone believing in his system and what he's doing. I don't think there will be a big drop-off or learning curve."
Brohm also wants to prove to NFL scouts that he can stay healthy. As a sophomore, Brohm missed Louisville's final regular-season game and its 35-24 loss to Virginia Tech in the Gator Bowl with a knee injury. He missed two games last season because of a thumb injury.
"I want to stay healthy for a full season," Brohm said. "I had the knee injury to start the year, and the thumb injury in the middle of the year. I want to stay healthy all year and see how good I can play."
Regardless of what happens in 2007, Kragthorpe believes his new quarterback made the right choice in returning to school.
"He's a Louisville guy and you only get one more opportunity to play in college," Kragthorpe said. "He's definitely an NFL guy, but he's only going to have one more opportunity to play where his friends and family are going to be there, where he's going to be a hometown hero and where he's going to get to play football for fun, rather than playing it to make a living."
Mark Schlabach covers college football and men's college basketball for ESPN.com. You can contact him at schlabachma@yahoo.com.
College Football and Basketball
College football writer for ESPN.com
Author of seven books on college football
Formerly at the Washington Post and the Atlanta Journal-Constitution
What's Next?
Whether it is a team trying to remain or return to the top or a player stepping into a starting role or coming back from an injury, each new season brings a new set of challenges. With spring practice right around the corner, ESPN.com takes a look at what's next for 10 programs, players or conferences that have something to prove in 2007.
Schedule:
• Monday, Feb. 12:
Rutgers
• Tuesday, Feb. 13:
Wisconsin
• Wednesday, Feb. 14:
Tim Tebow
• Thursday, Feb. 15:
Micah Andrews
• Friday, Feb. 16:
The Pac-10
• Monday, Feb. 19:
Brian Brohm
• Tuesday, Feb. 20:
Iowa
• Wednesday, Feb. 21:
Matt Stafford
• Thursday, Feb. 22:
Stephen McGee
• Friday, Feb. 23:
What's next?
MORE COLLEGE FOOTBALL HEADLINES

MOST SENT STORIES ON ESPN.COM